"I don't see one single solution Copenhagen is setting up that is unique to Copenhagen. Anything Copenhagen is doing can be done by all cities," —Morten Kabell, Copenhagen's Mayor of Technical and Environmental Affairs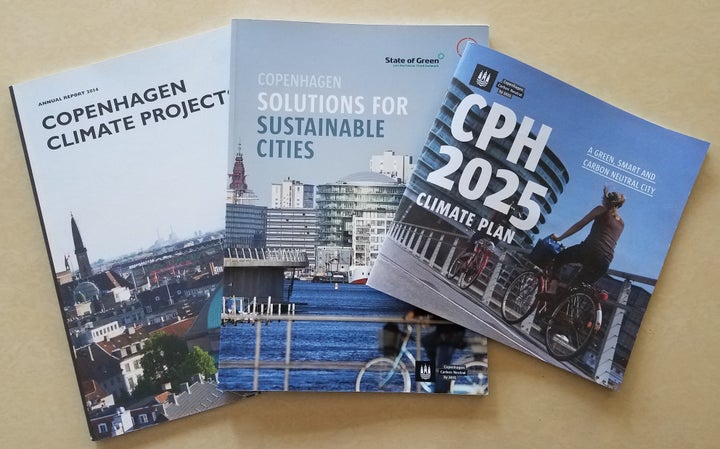 Copenhagen, Denmark—How does a major European capital wean itself from fossil fuels and reinvent itself as a sustainable city? Copenhagen is in the process of finding out. It has already cut the city's CO2 emissions 38 percent just since 2005.
The city's 2025 Climate Plan focuses on four broad focus areas: energy efficiency, renewable energy production, green mobility, and exemplary use of energy by city government.
The plan systematically sets carbon-reduction goals for each of these areas, then "drills down" to show, project-by-project, how each activity will reduce CO2.
City staff assess progress in each domain on an annual basis. "If things aren't moving quickly enough," city leaders avow, "we'll step up the climate initiatives. We want to make Copenhagen the Climate Capital of the world."
Success of the plan ultimately depends, as it has from the outset, on the cooperation of business, government, research and academic institutions, and the public.
Copenhagen's city government is planning to cut energy consumption in its buildings 40 percent by 2025. Half of the carbon emission reductions from the city's emissions-reduction efforts by 2025 will come from energy efficiency improvements in existing and new buildings.
New construction by the city government will have to meet high-efficiency, year-2020 building codes. Major renovations will also have to significantly improve a building's energy efficiency rating. In addition, builders are encouraged to build green rooftops and green walls to help insulate and beautify their buildings. The Municipality will also install 60,000 square meters of solar panels on municipal buildings.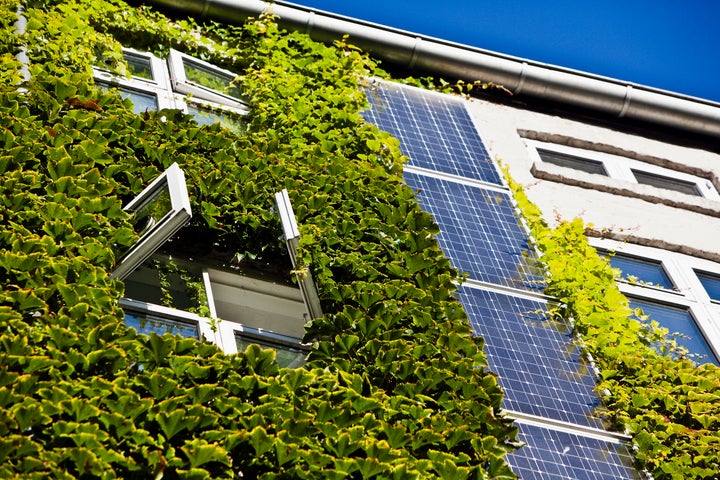 The city also has developed green procurement strategies focused on vehicles, energy-consuming products, and supplies. Since 2011, all new vehicles bought by the city have used zero-emission propulsion. The city trains its employees in energy-efficient operation and maintenance of facilities and orients new employees to the city's carbon goals.
Whenever new development or redevelopment is planned and permitted in Copenhagen, the city tries to foster low-energy, mixed residential-and-commercial use neighborhoods with sufficient density to support public transit and make private automobiles less necessary.
The municipality seeks to make new and redeveloped neighborhoods more attractive with green space and other amenities while meeting environmental goals. Underlying the city's planning decisions is a firm resolve that development must preserve and enhance, rather than diminish, the city's attractive characteristics.
Reflecting the seriousness with which Copenhagen views the imperative to ultimately zero-out CO2 emissions, an early version of its climate plan states, "Every time decisions about new roads, buildings or transportation possibilities in a given area are taken, the focus must be on climate."
When it comes to renovating old buildings and enforcing strict energy-efficiency requirements on new construction, the climate plan exudes a sense of urgency and a focus on long-term returns on investment.
"We can't let this opportunity slip through our hands," city officials write. "We must set requirements—for insulation, building materials, screening, electrical installations, and ventilation systems. This will cost a bit more in the short term. But it is profitable in the long term—for our climate and economy."
Climate-Centric Education
Beyond its efforts to implement efficiency measures and deploy green technology, the city has also opened a virtual climate science center to provide children and youth with climate education and is committed to educating 1,500 young "climate ambassadors."
The city's 2009 climate plan summary reflects this commitment:
"Children and youth are the family's big energy users. They influence family habits and climate knowledge. They are the future's problem solvers on climate issues. Habits form and take root as we grow up. It is our responsibility to ensure that the natural choice for the next generation will be to take the bicycle, switch off the computer and conserve water while showering. It's our responsibility to ensure that the next generation understands the consequences which today's bad habits have on our climate, nature and city life – and on their own lives and health. "
The city's broad commitment to climate education and climate-friendly behavior extends beyond youth. The city intends to conduct "communication, education and behavioral campaigns" designed to spur its 45,000 employees to "climate-friendly actions—both at work and in their private lives."
To ensure that day-to-day city operations are consistent with the municipality's climate policies, city employees are given an orientation to familiarize them with the city's climate goals and "climate-friendly habits and routines."
The entire Copenhagen Climate Plan to 2025 is expected to require $364 million in investment by the Municipality. Ninety percent or more of that spending will be for new and renovated energy-efficient buildings and for modernizing transport. Direct investments in energy and transport infrastructure and energy facilities are expected to total $2.8‒3.5 billion. Total public and private investments in Copenhagen in new buildings and retrofitting, energy production and mobility, all related to climate change, are expected to come to $28‒35 billion. The Municipality's investment is expected to result in at least $140 million in energy savings to 2025.
Not included in these net investment costs are the stimulating effects of all this investment on the city's economy in general, nor the monetary value of the resulting improvements in Copenhageners' health and quality- of-life due to the reductions in congestion, air pollution, and noise. In addition, the plan is expected to create 28,500-35,000 new person-years of employment.
Since the 2025 Climate Plan went into effect, the city-owned Greater Copenhagen Utility (HOFOR) has installed 17 onshore wind turbines (44 MW of electric power capacity) in Denmark. So far only three two-megawatt wind turbines have been installed in Copenhagen proper to date. They are at Prǿvestenen in the port of Copenhagen and supply power to 3,400 households. The city reduced the capital it had to put up by inviting the public to co-invest, offering shares for a third of the project's cost.
According to HOFOR's senior wind power consultant, Kim Pind, the city originally intended to install 360 MW of wind capacity—about 100 large turbines—in order to provide enough power to replace 30 percent of all the carbon that the 2025 Copenhagen plan requires. That would be more than the city's total electrical power demand and thus would help offset some of the city's other carbon-producing activities.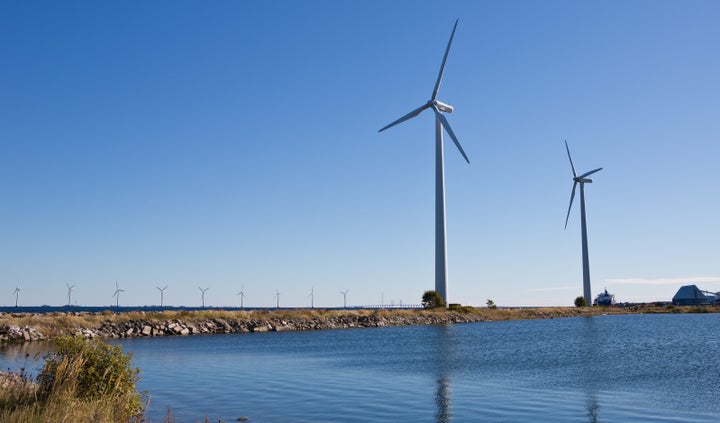 However, when Pind and colleagues attempted to develop a new wind project on Copenhagen's border with another municipality, they found the neighboring community's resistance to be overwhelming. "We gave up on that project and realized that it's very hard to build turbines in and around big [densely populated] cities in Denmark."
Thus, while HOFOR originally thought that it would be relatively straightforward to site a substantial part of the new wind capacity on land, HOFOR ultimately decided instead to focus on siting turbines offshore. Although the capital cost of offshore turbines is thought to be about twice onshore costs, the output of the offshore turbine is also greater.
HOFOR's goal now is to build 160 MW onshore turbines and 200 MW offshore turbines by 2025. The results of a recent major Danish Energy Agency tender offer for offshore wind turbine bids, however, produced the lowest bid prices for offshore wind parks anywhere in the world. The competition to build a total of 950 MW in two projects in Danish near- and offshore area was won by the Swedish utility Vattenfall at roughly 4 and 7 U.S. cents per kW-hr., guaranteed for the first 12 years of operation. Thus—in addition to developing its own wind power projects,—HOFOR now may also purchase shares in projects under development by other companies, like Vattenfall.
Wind power production in Denmark today is heavily subsidized to make up for the high cost of installing turbines and low wholesale power prices. The feed-in tariffs for the offshore projects is actually twice the market prices of wholesale electrical power, Pind said, so that the high capital cost of buying, building, and installing the turbine can be repaid.
The Danish Minister for Energy, Utilities and Climate has stated, however, that the government's ambition is for Denmark to become the first country in the world where development of wind energy projects will be possible without subsidies.
"I expect that the upcoming revision of the subsidy scheme will result in a subsidy scheme almost completely based on state tenders of subsidies for renewable energy projects, increasing competition," Pind reported. "According to the Danish government, the added competition between renewable energy technologies and projects will result in lower winning bids and tariffs than we see today."
Pind believes that there is a good chance that other European countries will decide to follow Denmark's lead and strive for 100 percent reliance on renewable energy. The Danish government is working to make Denmark a "low-emission" country independent of fossil fuels by 2050. "I think you will see a lot of European countries moving in that direction. The UK is . . . changing their subsidy system, so it's going to be like the Danish feed-in tariffs."
Despite the rocky start and difficulties that Copenhagen's wind program has encountered in finding both onshore and offshore construction sites, Pind is confident in the program's ultimate success. "Of course we will succeed," he said.
About three-quarters of the CO2 reduction under the 2025 Climate Plan is to come from measures like shifting power and heat production from coal to biomass and to other forms of renewable energy, officials said. By 2025, the city's power and heat are to come mainly from wind, biomass, geothermal energy, and waste.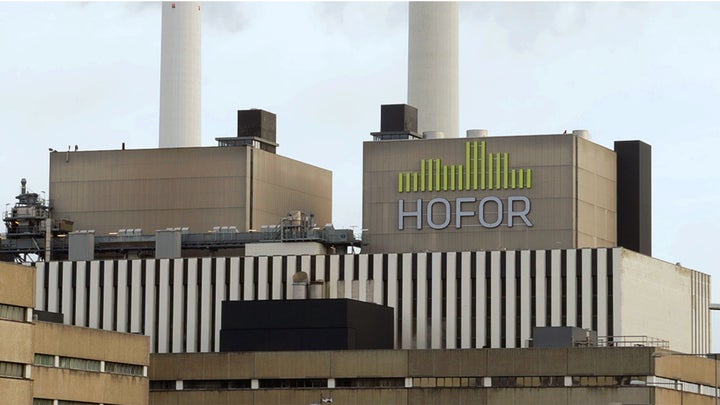 The city's coal power plants at Amager and Avedǿre will be converted to biomass and a new wood-fueled combined heat-and-power plant costing an estimated $196-560 million will be built in the city.
The shift from coal to biomass is to make the city's district heating carbon-neutral. The city will also build a 200 MW heat storage tank to store excess industrial heat generated, so it can provide district heating when needed.
The city is currently studying the use of additional geothermal heat, heat pumps, and solar process heat to augment the municipal heating system.
The 100 on- and offshore wind turbines rated at 360 MW that HOFOR intends to own or participate in will cost $770 million, according to estimates. The cost is to be financed with the help of municipal loan guarantees.
Waste Recovery and Energy Efficiency
Through energy efficiency improvements in the city's building stock, Copenhagen plans to reduce both heat and electricity consumption by 20 percent in commercial buildings, and by ten percent in households.
The city also intends to separate the plastic in its organic waste stream and then "biogasify" all the remaining organic waste by converting it through biological processes to methane. The recovered plastic will then be recycled and the gas fired for heating or compressed and used to fuel heavy trucks.
Sewage treatment plants in the city capture biogas produced by bacterial decomposition of household wastewater. The gas is filtered to remove ammonia and sulfides, then mixed with air and natural gas to produce a mix known as "town gas." Almost a third of all the gas used for cooking in Copenhagen is now biogas. Biogas generators at sewage treatment plants are used to produce both electricity and district heat. By 2018, the city also plans to have 90 percent of its waste-collection trucks operating on biogas.
After the city's planned energy supply changes, its next largest carbon reductions are to come from reducing transportation emissions.
By 2025, the Climate Plan calls for 75 percent of all trips in the city to be taken on foot, by bicycle, or by public transit. The expectation is also that half of all trips to work or school will be by bike.
Municipal government vehicles by 2025 will be run entirely on electricity, hydrogen, or biofuels. Public transit will be entirely carbon-neutral. Businesses will receive assistance with transportation planning. Advanced data management technology will be used to increase the speed of traffic in the city.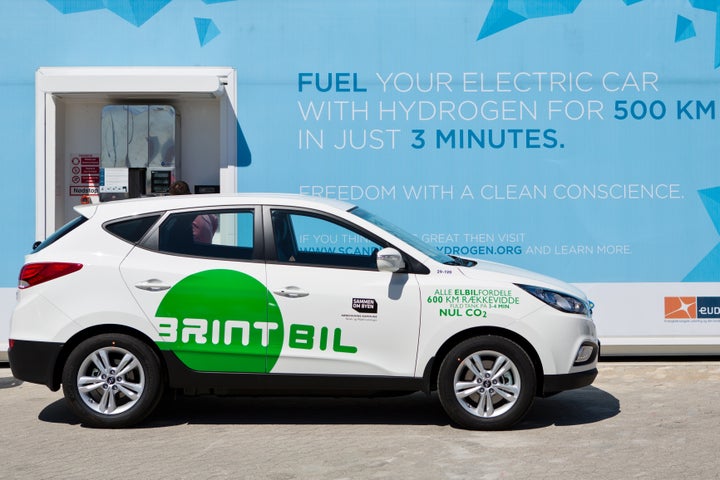 Meanwhile, the city is trying to insure that 20-30 percent of all light vehicles and 30-40 percent of heavy vehicles in the city, regardless of ownership, operate on either electricity, biogas, bioethanol, or hydrogen. In principle, all these power options could be derived from renewable energy sources.
To promote "new fuel" use in Copenhagen, more electric charging points and hydrogen filling stations will be set up, and the city will endeavor to promote and subsidize the sale of electric and hydrogen vehicles.
Not only will the city's vehicles operate cleanly, but all the city's external suppliers will also have to power their vehicles on renewable energy when driving for the city. The city is also planning on expanding its climate and environmental procurement requirements.
Copenhagen is seeking to have half of all trips to school or work made by bicycle and 70 percent of all trips in the city made on foot or by bike or public transport. Service improvements, including dedicated bus lanes, and other innovations are planned to increase public transit ridership 20 percent by 2025, while making public transit carbon-neutral. The city is also investing in traffic planning and management to reduce road congestion.
The climate plan incorporates a proactive approach to insure the adoption of its carbon-neutral measures. Describing the plan's transportation agenda, for example, the plan summary asserts that, "The traveling habits of Copenhageners must be changed through campaigns to provide information and change behavior."
To boost bicycle use, the city is investing heavily to make Copenhagen the world's best city for cyclists by adding three-lane cycle paths as part of the city's PlusNet system, while encouraging companies to support the use of electric bikes for long rides.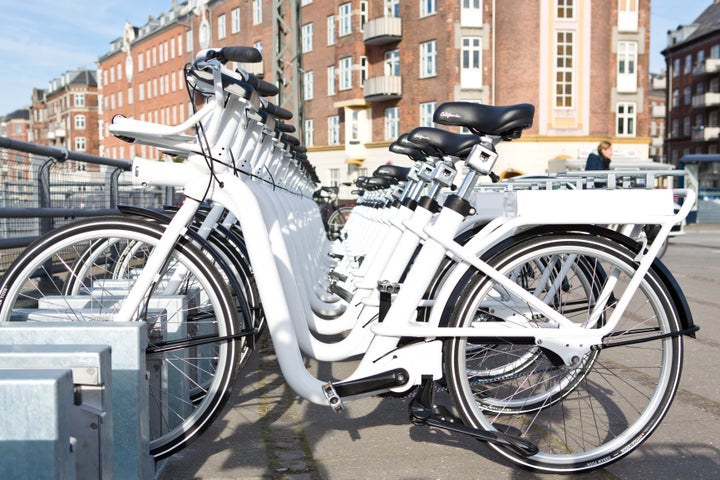 The "City of Cyclists" program will require investments of $84 million, according to a 2025 Climate Plan summary, plus another $140 million in costs not included under the plan.
The next installment in the series describes further steps that Copenhagen is taking to rid itself of fossil fuel power and a unique commercial system that the city has established using natural seawater to provide industrial and commercial cooling.
_____________________________________
Related
Popular in the Community