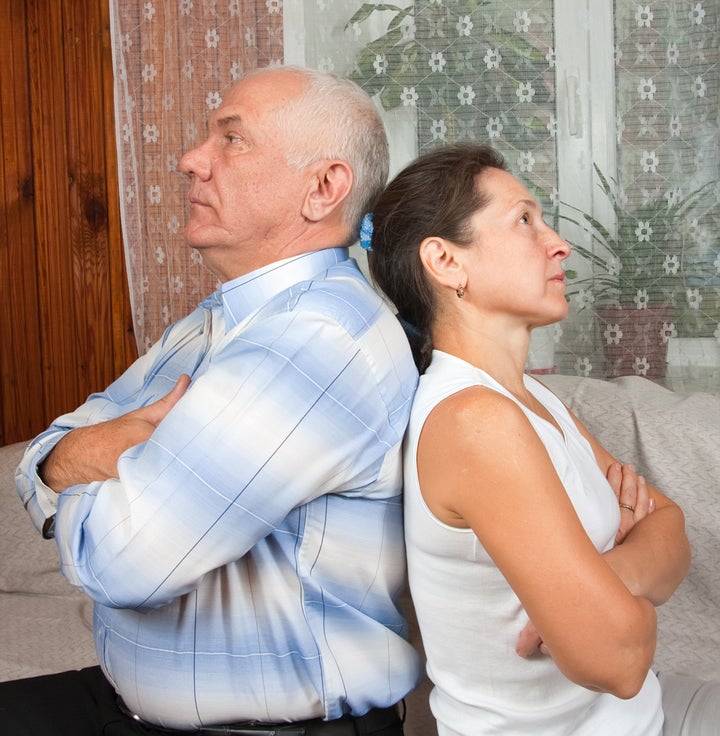 Going through a divorce and starting over is not an easy task, especially if you have spent the last three or four decades living with the same person. A recent trend I have seen in my practice is an increase in older couples in long-lasting marriages filing for divorce. This trend is often dubbed a "gray divorce"; some well know examples include Al and Tipper Gore divorcing after 40 years of marriage and more recently, Joe and Tina Simpson after 34 years and Danny DeVito and Rhea Perlman after 30 years.
Because divorce is no longer considered a social disgrace, more and more older couples are deciding to take control of their lives. They are realizing that they no longer have to "settle" for being in an unhappy marriage solely because they have spent most of their lives with that person.
The challenges associated with gray divorce are different than those of a typical divorce -- child support and custody, for instance. Couples going through a gray divorce often have to divide decades worth of assets and/or debts, split two pensions and 401ks and more importantly, plan for their retirement. In addition, there are perfectly normal fears that come along with gray divorce. My older clients are often worried about how their adult children will react, what would happen if they get sick down the line, whether they will be lonely and will there be another chance for happiness.
I always tell my clients to look at their divorce as an opportunity for personal growth, especially if they were married for the majority of their lives. It is imperative to reclaim your identity, to remember who you were before the marriage and to pursue your own personal interests again. The best and most important advice I can give to my clients is to always be prepared. There are several steps to take in order to prevent a divorce from corrupting your finances and to ensure you live out your golden years comfortably:
1. Be aware of your finances during the marriage: I often find that one person in the household manages all of the finances, while the other has no clue. In this day and age, there is no excuse for being uninformed of the marital finances and not having your own financial independence, even if you are happily married. Make sure you are aware of all the accounts open in your spouse's name and that you have access to all marital funds. Know what expenses the household has on a monthly basis and where these expenses are paid from. Be aware of any businesses your spouse is involved in and have a general idea of the type of profits the business makes.
2. Plan for the future: In conjunction with knowing about the marital finances, it is also important to plan for the future -- your pension and 401k plans. Be prepared to divide your pension and 401k with your spouse in the event of divorce or note that you may be entitled to a portion of your spouse's retirement accounts. Make sure all issues regarding retirement accounts are clearly stated in your divorce agreement. However, the agreement is not enough. Make sure that your attorney has a QDRO (qualified domestic relations order) prepared. This order is the only way to make sure that your spouse's pension plan administrator knows how to pay your share of the plan benefits directly to you. Always be mindful of putting away for the future and budgeting your monthly finances.
3. Meet with a financial planner: It is important to create a budget for your new lifestyle. Whether you go from two incomes to one or have to rejoin the workforce, it is invaluable to prepare for the potential discomfort that comes with drastic financial change, especially at an older age where unexpected medical expenses may arise. Having a budget and sticking to it will help you avoid going into debt and will make the financial transition of a divorce easier.
4. Revisit your estate plans: People may forget to change their will, trust, life insurance or pension beneficiaries after a divorce, which means their ex-spouses are able to inherit their assets under the original estate plans. Make sure to revise your estate documents to reflect your wishes after your divorce.
Your gray divorce does not need to define you. If you take the above steps, you will be prepared for the unexpected and come out of the split with your own individuality. I'm confident you will rise above life's challenges and have many more happy years ahead.
Related