Despite all the hopes and dreams of finding one's own true love, the cynics among us know that love can wreak havoc on our lives. Contrary to Erich Segal's assertion in his 1970 romance novel entitled Love Story that "[l]ove means never having to say you're sorry," in order for love to survive, people have to be willing to compromise. Consider the plight of the teenaged Noble Eggleston and Belle Schlumpfert from Venezuela, Illinois, who fall in love in the 1962 musical based on Patrick Dennis's comic novel Little Me.
NOBLE
My mother says that you're not good enough for me, and yet
I have this feeling that I could never have for a nice girl.
I love you, as much as I am able,
Considering I'm wealthy, considering you're poor.

BELLE
That's very nice, because I love you.

CHORUS
She loves you, she loves you, she loves you.

NOBLE
I know it.

BELLE
As much as I am able,
Considering your mother considers me a boor.
My passion will endure for you.

NOBLE
And I will always love you.

BELLE
My heart I'll keep secure for you.

NOBLE
Though other girls are so far above you.
To show you I am democratic,
Considering you're riff-raff and I am well to do.
As Noble and worthy of the label.

CHORUS
Label, label, label.

NOBLE & BELLE
As much as I am able, I love you!
Sometimes the folly of falling in love is unavoidable. After all, infatuation does strange things to a person's mind. In the following clip, Sierra Boggess sings a classic from Rodgers & Hart's 1938 hit musical, The Boys From Syracuse.
Bay Area audiences were recently able to reflect on the challenges of falling in love with someone whose socioeconomic status puts them distinctly out of reach. The folks at 42nd Street Moon presented a delightful revival of a musical which does a smashing job of spoofing British aristocracy. At the same time, the San Francisco International South Asian Film Festival offered a heartbreaking drama about a young man whose unrequited love is automatically doomed by India's caste system.
There are times when the politics of fear, a steady diet of sarcasm, and one's personal anxieties become exhausting and tedious. In such moments, a grand night of silliness is a very welcome friend. Circus events, bawdy shows like A Funny Thing Happened on the Way to the Forum, and the chicken dance from La Fille Mal Gardée go a long way toward lifting one's spirits.
Then, of course, there are musicals whose sole purpose is to make people happy. One of the most intoxicating of all time is Sandy Wilson's 1954 hit, The Boy Friend (in which an 18-year-old Julie Andrews made her Broadway debut). Created as a loving send-up of the typical Rodgers and Hart "boy meets girl" musicals of the 1920s, The Boy Friend takes place at Mme Dubonnet's School for Young Ladies (which is essentially a boarding school for young British women hoping to acquire some charm, tact, and elegance) at the Villa Caprice on the French Riviera.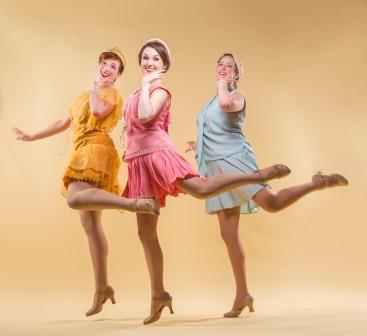 Melissa Reinertson (Faye), Jennifer Mitchell (Polly), and Andrea
St. Clair (Maisie) in The Boy Friend (Photo by David Allen)
Most of these girls come from upper-class British families whose snobbery knows no bounds. Polly Browne (Jennifer Mitchell) -- the pretty daughter of a millionaire -- is constantly worried that the only men who are ever interested in her seem much more interested in her family's wealth. When she meets a handsome delivery boy who seems awfully nice, she's drawn to him with an intensity that could bridge any socioeconomic gap in their social standing.
Complications quickly ensue, and, by the end of the show, the audience learns that the extremely likable Tony (Nathaniel Rothrock) is actually the missing son of Lord and Lady Brockhurst (modeled, perhaps, on Gilbert and Sullivan's Nanki-Poo). Directed and choreographed by Cindy Goldfield (with music direction by Dave Dobrusky), 42nd Street Moon's staging of The Boy Friend was as buoyant and intoxicating a show as one could possibly desire.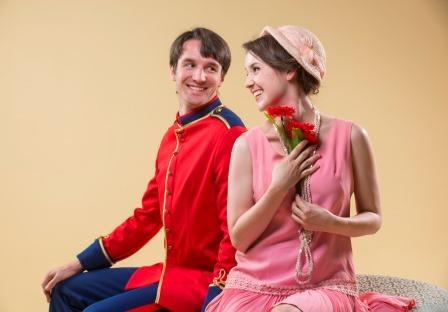 Nathaniel Rothrock (Tony) and Jennifer Mitchell (Polly)
in The Boy Friend (Photo by David Allen)
Although Jennifer Mitchell and Nathaniel Rothrock were perfectly charming as the romantic leads, much of the show relied on the comic talent in supporting roles. Katherine Cooper (Hortense), Andrea St. Clair (Maisie), and Brandon Dahlquist (Bobby van Husen) brought a gleefully romantic sense of conspiratorial giddiness to the proceedings.
Among the "elders," Paul Myrvhold delivered a touching characterization of Polly's father, Percival Browne, who had a fling many years ago with Madame Dubonnet (Stephanie Prentice). Mark Farrell (Lord Brockhurst) and Erin-Kate Whitcomb (Lady Brockhurst) showed what two old-timers with strong comedic chops can do to milk a laugh. More than 60 years after its creation, Farrell's duet with Khalia Davis (Dulcie) entitled "It's Never Too Late to Fall in Love" has lost none of its hilarity.
What I especially liked about this 42nd Street Moon production was how perfectly it captured the spirit and charm of Sandy Wilson's musical. Songs like "Won't You Charleston With Me?," "I Could Be Happy With You," "A Room in Bloomsbury," and "Sur La Plage" remain as ebullient and crowd-pleasing as ever.
For those who missed it, in 1971 filmmaker Ken Russell adapted The Boy Friend for the silver screen with a cast headed by Twiggy, former British ballet star Christopher Gable, and a young Tommy Tune. The resulting overkill was enough to take most if not all the fun and joy out of The Boy Friend. Here's the trailer:
Musicals like The Boy Friend and Half a Sixpence focus on how the British class system can get in the way of true love. In 1986, when the London revival of Me and My Girl traveled to Broadway, Noel Gay's 1937 musical highlighted the clash between lower-class Cockney folk and the upper classes by performing the Lambeth Walk.
Alas, fancy costumes and happy music have no place in certain amorous pursuits. The Lord Chancellor's nightmare song from Gilbert and Sullivan's 1882 comic opera, Iolanthe, begins with the following verse:
Love unrequited robs me of me rest;
Love, hopeless love, my ardent soul encumbers;
Love, nightmare-like, lies heavy on me chest,
And weaves itself into my midnight slumbers...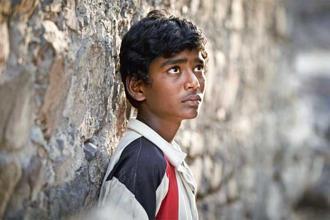 Somnath Awghade stars a the lovesick Jabya in Fandry
Written and directed by Nagraj Manjule, Fandry is set against a background of rural poverty and the brutal realities of India's caste system. A poor, young, dark-skinned boy named Jabya (Somnath Awghade) who lives in the tiny village of Akolner, develops a hopeless crush on his classmate, Shalu (Rajshree Kharat). For the most part Shalu is totally unaware of his emotions and only sees Jabya as a member of a lower caste (Dalit), which basically makes him an untouchable.
Even though Dalits comprise nearly a quarter of modern India's population, their caste condemns them to menial (and often filthy) jobs such as cleaning latrines. In Fandry, Jabya's father, Kachru Nana (Kishor Kadam), is tasked with catching and killing the stray pigs that keep running through the village and terrorizing those who are higher up the social ladder.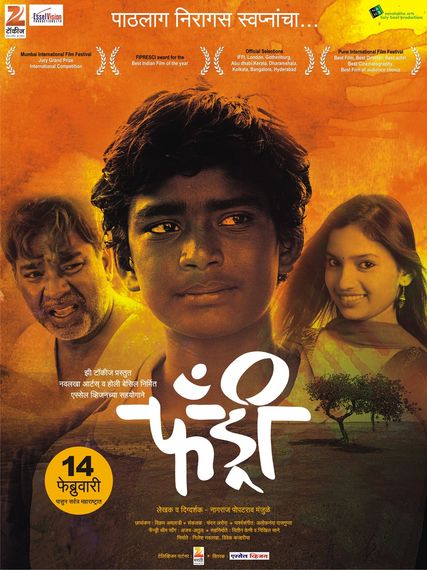 Incurably lovesick, Jabya dreams of raising enough money from selling ice popsicles with his best friend, Pirya (Suraj Pawar), to buy himself a pair of jeans with which to impress Shalu. Unfortunately, poverty and their status as members of the Dalit caste create numerous obstacles for Jabya's family.
His father desperately pleads for work and takes on any job he can get in order to feed his family. Nana's advancing age (coupled with a bad leg) make it difficult for him to chase and catch the village's wild pigs.
Jabya's oldest sister (who has returned home to live with her parents) is saddled with the shame of a divorce.
Jabya's mother, Nani (Chhaya Kadam), is worried whether her son is daydreaming too much to concentrate on his studies at school.
Jabya's parents are both struggling to find enough money for a dowry for his youngest sister's wedding.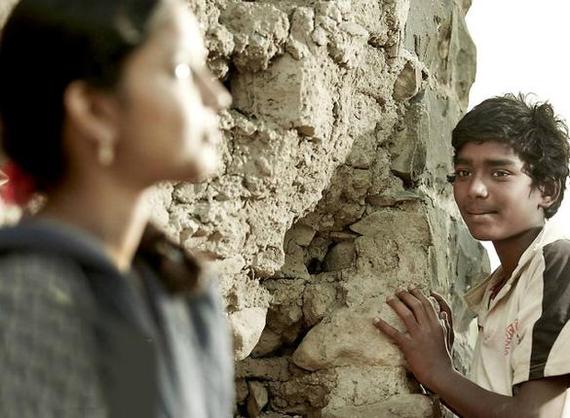 Rajshree Kharat (Shalu) and Somnath Awghade (Jabya)
in a scene from Fandry
One day, when Jabya and Pirya are trying to sell their ice pops in a neighboring village, a delivery truck backs up and crushes Jabya's bicycle. The boy breaks down in tears as he tries to find a way to explain to Chankya (the village bike vendor and local drunk) that he cannot pay him back for the bicycle. Much to Jabya's surprise, Chankya (Nagraj Manjule) forgives the debt and tells the young boy not to worry about it.
As Nana and his family set out to trap and catch some wild pigs, the pressure continues to mount. When, to Jabya's utter horror, Shalu and her friends from school pass by as one of the town's bullies starts taunting Jabya, the boy snaps in the film's climactic moment.
Not only is Manjule's script nicely structured, but Fandry benefits immensely from the original musical score composed by Alokananda Dasgupta. Somnath Awghade delivers a heartbreaking performance as a boy on the brink of puberty with little understanding of the world around him but more conflicting emotions than he can reasonably handle. Here's the trailer:
REAL LIFE. REAL NEWS. REAL VOICES.
Help us tell more of the stories that matter from voices that too often remain unheard.