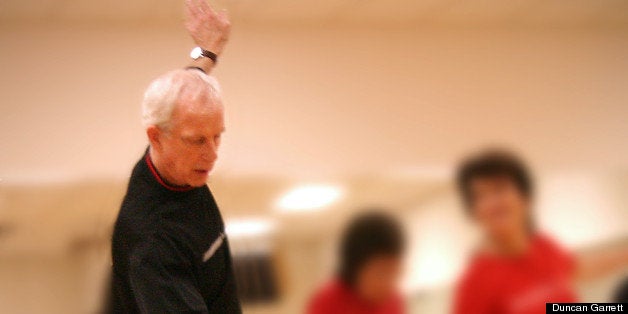 August 2, 2008: I crawled into Robert's bed and wrapped my body around his. If I could only get close enough to make the last hour, the last months, disappear. I hugged him tightly, desperately. I wailed his name and listened to his silence, remembering his murmurs, his words of love. I nuzzled my face into his neck as I had many times before, but there was no warmth now, no "I love you, sweetheart," no kiss on the top of my head, no strong arms pulling me into him. I covered his thigh with mine, snaking my arm under his pajama top so that I could stroke the chest hair I had first touched seven years before.
I willed him to come back to life.
"Do you need some time alone with your husband before the mortuary takes his body away?" the hospice nurse asked me gently. I nodded, shut the bedroom door, turned off the light, and crawled into bed with Robert's dead body.
It was the first time in three months that I could wrap myself around my beloved and hold him tightly without causing him pain. Multiple myeloma -- a blood cancer that affects the bone marrow's ability to make healthy blood cells -- had ripped Robert's life from him while he still lived. His fragile bones broke, causing excruciating pain. His strong dancer's body weakened and withered.
We could no longer make love -- which had been our great joy -- or even snuggle. Every touch was painful to him. All I could do towards the end was rest my hand or cheek lightly on his chest, or hold his hand. These little acts became making love.
Earlier that night I had held Robert's hand -- the hand that painted extraordinary works of art, that gestured gracefully as he talked, that rested on the air as he danced, that caressed me for seven years. I talked to him for hours, telling him how much I loved him and recounting memories. I reminisced about the afternoons that turned into evening as we gloried in the tactile paradise of each other's bodies, the rhythm of our breath in sync. Now there was no breath at all. My tears spilled onto his hand. I lifted his hand and rubbed the wetness into my cheek. "No-o-o-o!" I wailed.
Ours had been a later-life love affair -- we met when I was 57 and he was 64. Robert Rice (yes, his name differed from mine by one letter) was a lifelong artist and a trained dancer from the age of two. He had recently moved to my area and was looking for a place to dance. He discovered my contemporary line dance class.
The moment he walked into the room, my postmenopause-diminished hormones went into overdrive. I met his blue eyes and fell into them. I let my eyes travel to the tuft of chest hair that peeked from the V of his shirt, top two buttons undone, and I yearned to unbutton it the rest of the way down. Then when he moved his hips to the music, I pictured them moving under my hands and I lost my place in the dance I was teaching. It was lust at first sight.
My crush was one-sided, though. Robert kept coming to dance class, but he seemed oblivious to my interest, though it was obvious to all the other dancers, they told me later. Robert was there for dance, not romance.
Even after we started taking walks after class at my invitation, he showed no interest in moving our relationship to the next step. So after nine months of unrequited lust, I told myself, "If you don't ask, the answer is always no."
"I can't help wondering what it would feel like to hold you without footwork," I told him in an email.
He turned me down! "I don't like to rush into things," he explained. (Rush? Nine months?) "Let's keep getting to know each other."
But shortly after that, he emailed me again -- he changed his mind! We made another walking date and shared our first kiss. Our first hour of kissing. Our first week of kissing. Once unleashed, we never stopped kissing.
We were in many ways a fairy tale couple with wrinkles, finding our great love late in life, experiencing the thrills and lust of a new romance, but with the overlay of decades of life experience and mature self-knowledge. We gloried in our passionate sexuality and the discovery of how completely two people could bond.
Through our time together, we danced -- in public, in private. As long as we could dance together, we knew we'd be all right. Even after his cancer diagnosis, Robert kept dancing, taking breaks when treatments made him too sick and weak, then glorying in recapturing his physicality when he could return to the dance floor.
Until... he couldn't any more. His pain, fatigue, and broken spine sent his dance shoes to the closet. Finally he wrote a letter to our class: "Today I began home hospice care. I will no longer be joining you in dancing. Dance with Joan, and you will be dancing with me as well."
Seven years to the day after our first kiss, I kissed Robert for the last time and rocked his dead body to the rhythm of my sobs. I covered as much of his body as I could reach with mine. I felt his body cooling, and yet -- the parts of him that my body covered became warm! I didn't know that was possible! I thought his body would chill mine, but instead, those spots under my thigh, chest, arm, and belly were warming to my touch. I marveled at the power of love -- as I saw it -- to warm a dead body.
The hospice nurse knocked at the bedroom door. "It's time to let them take him away," she said softly. "You won't want to watch."
I released Robert's body slowly and crawled down from the bed. I didn't look back as I left, willing the picture in my mind to be Robert's strong dancer's body, his hips in motion, his vitality, his loving gaze.
I crossed the hall to my study, closed the door, opened my laptop, and started an email to the line dancers. "Robert is free to dance with us again," I wrote.
Popular in the Community