We had taken the doctor's advice to leave Houston for home as soon as possible while Kenny could still fly on a commercial plane. He was extremely weak, mustering up all the strength he had each day to walk from the bed to the chair, get dressed, bathe, have meals and visit the clinic here and there. And of course he needed help with all of that. By this time, his entire body was riddled with melanoma; I could feel the lumps in his stick-thin arms and even see a crusty one just behind his left ear. His blood supply was dangerously low and waning every day. But my husband had the strength and endurance of a race horse, the determination of a man with a mission and the acceptance of an ascended master. As this story progresses, you'll see for yourself how these attributes supported his final trip home to our beloved Prana.
That Saturday, Baba arranged to have a recorded MSIA seminar right in our hotel suite. Marsha and Rosie drove all the way from Austin to be with us. They stayed the night. Thelene drove five hours from Fort Worth. And Juaquin and Yvette made it too. There we were, eight of us calling ourselves forward into the Light, sharing the depth of our prayers and our gratitude and being there in support of one soul's journey into the arms of God. My prayer was not only for Kenny's healing, but for a safe and easy trip home.
On Sunday, Rosie and Marsha bought us a bunch of groceries, including a good old fashioned, head-kicking Texas barbecue lunch, which Kenny devoured with glee. And since that rude and crude bucket list doctor told him he could eat and drink whatever he wanted (without saying what he really meant: "These are your last days, Buddy"), Kenny promptly ordered Baba to bring in some really good booze. I can't remember what it was, but it didn't go unnoticed.
On Monday I didn't know how I was going to get Kenny on the plane and off. He was using a walker now and could only manage a few steps. I was consumed with grief and worry. I didn't know how it could be done. I felt helpless. While Kenny was napping in the bedroom, I silently cried my eyes out on the couch in the living room as I made arrangements on the phone for a flight home the next day. But I also prayed. I remembered how Spirit had met us at the point of each action and filled in the gaps wherever necessary time and time again during that month in Houston. In fleeting moments of awareness, I put my trust in God, that the Omniscient and Divine would pave the way, that our trip home would be graceful and easy --through all our circumstances.
It was Tuesday now, the day we would fly. I began to pack and Esther, sent to us by Yvette and whom we hired to help care for Kenny while we were in Houston, emptied the entire refrigerator and the cupboards of our personal food supplies. Juaquin packed all the stuff he agreed to ship home for us like the juicer and the strainer and the emersion blender, and I crammed everything I could into our luggage including the new Tony Lama boots and the books and the medications, and the everything, including Valentine Tiger.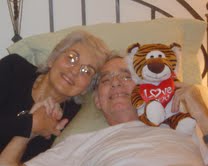 Thankfully, Baba would follow me to the car rental drop off, which was only blocks away from the hotel, and then he drove us straight to the airport in his car. Two porters were waiting for us -- one with a wheelchair for Kenny, and the other to help me with our carry-ons. They escorted us all the way to the gate and stayed with us until we were called to board.
I can't express how dear and exciting and relieving it was to be coming home after the harrowing month in Houston, what with Kenny's painful reaction to the medication, the overwhelming and dreaded results of the CT scan, the blood transfusions, the hospital stays, the masked knowing underlying all the busy-ness of each day that the Well of Souls would be calling Kenny's name soon, signaling the end and the beginning of his journey home to the Heart of God.
He was wheeled right up to the door of the plane. In his shearling slippers (the only shoes that would fit his swollen feet) we slowly shuffled together to our seats at the bulkhead. I was walking backwards, holding Kenny's hands to help keep him steady, while attendants stood by, helpless because the aisle would only accommodate us two. Finally we reached our seats. Kenny was handsome as he ever was, in his Virgil Cole cowboy hat; I was in my Boss of the Town, 100 percent beaver fur hat that Kenny had commissioned especially for us by a world-renown cowboy hat maker in Canada. They were mighty fine hats indeed.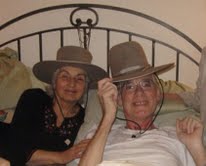 Such are the blessings. The flight attendants did their best to be helpful. And so did many of the other passengers. The flight was short (whew!) and it was time to land -- I say that with gratitude that Kenny's feet could soon be elevated to relieve the swelling. As usual the captain's voice boomed through the cabin, announcing our upcoming landing. Only this time he told us we were being met by some gusty winds that would buffet the plane around a bit. Kenny held my hand as he always sensed my nervousness on take-offs and landings. And yes, indeed, as we descended, the plane bounced and bobbed, swaying to and fro, and I could hear Kenny asking for the Light of the Holy Spirit to be with us, especially with the captain, and the ascended masters as well. In fact, it was time for all the masters who worked with us to line up in support of a smooth landing. We touched down one wheel at a time and breathed a sigh of relief. Kenny was in tears of recognition and gratitude. Even now in his weakened state when it would take all his strength, fortitude and focus to get from his seat in the plane to the wheelchair awaiting us in the jetway, he called forth the Holy Spirit and the entire MSIA ministerial body to assist in the landing.
I was struck once again by Kenny's unwavering focus and determination.
Now it was time to retrace our steps, making our way from our seats on the plane to the wheelchair in the jetway. The attendants had called ahead to make sure porters would be waiting for us, and they were. We were the last to deboard. We helped Kenny to his feet, and -- ever so slowly and painstakingly, hands in my hands -- he reached the chair. I could see he was focusing on balance; with hardly any strength left in his muscles, he now had to consciously make sure he was balanced from head to toe, or else the lack of strength could knock him over. I was in awe of what I was seeing. It was not new to me, his determination. I had seen it before, but never to this extreme. In the background I heard the attendants remark, "We have a disabled man slowly deboarding the plane. It's going to be very slow." Dear Ross met us at the baggage claim and drove us those fateful miles home. Home was in sight now. And we made it home. On March 7, 2011, it was just one year and two days from the real "Coming Home to Prana Day," and just 24 days shy of the one year anniversary of Kenny's "Coming Home to God Day."
As I look ahead, there may be one more article, as I plan for a gathering of loved ones on March 30, the anniversary of his passing, to remember our Kenny in his vitality and wide-eyed enthusiasm for life -- especially life in nature, hearing birds calling, being held close to the breast of the forest, watching a race horse full out in the straight-away. Kenny would be embracing us with his magnetic blue eyes and forever smile.
Later I am seeing an accounting of my personal healing from the trauma of my husband's illness and subsequent death, and the many traumas I experienced throughout this life. The frozen synapses thaw out, the resiliency restores, the freedom of choice and walking the high country is within sight. The Father in Heaven holds his hands out to me, kind of like I held my hands out to Kenny -- although not for balance, but ready to receive whatever I can let go of, whatever I don't need any longer. The ancient protection of the reptilian mind (good for real physical danger, but now outdated for emotional or mental challenges) is assigned its rightful job, ready only when needed, instead of being revved up nonstop. The nervous system repairs, and the true protection of being present in the now anchors deep in my consciousness.
***
The rest of our story is in previous articles, some here at The Huffington Post, and the entire collection at KennethHJones.wordpress.com. I hope you are touched by the Spirit as you read, and that you look into your own consciousness once again for the places that call out to be healed. God bless you, Baruch Bashan -- the Blessings Already Are.
Please feel free to comment, ask questions, and share your story in the comment field. Alternatively, you may contact me directly at carol.jones43@yahoo.com.
Calling all HuffPost superfans!
Sign up for membership to become a founding member and help shape HuffPost's next chapter