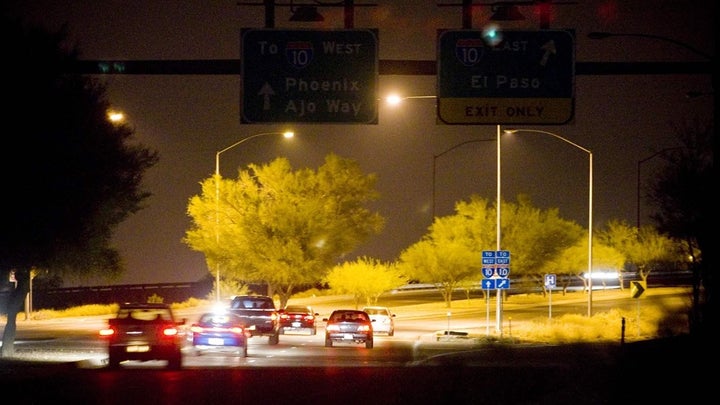 Just after midnight in September, a pickup truck struck and killed a 55-year-old woman crossing an intersection in a motorized wheelchair on a dark stretch of a highway in Kansas City, Missouri.
The streetlights had gone out there — after thieves stole their copper wiring.
The unusual crime has been on the rise in some states, transportation officials say. Besides creating dangerous conditions, the copper wire thefts have become a drain on state and local resources.
"It's gotten a lot worse in our area," said Susan Barry, an engineer at the Missouri Department of Transportation. "We've had to get an on-call contractor to do repair work. Our electricians just can't keep up. And we're fixing the same locations multiple times."
So far this year, the transportation department has spent about $850,000 on light repairs caused by the theft of copper wire, Barry said. That's the same amount it spent in 2016 and 2017 combined. "It's kind of like throwing your money in the trash can."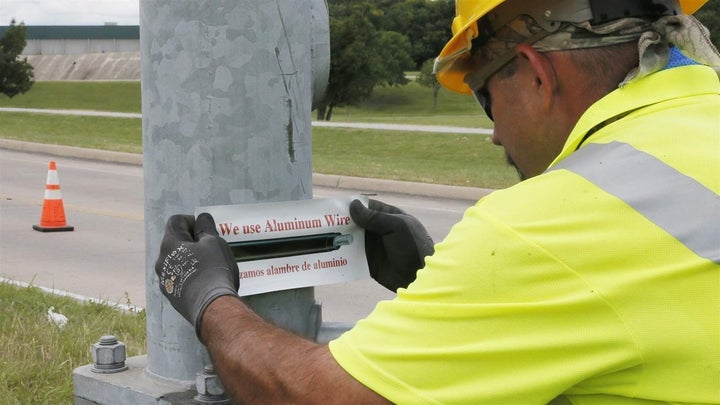 In Washington state, some of the regional offices of the Department of Transportation likewise reported a spike in copper wire theft. Officials are especially concerned because some thieves have cut the safety wires that ground electrical current. That exposes state workers to potential electrocution when doing repairs or maintenance.
In Oklahoma, state officials estimate they'll need $500,000 to repair the lights on Interstate 40 in downtown Oklahoma City that have been hit by copper thieves. The Department of Transportation already had fixed those lights in 2014 and 2015 for about $300,000, said spokeswoman Brenda Perry.
"It's about 5 miles' worth of interstate, and much of the entire corridor is out," Perry said. "The lights are very important there, and it's pretty dark."
Copper Rip-Offs
Thieves have been stripping copper wire from abandoned houses, commercial buildings and construction sites for years. But they also have taken aim at public rights of way, creating a rash of headaches for public safety and transportation officials.
Copper wiring typically is found in boxes at the base of light poles or on highway barriers, or in controller stations — above-ground cabinets off the roadway that control a whole section of lights.
Some thieves dress in phony gear to pose as utility or transportation workers. Others just walk right up, break into the boxes and steal the wires. The crooks, some of whom police say are drug addicts looking for quick cash, take their loot to scrap recycling yards to sell it.
In May, the Yavapai County Sheriff's Office in Arizona arrested three people for allegedly scrapping more than 300 pounds of copper wire stolen from state rights of way. A search of one suspect's home found glass methamphetamine pipes, a digital scale and meth residue on top of a dresser.
Stealing copper can be lucrative. Scrap copper currently goes for more than $2 a pound.
And while copper theft ebbs and flows, often depending on the economy and the metal's price, it never goes away.
From 2014 through 2016, businesses and individuals filed 28,040 insurance claims for metal theft, which includes bronze, brass and aluminum, although the vast majority involve copper, according to the National Insurance Crime Bureau, an industry association set up to combat insurance fraud.
While that's a drop from the 39,993 claims filed for the previous three years, it's still a problem, said Frank Scafidi, the group's public affairs director.
"These knuckleheads are still out there," he said. "For them, it's all profit. They could care less what they get from [scrap recycling] place A, B or C; they just want the money."
For transportation officials, it's more than just dollars. Roadway lighting can reduce night-time crashes by about 35 percent, according to a Federal Highway Administration study.
"Motorists depend on that lighting, especially entering and exiting highways and at intersections," said Timothy Tait, communications director for the Arizona Department of Transportation. "This is not a harmless crime by any means."
In the Kansas City death, police said the traffic signals were working, the woman was crossing at a red traffic light and the driver had a green signal.
There was some light from the traffic signals, said the state transportation department's Barry, so the incident can't totally be blamed on copper wire theft. "But it brought more attention to the problem, and that's important," she said.
And it isn't just dangerous for motorists and pedestrians.
In June, a man died in Oklahoma City after being electrocuted while apparently trying to steal copper wire from a box connected to a light pole on a city street.
Fighting Back
State legislatures have been trying to tackle the metal theft problem for at least a decade. Every state now has laws aimed at curbing the practice, according to the Council of State Governments.
Some require scrap metal recycling yards to check the identification of anyone who sells them metal. Some make dealers provide better documentation, such as noting the license plate of the vehicle that transported the metal. Some have hiked penalties for stealing metal.
But the thieves are still out there.
"In spite of all the laws enacted to prevent it, it comes down to humans doing what they do," said the insurance fraud association's Scafidi. "Recycling businesses are under scrutiny, and the majority of them probably are doing what they should, but others may not be."
State transportation officials have been fighting back by installing what they hope is tamper-proof equipment.
In Missouri, where the problem is particularly bad on U.S. Highway 71 that connects the south suburbs to downtown Kansas City, the state transportation department put theft-deterrent doors on light pole bases that need special tools to open them, Barry said. But it doesn't keep all thieves away.
"It might slow them down, but if they're determined, they'll get into it," she said. "They just smash it instead of open it."
Right now, Barry said, large portions of one 12-mile stretch and another 5-mile stretch of U.S. Highway 71 have no lights.
State officials also are considering putting copper overhead on the top of light poles rather than at the bottom. But that could lead to other issues, such as exposure to bad weather and the unsightly aesthetics of cables overhead.
In Washington state, which has spent nearly $250,000 in repair and replacement costs since July 2017, workers have welded junction box covers and replaced copper with aluminum wire in some areas because it's cheaper and less appealing to thieves, said transportation department spokeswoman Barbara LaBoe. 
In northwest Indiana, the state Department of Transportation teamed up with the state police, which have stepped up patrols around highway lighting. The department has also assigned technicians to monitor highway cameras 24 hours a day, looking for potential copper thieves.
In March, police arrested two people on charges of stealing copper wire from a state highway in Gary.

REAL LIFE. REAL NEWS. REAL VOICES.
Help us tell more of the stories that matter from voices that too often remain unheard.