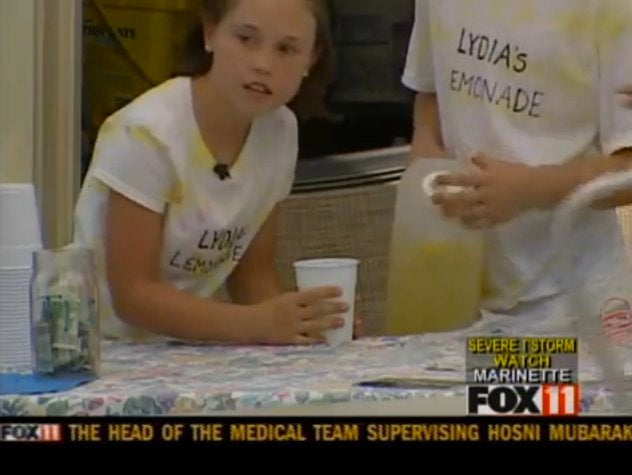 Appleton, Wisconsin police officers are apologizing to two sisters, ages nine and 10, for busting their lemonade stand on a new city ordinance regulating vendors.
It turns out, they read the law wrong.
According to FOX-11 in Appleton, Vivian and Linda Coenen were partaking in a 15-year-old neighborhood tradition: selling lemonade in their driveway during the city's Old Car Show. "The kids have been setting it up for six or seven years now," said Margi Mann, the girls' mother.
But then, Mann got a knock on the door. It was the Appleton P.D.
Apparently, as WTAQ reports, an ordinance was passed in the city on June 1 that banned vendors from selling food and drink within a two-block radius of any city event, in order to protect non-profit groups selling at the events.
The girls took the news hard at first, although they were able to drum up some sympathy by adorning their homemade signs with "The City Shut Us Down" and giving their wares out for free -- with a tip jar.
Still, neighbors were upset about the long arm of the law fiddling with a lemonade stand. So aldermen took a closer look at the ordinance to see if they could fix it.
"Not our finest hour," Police Chief David Walsh told the P-C, "but I believe the officer was acting in the spirit of inter-departmental cooperation rather than malice toward childhood lemonade stands." He apologized to the girls, and said the department would see to it that it doesn't happen again, according to an Associated Press report.
And Mayor Tim Hanna is telling kids to rev up the lemon-juicing apparatus in advance of Art in the Park on July 31.