When Wisconsin's same-sex marriage ban was declared unconstitutional, some local cops helped couples celebrate in a way any newlyweds should: with cake.
Sue Carnell, a Madison police officer, and her wife, Gail Chodron, were at the City-County Building in Madison after U.S. District Judge Barbara Crabb struck down Wisconsin's same-sex marriage ban on Friday, June 6. The couple, who married five years ago in Canada, were told their union is now recognized in the state, according to the Capital Times. The two were celebrating with other married couples nearby when they began chatting with officers Matt Kenny and Zach Kimbrew. Kenny said there should be cake.
Carnell and her fellow officers went to get the celebratory dessert and, when they returned, Chodron snapped a photo of the trio.
The photo of Carnell, Kenny and Kimbrew eventually went viral. It was retweeted and shared on Facebook thousands of times, with many users applauding the officers for supporting equal rights.
"To me, this is a story about the basic goodness of human beings, and our capacity to share in dignity and joy with one another," Chodron told The Huffington Post. "Some of the couples who got married Friday evening, and in the days since, have been married in their hearts for many years, but haven't been able to get married in the eyes of the state. The entrance to the City-County building became one large, community wedding party! It was an amazing experience to be part of, and having our Madison Police Officers and other community members join us to celebrate made me proud to call Madison home."
Others Wisconsinites showed their support for same-sex newlyweds across the state. Christopher Graham and Andrew Cappelle got their marriage license Friday and then headed to dinner at Milwaukee's Transfer Pizzeria. The staff at Transfer helped them celebrate by paying for their entire meal.
Check out the full photo of the officers with the cake: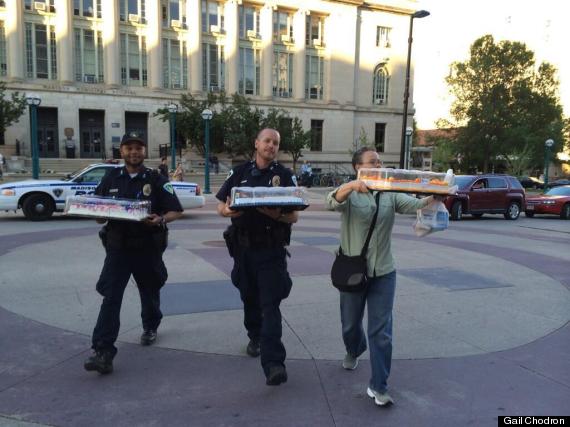 Popular in the Community