A black former White House staffer is speaking out after someone in his new neighborhood reported him to police for armed burglary while he was moving into his New York City apartment.
Darren Martin said he was carrying boxes into his fifth-floor walk-up on Manhattan's Upper West Side late Friday night when he was stopped by six police officers.
In the video, the officers order him to remain in his building's hallway as they investigate the reported "burglary in progress."
A police dispatcher, speaking through an officer's radio, says officers received a call about someone "trying to break into the door." The caller, according to the dispatcher, described Martin as armed with "possibly a weapon, a large tool."
A police spokesperson confirmed that officers responded to a suspected burglary at the building to HuffPost on Tuesday. The spokesperson added that an investigation into the call concluded that no crime had been committed.
Martin, who said he originally planned to move in during the day but was delayed because of work, highlighted on Twitter how badly the situation could have turned.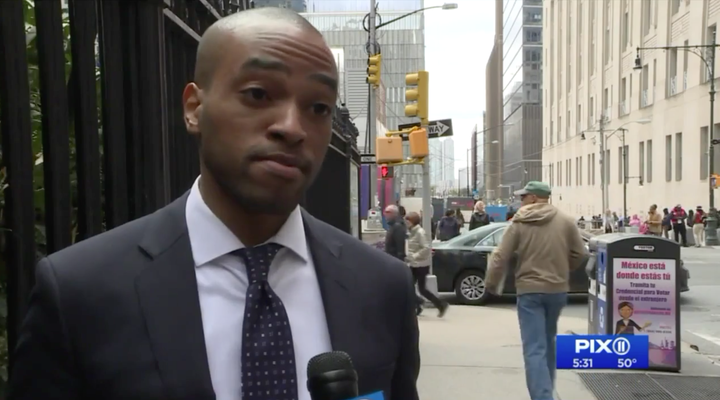 "I was blessed enough to be released and not become a hashtag," he said, alluding to the number of fatal police shootings of unarmed black men. "This was a tame encounter compared to others I've been in and witnessed."
Martin, who previously worked in communications with the Obama administration, now works for the NYC Department of Social Services, according to his LinkedIn. He stressed that he has no doubt that his skin color, in a gentrifying area near Harlem, prompted the 911 call.
Officers eventually cleared Martin of any wrongdoing, but the feeling that he was left with did not go away.
"The next & lingering pit in my stomach came from how my neighbors viewed me," he tweeted. "How they officially welcomed me into the building. Call the police on this Black man who DEFINITELY doesn't live here. The man who worked for President Obama and now serves his fellow New Yorkers."
Martin concluded that moving into a fifth-floor walk-up is tough, but it's nothing compared to doing it while being racially profiled by one's own neighbors.
Calling all HuffPost superfans!
Sign up for membership to become a founding member and help shape HuffPost's next chapter