Police in Northern California fired into a stolen car on Tuesday, killing a pregnant teenager who was in the vehicle.
Elena Mondragon, 16, was fatally shot while in the vehicle with three others. The car, which was reported stolen, had been connected to armed robberies in the Bay Area, KTVU reported.
Officers with the Fremont Police Department cornered the car in an apartment complex and attempted to stop it. That's when the male driver of the vehicle rammed into police cars, injuring two detectives, authorities told the press. During the incident, the two detectives fired at the car, hitting and killing Elena. She was in her first trimester, according to the coroner.
"The female suffering from the gunshot wounds and was treated by the Hayward Fire Department at the scene and transported to a near-by trauma center where she succumbed to her injuries," the Fremont Police Department said in a statement.
The male driver escaped on foot but was arrested Wednesday in San Fransisco in connection to the robberies. Police have not identified him.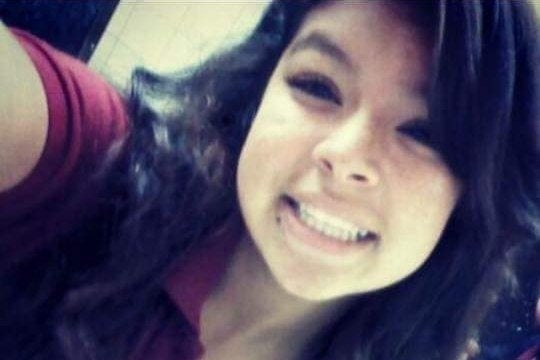 "She was only 16," the teen's uncle, Miguel Minjares, told KRON4. "It's not the same knowing she's not going to be here tomorrow."
Mondragon was described as a "witty, fun loving girl" in a GoFundMe page set up by Minjares. The family is asking for help to cover the cost of her funeral expenses.
"Her single mother does not have means or frame of mind to handle these details," Minjares wrote on the account.
In December, the San Francisco police union filed a lawsuit against the city to block a policy that prohibits shooting at moving vehicles. The union argued that there should be exceptions to shooting at a vehicle if it is being used as a weapon.
However, the U.S. Department of Justice recommends that police departments institute policies prohibiting officers from shooting into moving vehicles, noting it's not an effective tactic to stop a car that is driving toward an officer.
In 2015, the Denver Police Department changed its policy on shooting at moving vehicles after two officers shot and killed a 17-year-old girl they said drove a car towards them. The local district attorney's office declined to prosecute the officers involved, but the policy now prohibits officers from shooting at moving cars unless someone inside the vehicle is firing at them.
The shooting will be investigated by the Hayward Police Department and Alameda County District Attorney's Office, according to the Los Angeles Times.
Popular in the Community