A Kansas police department is facing allegations of racism after a black man used his cellphone to record two white officers yanking him out of a vehicle after seeing "vegetation" on his window.
Rudy Samuel, 31, live-streamed the encounter on Facebook earlier this month after Winfield police stopped his car. Winfield is a small city situated along the Walnut River in Cowley County, Kansas.
"If you want to see a video of racial profiling, this is the poster child right here," Kansas City attorney Brian McCallister, who is not representing anyone in the case, told HuffPost on Monday. "It was an abuse of power because they had no reason to use that kind of force."
In the video, recorded May 13, Samuel says he's been stopped by officers who claim he failed to signal within 100 feet of making a turn. Samuel narrates the first few minutes of the video and waits as the officers attempt to verify his driver's license and vehicle registration. About two and a half minutes into the video, an officer can be seen approaching Samuel's vehicle.
"Hey, Mr. Samuel, what caught my attention was this vegetation stuff right here," the officer said.
After looking at what the officer is referring to ― which isn't visible in the video but is apparently some sort of vegetation in the window seal ― Samuel can be heard saying, "That's tree stuff, man … that's gotta be from a tree."
He later adds: "I don't even smoke." 
The officer then tells Samuel he's going to put the vegetation in an evidence bag, and he's seen returning to his patrol car. He then returns with another officer.
The first officer can be heard telling Samuel to step out of his vehicle. When Samuel asks why, the officer claims it's because of the "vegetation in the window." Asked by Samuel to test the vegetation, the officer replies, "I ain't gotta test it right now. I need you to step out for me."
The officers then appear to reach into the vehicle and drag Samuel out. Samuel drops his cellphone at this point, but the phone continues to record, capturing the sound of officers detaining Samuel.
"You're being detained so I can search the vehicle," an officer can be heard saying. Samuel replies, "I give no permission to search that vehicle."
Shortly thereafter, the video stops. Samuel later wrote on Facebook that one of the officers stopped the recording.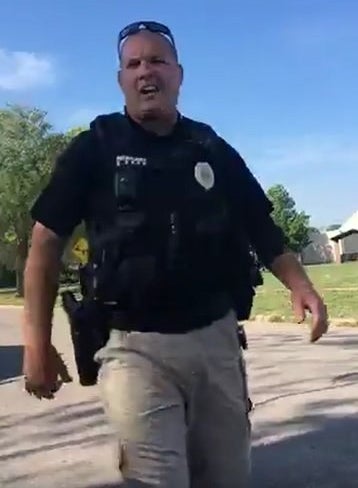 Samuel, citing fears for his safety, directed HuffPost's questions about the traffic stop to a man he identified as his spokesperson ― Peter Wright, of the Kansas-based Freedom 1 social justice group.
Wright said the officers detained Samuel until they finished searching his vehicle, then released him without a citation.
"This has happened to him before for no reason," Wright said. "This young man has a good background. He's a father, he's engaged to be married and his grandfather is a minister. This was racially motivated."
McCallister said police had no right to search Samuel's vehicle.
"In order to search that car, they have to have reasonable suspicion that a crime is being committed or was committed," the attorney explained. "That police officer is saying that the vegetation on the window is what gives him reasonable suspicion to search the car. In my opinion, that was pretext for searching the car."
Winfield Police Chief Brett Stone declined to discuss the traffic stop, but did tell HuffPost it is "under investigation."
Wright said Samuel is weighing his options and considering a lawsuit against the police department. "He has a biracial family and they've moved out of Winfield due to threats," he said.
"He wants people to know what happened," Wright added. "He's lucky to be alive, because so many guys in situations like this are not able to tell their story."
Calling all HuffPost superfans!
Sign up for membership to become a founding member and help shape HuffPost's next chapter
BEFORE YOU GO