Police in Grand Rapids, Michigan, handcuffed an 11-year-old girl and held her at gunpoint after she walked out of her house during a search for a stabbing suspect.
Honestie Hodges told WOOD-TV she exited the back door of her home to go to the store on Dec. 6 when officers confronted her. Her mom, Whitney Hodges, who witnessed the confrontation, said police ordered Honestie to raise her hands and walk backward. Then officers handcuffed the girl, patted her down and put her in the back of a police car, Hodges said.
"It made me feel scared and it made me feel like I did something wrong," Honestie told the TV station.
"The whole time they are telling her to come down, I'm telling them, 'She's 11 years old. That's my daughter. Don't cuff her,'" Hodges said of the officers.
Honestie, who is black, said she sat in the back of the cruiser banging on the windows and screaming to her mom, "Please don't let them take me."
Grand Rapids police, who have begun an internal investigation into their handling of the incident, said officers were at the Hodges home searching for the child's aunt, Carrie Manning, 40, who is white. Manning, who was later arrested, was being sought in a domestic stabbing a few blocks away, and police said they suspected she was armed with a knife.
The department explained officers' actions in a statement posted Monday on Facebook:
"Once onscene, officers determined that the suspect fled the residence still armed with the knife, Their investigation led to a second Westside Grand Rapids home where it was believed the suspect may have fled to. As officers were setting up a perimeter, three females simultaneously exited the home, two adults and one 11 year old juvenile. Until it could be determined that the individuals were not the suspect, nor armed with a weapon, the three were ordered back to officers and detained. The homeowner gave consent to search the home, and it was deemed that none of the three individuals that exited the home were the suspect officers were searching for nor was the suspect in the home. The females were subsequently released."
Honestie said she remains shaken.
"I'm afraid to open or go near my back door ... because of what happened," she told WOOD-TV. "I wanted to be a detective or police officer, but now I don't want anything to do with those kind of things."
Police told HuffPost the department can't comment further until the internal investigation is complete.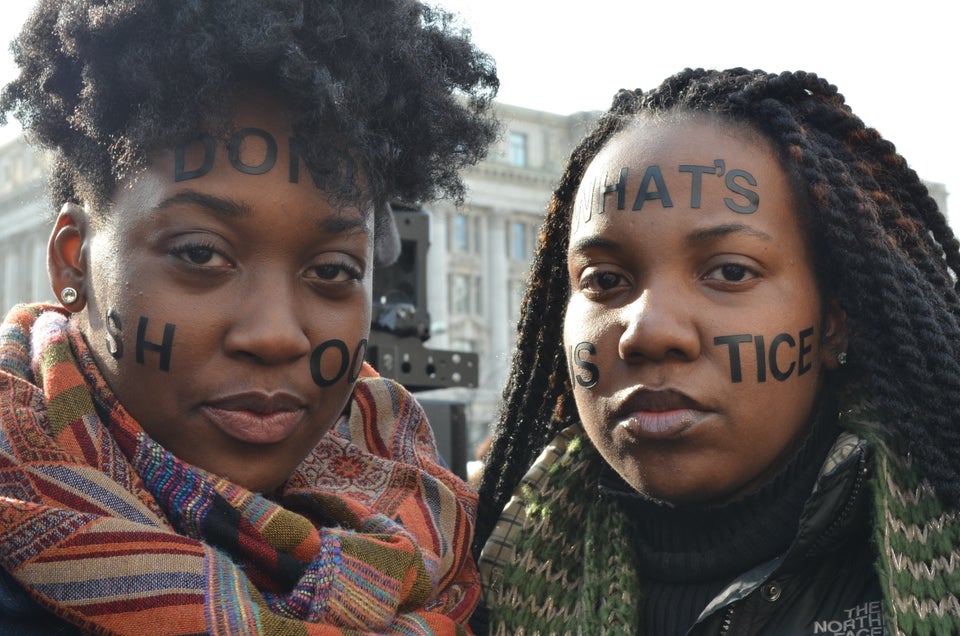 "Black Lives Matter" March
Popular in the Community