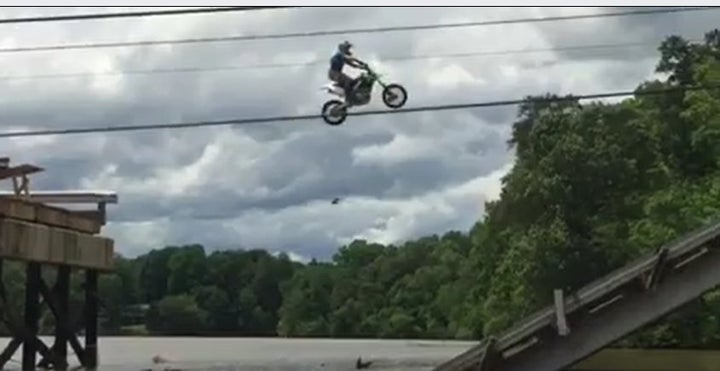 Police in North Carolina are trying to identify a pair of daredevils seen in a viral video jumping over a collapsed section of a closed bridge.
The video, which was posted to Facebook on Tuesday by Hickory resident Colt Howell, shows two dirt bikers taking turns jumping the gap before a small group of onlookers. It's not clear whether Howell is one of the people featured in the video.
Trooper Will Henning with the North Carolina Highway Patrol told HuffPost the bridge featured in the video is located in Granite Falls. It reportedly collapsed earlier this month, prompting the North Carolina Department of Transportation to place cement barricades on each side of the bridge. The riders moved at least one of the barricades to complete the stunt, Henning said.
Spectrum News reports the span between the two collapsed sections of the bridge is 72 feet.
Authorities said the riders are a threat to themselves and a danger to others who might try to copy them.
"We don't want anyone to participate in anything dangerous like that that could cause injury or loss or life," Henning told Huffpost.
The riders, should they be caught, could receive citations for operating a motor vehicle on a road that is clearly marked as closed.
"It's an infraction and they'd receive a fine," said Henning.
The concrete barriers have since been bolted down to deter anyone else from attempting to jump the collapsed bridge.
The bridge, which was built in 1942 and used until its closure late last year, is scheduled for demolition. Officials said construction on a replacement bridge, which will cost $3.2 million, is slated to begin in the coming weeks, Charlotte's WBTV News reported.
Howell did not immediately respond to a request for comment Thursday.
David Lohr covers crime and missing persons. Tips? Feedback? Send an email or follow him on Twitter.
REAL LIFE. REAL NEWS. REAL VOICES.
Help us tell more of the stories that matter from voices that too often remain unheard.
BEFORE YOU GO