Disturbing video showing an 84-year-old woman being pepper sprayed by officers in Oklahoma has prompted an internal investigation by the local police department.
Seconds after Smith is sprayed in her face, she falls to the floor and her hands are secured behind her back. Other video shows her son being hit with a stun gun as he stands with his hands in the air.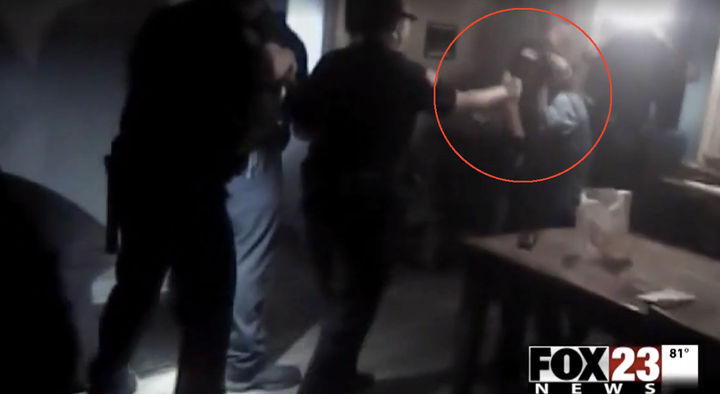 The video, taken from officers' body cameras, was released by the police department over the weekend in a bid to promote transparency, according to the local station.
Police said they were looking for Smith's son, 56-year-old Arthur Paul Blackmon, who was seen running into his mother's house just before 3 a.m. Officers pursued Blackmon after he allegedly drove through a stop sign and then refused to pull over, The Muskogee Phoenix reported.
Smith, who said she was briefly hospitalized after suffering a panic attack in jail, has since accused the officers of using excessive force. She told Fox 23 News that she plans to take legal action.
"I just came out and asked what was going on and they just pepper sprayed me," Smith told the local station.
The Muskogee Police Department said in a statement that Smith and her son repeatedly refused to obey orders, prompting the use of "non-lethal force" in the form of pepper spray and a stun gun.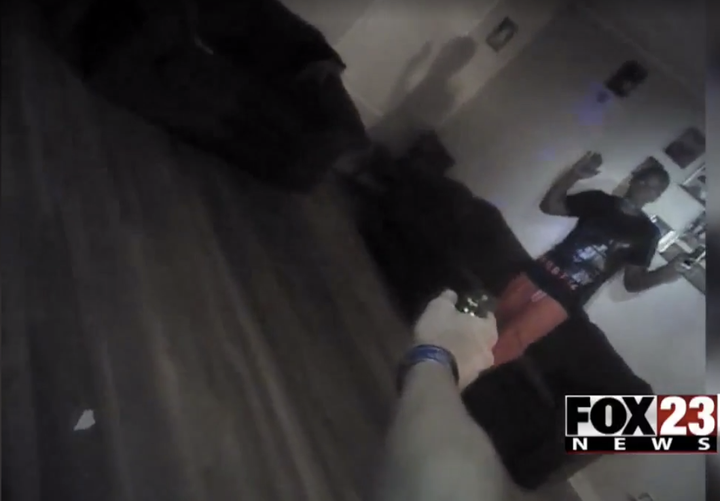 "When securing and clearing a scene, most generally a home, Officers are trained to secure all persons until a threat assessment can be made. Non-lethal force has been a tool long used when dealing with individuals who fail to comply with lawful commands," the department said in the statement sent to The Huffington Post. 
Police said that they decided to force their way inside Smith's home because an address linked to Blackmon's license plate did not match the one he ran into, prompting concern that the home may have been chosen at random. When officers approached the residence, they said they heard someone inside yelling, "Call 911," leading to the forced entry.
After officers secured Blackmon, Smith was "verbally non-compliant" and refused to turn around and place her hands behind her back, police said. She also allegedly twice evaded an officer's attempt to restrain her.
The officer who used pepper spray on Smith said that she believed that she was acting "within policy," according to the statement. The department said that it is now reviewing the incident.
Muskogee's police chief has also cautioned that there are still a lot of questions that need answering. 
"This is a very important issue. There is a lot of missing information out there. There is a lot of prejudgment out there and a lot of concern," Chief Rex Eskridge told Fox 23 News.
Blackmon was charged with driving a motor vehicle while under the influence of alcohol, obstructing an officer, driving with a suspended license, and carrying a weapon, the Muskogee Phoenix reported, citing court documents.
This story has been updated to include the statement from police.
Calling all HuffPost superfans!
Sign up for membership to become a founding member and help shape HuffPost's next chapter
BEFORE YOU GO