An alleged DUI suspect in Bluffton, South Carolina, who was driving 30 miles over the speed limit and ran a four-way stop sign told officers Saturday that she shouldn't be arrested because she is a "very clean, thoroughbred white girl," according to a Bluffton Police Department report obtained by HuffPost.
Cops weren't swayed by her argument and arrested Lauren Elizabeth Cutshaw, 32, early Saturday morning on charges of speeding, disregarding a stop sign, simple possession of marijuana, driving under the influence and possession of drug paraphernalia.
The report says that when Cutshaw, a real estate agent, was pulled over, police observed that her eyes were "bloodshot and glossy," her speech was slurred and the car smelled of booze. The report also said that marijuana and rolling papers were found in her car.
Cutshaw failed sobriety tests and had a .18 percent blood alcohol level, according to a breathalyzer test, the report said.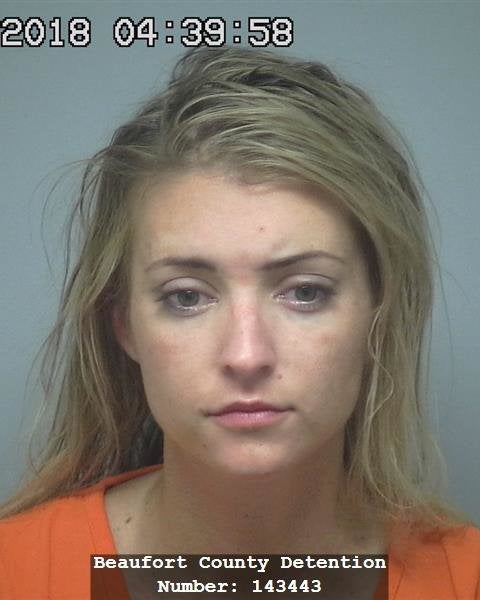 She allegedly told officers that she only had two glasses of wine. When police asked how much she filled up those glasses, she responded, "I mean, I was celebrating my birthday."
During the investigation, cops say that her intoxication was further exemplified by a multitude of excuses for why she shouldn't be arrested.
"I'm a very clean, thoroughbred white girl," she said, adding: "I'm a white, clean girl."
When asked what that had to do with anything she said, "You're a cop, you should know what that means," according to the report.
Bluffton Police Department also sent HuffPost a video of the arrest in which Cutshaw can clearly be heard giving other reasons why she shouldn't go to jail. Among the reasons: She was a cheerleader, a sorority girl, had perfect grades throughout her life, graduated from a highly accredited university, is pretty, and her partner is a cop.
"Making statements such as these as a means to justify not being arrested are unusual in my experience as a law enforcement officer and I believe further demonstrate the suspect's level of intoxication," the officer wrote in the report.
Cutshaw was taken to Beaufort County Detention Center and was released on bond Saturday afternoon, according to police.
HuffPost reached out to Cutshaw for comment but did not get an immediate response.
Calling all HuffPost superfans!
Sign up for membership to become a founding member and help shape HuffPost's next chapter