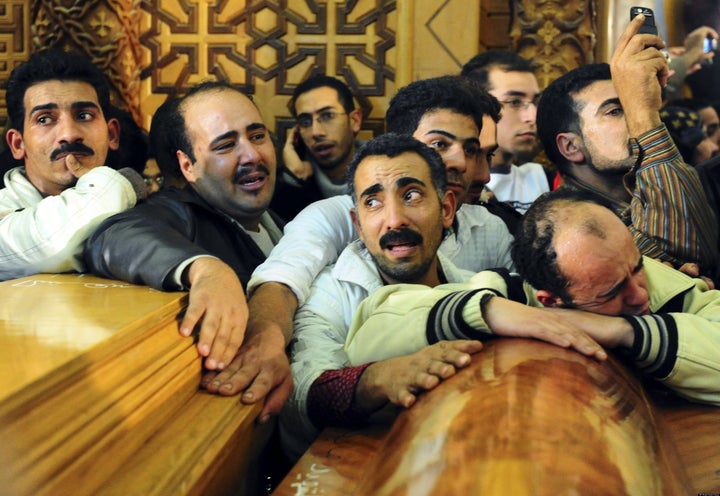 I was horrified to read about the New Year's Day bombing that killed 21 worshipers at the Coptic Christian Saints Church in Alexandria, Egypt. I join Muslim scholars around the world who have roundly condemned this act that directly contravenes Islamic teachings.
"Muslims are not only obligated not to harm Christians, but to protect and defend them and their places of worship," said Imam Ahmed Al Tayeb, the Grand Imam of Al-Azhar, in response to the attack.
Tense relations between people of different faiths are not limited to this horrific incident. Nor are they reserved to Egypt. Around the world, we are witnessing deadly extremism as well as intense conflict, whether the weapons are hateful words or bombs and guns.
Too often, religion is misused as an instrument for division and injustice. This betrays the very ideals and teachings that lie at the heart of each of the world's great traditions. Religious and spiritual traditions shape the lives of billions around the world in wise and wonderful ways. They offer a platform for community building, not only within individual faiths, but across faiths as well.
The Council for a Parliament of the World's Religions traces its roots to the first parliament that took place in Chicago almost 120 years ago. From the start, its aim has been to cultivate harmony among the world's religious and spiritual communities. As well, the Council aims to foster their engagement with the world and its guiding institutions to achieve a just, peaceful, and sustainable world.
Over the years, the interfaith movement has initiated dialogues and nurtured relationships between people of varying faiths. In doing so, it has provided a framework for expressing many visions of a just, peaceful and sustainable future. In the process, religious and spiritual communities have discovered a shared commitment to ethical principles and engaged in seeking the common good.
This modern interfaith movement is taking root all across the world. Former British Prime Minister Tony Blair has established his own interfaith foundation; Saudi Arabia's King Abdullah has found interfaith dialogue a crucial aspect of living in an interdependent world; last August, when a few Christian homes were attacked in Pakistan, the leader of the most conservative Islamic party in Karachi stood with Christians and Hindus protesting against this crime; when the Coptic Church was attacked on January 1, Sheikh Ahmed El-Tayeb, head of Al Azhar, visited the Coptic Orthodox Pope Shenouda III to express his solidarity. Students at Al-Azhar University also organized a protest rally in solidarity with Egyptian Copts.
These are just some ways that religious and spiritual communities around the world are working together for greater harmony. They don't make the news headlines, since change for the good takes years and years of hard work, cooperation, exchange, trust-building, and community-building. In contrast, a car bombing takes just seconds to quickly put more than a dent in such cooperative relations.
Yet, an ongoing commitment to the ideal of interreligious and spiritual harmony cannot and is not shaken by incidents like the January 1 bombing in Egypt. On the contrary, they can and should strengthen our resolve and commitment to work together at a more serious level.
Religions can and have lived together for centuries in various parts of the world, despite years of conflict -- whether it was Christians, Muslims, and Jews in Spain or Hindus, Buddhists, Christians, Sikhs, and Muslims in India. America is our latest, beautiful example of interreligious harmony and coexistence. We are a nation in which faith communities, despite continuing problems and tension, can generally live and work together free of communal violence and instability.
The question of why there are increased attacks on Christians is a legitimate one, which requires a separate discussion about war-terrorism nexus. War continues to produce evil justifications by violent extremists for attacking Christian neighbors. This connection is evident since Al-Qaeda in Iraq had threatened Egyptian Christians recently by publishing a list of churches in Egypt on their website.
Muslim countries have a responsibility to protect their minorities, as do all other countries. No international conflict, no "clash of civilizations" thesis, no thought of a million dead Iraqis or the civilians killed by American drones in Pakistan, the occupation of Palestine or Afghanistan lessens this responsibility. That conversation is independent of the rights of neighbors to freely practice their faith and pursue their lives.
This is where the interfaith movement must continue to strengthen itself to connect neighbor with neighbor as individuals, not as objects of some distant foreign policy.
We must learn the forgotten lessons of being your brother's keeper. And we must also learn from Prophet Muhammad, who said: "None of you has faith until you love for your neighbor what you love for yourself."
Related
Popular in the Community