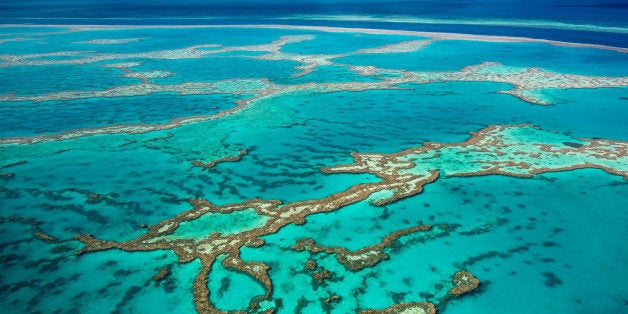 Little known fact: coral reefs procreate.
And since the number of reefs has been cut in half in the last 30 years thanks to climate change, pollution, and predatory species, coral reefs are procreating like there's no tomorrow.
Unfortunately, for many reefs, there might not be a tomorrow, which is why, in an effort to save the foundation of the ocean's ecosystem, scientists are crashing the breeding party.
Called the 'Greatest Sex Show on Earth,' the coral of the Great Barrier Reef spawn every spring under a full moon, releasing countless sperm and eggs into the sea. The sperm and eggs join to form larvae called planulae, which float to the surface of the water, creating a sea of red that can be seen from space. The planulae then swim back down to the reef and settle to create new coral.
During this year's spawning period, which occurred last week, scientists captured billions of sperms and eggs to cryogenically freeze. (The coral release significantly more reproductive cells than necessary to compensate for predators and other hazards, so scientists aren't depleting the stock.) They plan to simulate human fertility methods with the cells to breed endangered coral in labs.
The sperm and embryonic cells the scientists capture are cryogenically frozen at 196 degrees below zero (Celsius) and stored at Western Plains Zoo in New South Wales. Some of the specimens are used for research on breeding techniques for more resilient "Super Corals," while others can be stored for hundreds -- if not thousands -- of years to replenish future dying reefs.
Watch video from Coral Sea Dreaming documenting this gorgeous process:
REAL LIFE. REAL NEWS. REAL VOICES.
Help us tell more of the stories that matter from voices that too often remain unheard.
BEFORE YOU GO
PHOTO GALLERY
Amazing Sea Creatures