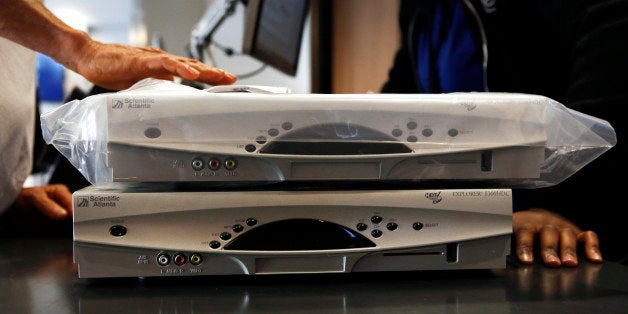 People are moving away from cable TV, but the industry is not going down without a fight.
A report released Friday by the Leichtman Research Group says the 13 largest pay-TV providers -- a group that includes companies like Time Warner, Comcast and DirecTV -- shed about 150,000 video subscribers in the most recent quarter, compared to just 25,000 in the same period last year.
The Leichtman Research Group said this was a greater net loss of subscribers than in any third quarter going back to at least 2002, when the company was founded. To date, the greatest single-quarter loss the company has seen was a net drop of 350,000 subscribers in the second quarter of 2013.
Bruce Leichtman, president and principal analyst of the group, noted that the most recent numbers don't necessarily represent a major exodus away from cable providers.
"The major takeaway is the industry has lost 0.1 percent over the last year," Leichtman told The Huffington Post. "Everyone's been trying to call the industry dead for five years. The industry is losing a little bit, but it's not cratering."
According to Leichtman, subscriber loss is often more pronounced in the second and third quarters of the year, but companies tend to see gains in the first and fourth quarters because that's when promotions are usually offered. In other words, fluctuations in subscriber numbers have less to do with consumer demand and more to do with providers offering deals, Leichtman said.
But a modest loss of subscribers is still a loss, and consumers today have more options than ever before if they decide to "cut the cord" and get their entertainment somewhere else. Major premium cable players like Showtime and HBO have announced that they will offer standalone streaming services in 2015 for customers without cable subscriptions.
Those new options are coming at a time when cord-cutting is already on the rise. Statistics from earlier this year suggest that Hulu and Netflix may be eating cable providers' lunch, and a study recently cited by Variety showed that the number of U.S. customers who say they're planning to cancel their pay-TV plans is up from what it was a year ago -- albeit only slightly. Quartz recently cited 2013 data suggesting that pay-TV subscriptions may have peaked in 2012.
Certain companies fared better than others this quarter, according to Leichtman's new data. Time Warner Cable, the second-largest cable company in the United States, reportedly lost 182,000 customers in the third quarter of 2014, but that compares favorably to the 304,000 it lost during the same period last year -- a bleed-out that Leichtman attributed to Time Warner's protracted dispute with CBS in 2013.
Meanwhile, both Verizon FiOS and AT&T U-verse -- two telephone companies that also provide digital TV service -- reportedly added a combined 330,000 video subscribers in the third quarter, a decline from the 400,000 they added during the same period last year.

Related
Popular in the Community