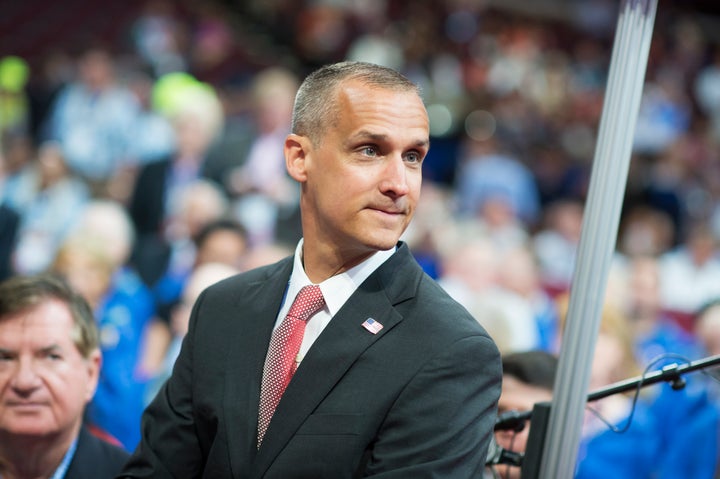 CNN commentator Corey Lewandowski acknowledged Thursday that he is no longer receiving recurring severance payments from the Trump campaign, a situation that's presented a glaring conflict of interest for the network. 
"Everything comes to an end," Lewandowski told CNN co-host Alisyn Camerota after she mentioned on-air that he'd received a final payment. The campaign paid Lewandowski the rest of what he was owed in one lump sum rather than through monthly installments.
CNN hired Lewandowski in June just three days after he was fired by the Trump campaign, a controversial move given the Republican operative's hostile relationship with the press, which included overseeing a media blacklist and once manhandling a reporter. 
The arrangement came under increased scrutiny when CNN disclosed on July 11 that Lewandowski was receiving severance pay from the campaign. Essentially, CNN was paying a commentator to defend a campaign still paying him (and which he's reportedly still informally advising). 
CNN chief Jeff Zucker recently told staff during an internal meeting that the network was aware Lewandowski was still receiving severance money when he was hired. If that's the case, the network has not discussed why these payments weren't disclosed during Lewandowski's initial weeks boosting Trump on the network.
The former campaign manager has received two $20,000 payments since leaving the campaign, according to FEC filings released in July and August, and was expected to continue getting paid through the end of the year. 
In recent days, Lewandowski and the Trump campaign "came to an agreement that his severance payment would be paid out to avoid future distractions," according to a CNN executive with knowledge of the situation. 
"The campaign has paid the remainder of its residual contractual obligations to Mr. Lewandowski," Trump spokeswoman Hope Hicks said in a statement. "This final payment will be noted in the next FEC report."
Lewandowski reportedly signed a non-disclosure agreement with the Trump campaign that presumably restricts him from speaking candidly about the inner-workings of the campaign. 
The former campaign manager is also apparently restricted by CNN from speaking out of turn. While Jeffrey Lord, another of CNN's pro-Trump pundits, has given interviews since joining the network, Lewandowski hasn't responded to The Huffington Post's past inquiries ― and apparently other outlets ― about his arrangement with CNN.
When HuffPost approached Lewandowski on Monday in the media filing center before the first presidential debate, he said he had a "contractual obligation" with CNN that required the network's permission before giving interviews. "If you can get them to say yes, I'll talk to you anytime," he said.
A CNN spokesperson did not immediately respond to a request about Lewandowski's availability.
REAL LIFE. REAL NEWS. REAL VOICES.
Help us tell more of the stories that matter from voices that too often remain unheard.
BEFORE YOU GO