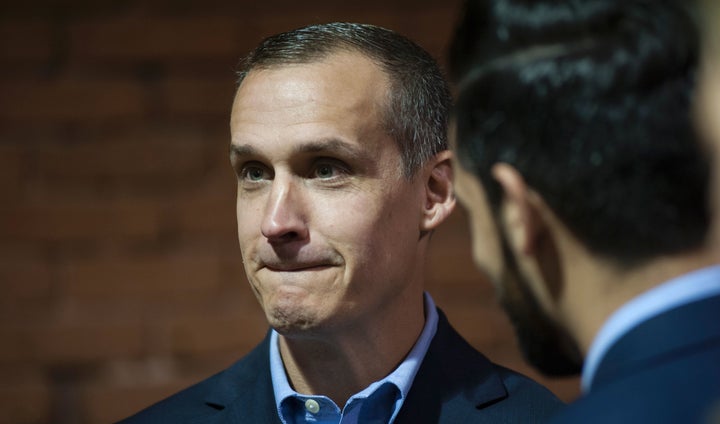 Speaking at the Oxford Union during a trip to the U.K. Wednesday evening, Lewandowski told Americans protesting the election result that they ought to do so "respectfully" and accept that Clinton lost.
"With 11 days to go in this election cycle, something amazing happened. The FBI director, James Comey, came out on a Friday and said they may be reopening the investigation into 'crooked' Hillary Clinton's emails," Lewandowski said.
"What that did," he went on, "was remind people that there are two different rules in Washington ― those of the elites, for the privileged, and those for everybody else."
Comey's unprecedented move was criticized by Democrats and Republicans alike. Less than two weeks before Election Day, Comey announced the FBI was investigating new emails that could be relevant to the question of whether Clinton mishandled classified information by using a private server when she was secretary of state.
His letter was vague, creating confusion and renewed public suspicion of Clinton, who had already been cleared of wrongdoing. Comey's letter also flew in the face of long-standing convention that the FBI and the Justice Department not give the appearance of trying to influence an election.
On Nov. 6, two days before the election, Comey announced that nothing in the newly discovered emails changed his conclusion that Clinton should face no charges.
The Clinton campaign has indicated that it believes Comey contributed to Trump's win.
In the days after the election, Navin Nayak, the head of the campaign's opinion research division, sent a memo to staffers that read: "Comey's letter in the last 11 days of the election both helped depress our turnout and also drove away some of our critical support among college-educated white voters ― particularly in the suburbs. We also think Comey's 2nd letter, which was intended to absolve Sec. Clinton, actually helped to bolster Trump's turnout."
Some 20 or 30 students protested Lewandowski's appearance outside the venue Wednesday, with chants of "No borders, no nation, stop the deportation," "No Trump, no KKK, no fascist USA" and "Dump Trump, dump Corey and their pet the fucking Tories." Another protester inside the hall unfurled a sign and shouted at Lewandowski before being escorted out by security.
Lewandowski admonished Americans demonstrating against Trump that although it's their "right" and "privilege" to do so, they should "do it peacefully and respectfully and honor the 120 million people who voted in this election cycle."
"Democracy works," he said. "If you don't like it in four years, you have the opportunity to change it. If we don't abide by that system, then chaos ensues."
During the final weeks of the campaign, Trump repeatedly told his supporters that the system was rigged and suggested that he would not accept the election results if he didn't win.
CORRECTION: Due to an editing error, some of Lewandowski's remarks in this story were mistakenly attributed to Comey.
Popular in the Community