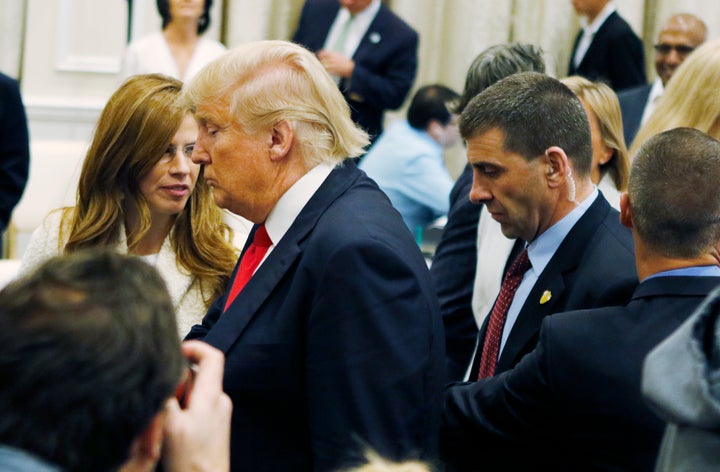 Donald Trump campaign manager Corey Lewandowski says he's ready to move on from the controversy surrounding him, but he isn't ready to apologize to Michelle Fields, the former Breitbart reporter he grabbed at a campaign event.
Fields wanted to see Lewandowski prosecuted for battery, with video showing him yanking her away from Trump, the GOP front-runner, at a March campaign event in Palm Beach, Florida. Fields posted photos of bruises on her arm after the incident. Lewandowski called her "delusional."
The state's attorney for Palm Beach announced Thursday that his office would not be prosecuting Lewandowski. Although the "facts supported" the notion that he grabbed Fields against her will, the state's attorney said Lewandowski still had "a reasonable hypothesis of innocence."
In an interview with Lewandowski on "Fox News Sunday," Chris Wallace gave him the opportunity to publicly apologize to Fields, noting that she could still file a civil lawsuit if she wanted to.
"In the interest of avoiding unnecessary litigation, which I know Republicans don't like, are you prepared here and now to apologize to Ms. Fields for touching her and for saying that she was delusioned?" Wallace asked.
Lewandowski said he's open to talking to Fields but wouldn't say he's sorry at this point.
"Here and now I'd like to say I've never spoken to Ms. Fields," Lewandowski responded. "I turned over my phone records to the Palm Beach County district attorney's office. It clearly shows I called her phone number that evening [after] I read about this on the Twitter feed. I'd be happy to have a conversation with her. But to apologize to somebody I've never spoken to and candidly don't remember ever having any interaction with is something that is a little unrealistic right now."
He added, "This is a person I've never spoken to and I'd be happy to have that conversation if we can put this thing behind us."
The Blaze reported that Fields was considering filing a libel suit against Lewandowski. As The Washington Post's Erik Wemple writes, it wouldn't be easy for Fields to succeed with such a lawsuit. Lewandowski's insults would probably be protected under the First Amendment, and Fields herself could be considered a public figure, given her high media profile.
Calling all HuffPost superfans!
Sign up for membership to become a founding member and help shape HuffPost's next chapter