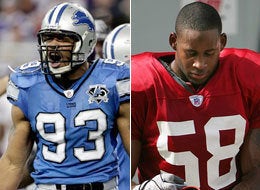 ***UPDATE 3/3 430PM*** ABC's Phoenix affiliate reports that the Coast Guard is going to end at sunset the search for the two NFL players and a third man lost at sea:
Officials from the U.S. Coast Guard say they will call off their search at sunset for two NFL players and a third man lost at sea after their boat capsized over the weekend...

...That's 60 hours after the search first began. Some amateur search efforts are expected to continue, Coast Guard officials said.
Two NFL players and a third man missing since their boat capsized off the Florida coast face dwindling odds of survival after more than two days in the water, though their size and good health could help them fend off hypothermia, authorities said.

Coast Guard officials wouldn't speculate on the men's chances of being rescued alive as the search continued Tuesday morning. There was some hope, even though hypothermia can set in after 18 hours in 64-degree water. Water temperatures were in the mid- to upper-60s.

"With all of these men being past, present football players, they do have a much larger physique than a lot of people," Petty Officer Robert Simpson said. "So their odds are going to be definitely in their favor."

The lone survivor so far, Nick Schuyler, was conscious but appeared weak as he was loaded onto a stretcher Monday. His father, Stuart Schuyler, said the former University of South Florida player was bruised and dehydrated but "looks OK." He said his son was in serious but stable condition.

Crews had narrowed their search Monday for Oakland Raiders linebacker Marquis Cooper, 26, who owned the 21-foot boat; free-agent defensive lineman Corey Smith, 29; and former South Florida player William Bleakley, 25. Cooper is 6-foot-3, 230 pounds, and Smith is 6-foot-2, 250 pounds. Bleakley had played tight end.

Nick Schuyler told rescuers that the boat the four good friends were aboard was anchored when it flipped Saturday evening in rough seas, said Coast Guard Capt. Timothy M. Close. Schuyler, who was wearing a life vest, had been hanging onto the hull that a Coast Guard cutter discovered 35 miles off Clearwater.

"He was able to help us refine our search a little bit," Close said on ABC's "Good Morning America" Tuesday. He said Schuyler told them where the boat was anchored and when it capsized.

The men's families have said they had life vests and flares aboard.

Schuyler's mother, Marsha Schuyler, said her son told her he survived by thinking about how he didn't want her to go to his funeral.

The family's joy at him being found alive was tempered by the search for his friends.

"We still have three men missing, and we're not going to talk too much until we find these guys," said his father, Stuart Schuyler. "We're all praying for them. These guys are all very close friends."

Searchers had previously covered 16,000 square miles of ocean but the area being searched was much smaller since they found Schuyler, Close said.

Bruce Cooper, the father of Marquis Cooper who is also a prominent sportscaster for KPNX-TV in Phoenix, told Fox News in a phone interview Tuesday that his family was holding on to hope and optimism. He and other family members were in Tampa awaiting news on the search.

"He's just a fighter. He's an undersize linebacker ... and he just doesn't back down. He accepts the fight, and I know that's what he's doing in the water. He's not quitting," Cooper said about his son.

Smith's family had to drive to Florida from Richmond, Va., after a snow storm in the East made getting a flight impossible, said Yolanda Newbill, one of Smith's sisters. She said they have been in contact with the Coast Guard every few hours since the search began.

"We have total faith that (he) will be coming home," Newbill said.

Newbill told "Good Morning America" that Smith "is one of the good guys, without question."

"He's an ordinary guy who loves football. Very family oriented. Would do anything, literally would give you the shirt off his back," Newbill said on the ABC program.

James Allen, a marine safety consultant who once worked search and rescue operations with the Coast Guard, said the chances of finding survivors diminish after people have been in the water three days.

Survivors have been found who were floating for days, but he added "you just can't swim forever."

The four men left Clearwater Pass early Saturday in calm weather, but heavy winds picked up through the day and the seas got heavy, with waves of 7 feet and higher, peaking at 15 feet on Sunday. A relative alerted the Coast Guard early Sunday after the men did not return as expected. The Coast Guard said it did not receive a distress signal.

The men were aboard an Everglades-manufactured boat, which is built with compressed foam encased in Fiberglas, making it difficult to sink. The weather had improved, with waves subsiding to 6 to 8 feet, National Weather Service meteorologist Todd Barron said.

However, Bob Zales, president of National Association of Charter Boat Operators, said waves that high can capsize a boat the size of Cooper's.

"A boat that size, personally, I wouldn't get out any farther than 20 or 30 miles offshore," Zales said. "But I see people all the time 40, 50 miles offshore."

Smith had 30 tackles, including three sacks, and an interception in 12 games last season for the Detroit Lions. He also played for the San Francisco 49ers and was a standout at North Carolina State.

Cooper, 26, played college ball at Washington, and has spent five seasons with five different teams, appearing in 26 games with the Buccaneers in 2004 and 2005. He's played sparingly since.

The Raiders and Lions said in separate statements that the teams hope the men will be rescued and that their thoughts and prayers go out to their families.
***UPDATE 3/2 2:00PM*** SCROLL DOWN FOR VIDEOFROM AP:
***UPDATE 3/2 1:00PM*** MSNBC confirms that the person found with the capsized boat is Nick Schuyler, a former football player at the University of South Florida. The Coast Guard is still searching the water for the other three missing people, including NFL players Corey Smith and Marquis Cooper. Check back for more information.
***UPDATE 3/2 12:45PM*** MSNBC reports that the Coast Guard has now confirmed that the boat they found is indeed the boat that carried Corey Smith and Marquis Cooper. One person was found clinging to the capsized boat, but as of now we don't know his identity. Three other people are in the water somewhere, but it is unknown if they are alive. The Coast Guard is waiting to go public with the identity of the survivor until they alert his family.
***UPDATE 3/2 12:37PM*** MSNBC is reporting that a capsized boat has been found in the Gulf by the Coast Guard with one person clinging to it. There is no confirmation that this is the boat that carried the missing NFL players, along with two of their friends, but the report states that they have found "the vessel," which points to the Coast Guard finding Cooper and Smith's boat. No word yet on the condition of the person found with the boat or who it is. Check back for more breaking information soon.
EARLIER: CLEARWATER, Fla. -- The Coast Guard searched off Florida's Gulf Coast on Sunday for a fishing boat carrying NFL players Corey Smith and Marquis Cooper and two other men missing more than a day in choppy seas.
Smith, a defensive end for the Detroit Lions, and Cooper, an Oakland Raiders linebacker, were on a 21-foot vessel that left Clearwater Pass for a fishing trip Saturday morning and did not return as expected, the Coast Guard said Sunday. Crews used a helicopter and an 87-foot ship to search a 750-square mile area west of Clearwater Pass, but poor weather made the search difficult. Officials did not receive a distress signal from the missing craft.
Cooper owns the boat and he and Smith have been on fishing trips before, said Ron Del Duca, Smith's agent. The pair had been teammates on the Tampa Bay Buccaneers in 2004. Two others were aboard: Will Bleakley and Nick Schuyler, both former University of South Florida players.
Coast Guard Capt. Timothy M. Close said the weather early Saturday had been fair, but worsened toward the evening as a front moved in. The National Weather Service said seas were about 2 to 4 feet Saturday morning and increased to 3 to 5 feet in the afternoon. Late Saturday night, a small craft advisory was issued, when winds were around 20 knots and seas were up to 7 feet or more. There were no thunderstorms in the area.
Close said the men were traveling in a boat manufactured by Everglades. At least one of the men was an experienced boater, and relatives provided the Coast Guard with GPS coordinates from previous fishing expeditions.
Close said there was no communication with the men even before the weather started to pick up. They were expected home by early evening. No sign of them or the boat had been spotted by Sunday evening. Relatives told the Coast Guard the men had lifejackets and flares onboard.
Poor weather conditions could be dangerous for a boat the size of Cooper's.
"A 21-foot boat is a relatively small vessel to be 50 miles off shore in bad weather conditions, certainly the current weather conditions," Close said.
Close said there was no sign yet that the men sent a distress signal.
"That's not to say they didn't send one out," he said. "We didn't receive anything."
Danielle Mayes, owner of Jaxson's Bait House near the ramp where the men departed, said Saturday had been deceptively beautiful. The weather was warm, and boaters had packed the small parking lot overlooking seaside condominiums and light blue waters.
Mayes said many of the boaters who returned Saturday evening said they were surprised that the water had gotten so rough.
The Coast Guard search was mainly by air, and was hampered by the poor weather, Close said. He said there were 14-foot seas offshore and wind gusts of up to 30 mph. Water depth in the search area ranges from 20 to 50 feet. The Coast Guard originally sent a 47-foot ship to search for the men around 2 a.m Sunday. It returned to dock about eight hours later and was replaced by a larger ship, in part because of the weather.
Smith, 29, had 30 tackles, including three sacks, and an interception in 12 games last season for the winless Lions. Smith, who is 6-foot-2, 250 pounds, also played for the San Francisco 49ers and played college ball at North Carolina State. He lives in Richmond, Va.
Del Duca said Smith is one of the "good guys" of the league and was planning to start visiting teams as a free agent this week. He said he has spoken with Smith's family and is also in touch with Coast Guard officials.
"They've assured me that they're deploying all available resources to look for these guys and get them back," he said.
Cooper, 26, has played five seasons with the Buccaneers, Seahawks, Jaguars, Steelers and Raiders. He appeared in 26 games with the Buccaneers in 2004 and 2005, recording 30 tackles. He has played sparingly since as he has bounced between teams, appearing in 13 games and recording 10 tackles. Cooper, who is 6-foot-3, 230 pounds, played college ball at Washington. He grew up in Gilbert, Ariz., and his father Bruce is a prominent sportscaster for KPNX-TV in Phoenix.
Cooper told The Seattle Times in 2002 that one reason he chose Washington was the abundant fishing.
"I like fighting the fish," Cooper told the newspaper. "And just relaxing out there and being alone and being outside."
Bruce Cooper described his son as an avid fisherman who goes deep sea fishing "any opportunity he gets." The two went deep sea fishing together two years ago.
"I swore I would never do so again," Cooper said in a statement. "I didn't like the fact that I couldn't see land. Needless to say I am very concerned. I am praying and hoping for the best."
Stu Schuyler, Nick's father, said his son had gone fishing with the same group of friends last weekend, apparently en route to a shipwreck about 50 miles offshore where fish are abundant. He said he left his son a message on his cell phone Saturday morning, asking him not to stay out too late because of the approaching storm.
"I'm optimistic," Schuyler said. "But I'm also realistic."
Lions spokesman Bill Keenist and Raiders senior executive John Hererra said the teams are monitoring reports. Both teams issued statements saying their thoughts and prayers are with the families of all the missing men and those involved in the search.
While the search continued, Cooper's pickup truck and boat trailer remained in the parking lot near the boat launch. On the dashboard was a one-day parking receipt that expired Sunday morning.
"Please contact the Coast Guard," a note left tucked underneath a windshield wiper read. "Someone was worried about your welfare."
Associated Press Writer Sarah Larimer in Miami contributed to this report.
Popular in the Community