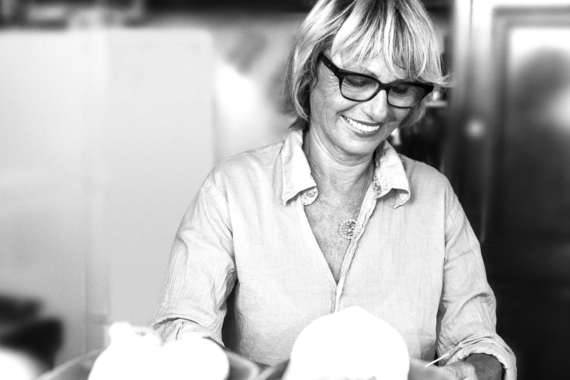 Passion is the most important ingredient for any successful business.
You can't serve your target audience properly without having genuine love for your work. If it doesn't come naturally, you won't come close to understanding the needs, the tastes, of your audience.
They won't respect your ideas until, and unless, you have respect for them yourself.
Corine understood how important this magic ingredient is.
She graduated from her family kitchen, producing just a few bottles of sauce, to a factory out-putting thousands of units. And she did it by keeping her passion, her love for what she was doing, alive.
She is not a professional chef, but is a talented home cook. Her repertoire includes an interesting range of culinary influences, reflecting her life experiences and travels over the last 20 years.
Corine used to host dinners, for friends and family members, and developed a small range of home-made sauces to enhance her cooking. Requests from guests for bottles to take home became pleas for more and more every time she entertained.
Naturally, Corine gained huge confidence from the rave reviews she received. So much so that today, Corine's Cuisine can be found in four new retail locations in NYC and Maryland.
Corine agreed to talk to me about her signature, all-natural, home-made sauces, and why she started making them available to ever more kitchens and tables.
The right type of sauce plays a huge role in making good food great. In a similar way, the right kind of audience plays a huge role in building a great business. How do you make your product appeal to your target audience?
Corine: One advantage of being in the gourmet food market is that our target audience is growing and super-dynamic, thanks mainly to the huge popularity of cuisine as a shared cultural experience today.
TV food shows, YouTube chefs, blogs, and sites have all created this perfect storm of food-consciousness.
We get into discussions all the time with foodies and fans about the virtues of the Scotch bonnet versus the habanero or the Carolina reaper, of brining versus smoking, even of capsaicin levels.
We are operating in this amazingly dynamic and well-informed space, where people increasingly know their stuff.
The best way to broaden our appeal is to emphasize that it's all about flavor, not just heat, and our sauces are authentic homemade recipes made available to everyone.
Visuals are useful in making someone's mouth water with appealing dishes. What is your social media strategy to engage people in the flavor of the meals?
Corine: Early in the game, we understood that social media cannot be handled from home. We bring in professionals, and give them guidance to keep the brand image and the voice consistent.
Our family operations reflect in our friendly and personal posts, which have resulted us gaining hundreds of followers in a short space of time.
Secondly, we committed ourselves to publicity over profit, without question, for the first year, giving away nearly half of our first production run to chefs, foodies, and food bloggers.
We knew they would love our sauces and would spread the word better than we could on our own.
There's nothing like checking your Instagram feed and finding that a social-media friend, time-zones away, has posted a great recipe using Corine's Cuisine sauces.
Coming up with great ideas is easy when compared to transforming those ideas into a profitable business model. What makes your ideas different from your existing competitors?
Corine: The hardest part for us is differentiating our current product line from the horde of hot sauces already on shelves everywhere, especially since two of our five sauces aren't even "hot sauce."
Our sauces start out as real produce, like you find at the farmer's market, no powders, no shortcuts, no additives, and no cheating.
When it says garlic on the label, it means we were looking at buckets of whole garlic cloves minutes before they went into the sauce, not just grabbing some liquid garlic flavoring off the shelf to make things easy or cheaper.
Until the internet comes up with a virtual-reality tasting helmet, we'll just keep on talking about freshness and flavor to convince potential customers to give it a try.
As we've had great re-order numbers, we've learned that our main goal is simply getting people to that first taste.
Rather than promoting their products by saying, 'this is better,' successful businesses ask, 'how can we help you to be better?' What is your action plan for understanding customer's desires?
Corine: In the food world, the best action plan is interaction, and lucky for us there are plenty of ways to do that.
We field questions all the time from fans who want suggestions for pairing our sauces with foods. We have video recipes up on our website, and YouTube channel, for those looking to try a whole new dish, or who just want a new spin on an old favorite.
We also know that we need to listen to customer suggestions. This is why our next production run will include Sauce 23 in a pourable bottle instead of a jar, and there is a new hot-and-sweet sauce in R&D right now.
Entrepreneurship isn't an easy path. It takes time and effort to shape your passion into a livelihood. Share some of your struggling moments. What was your source of inspiration while trying to build a sauce empire?
Corine: Our inspiration comes directly from our family, which is very food-oriented and tight-knit across generations.
The number on each sauce is the birthday of the kid in our family who loves it the most. Every sauce goes through R&D in the pro-kitchen to make it shelf-stable and consistently great, but each recipe was born in our family kitchen, with everyone there adding their two cents.
Our hardest moment so far came during our first production run of Sauce 7, which uses real ginger chopped from the whole.
An unexpected effect of the bottling process turned the sauce into an emulsified mayonnaise. We ultimately decided to throw away thousands of dollars of pretty nice ginger-mayo because it just wasn't what we intended.
It didn't meet our standards, and we took this tough decision because we can't compromise on our promises.
What tips do you have for budding entrepreneurs to ignite the spark for starting a new business journey?
Corine: Go as big as you can, but judge your limits accurately. Figure out your budgets for production, marketing, and logistics carefully, and then imagine a worst-case scenario in which they double.
If that would sink the ship, then rescale accordingly. Estimate your time-investment in all aspects of the business, and apply the same rule.
The "spark" is truly the most vital ingredient to a new venture, and it will grow stronger and brighter, as long as you protect it from unwelcome surprises.
Related
Popular in the Community