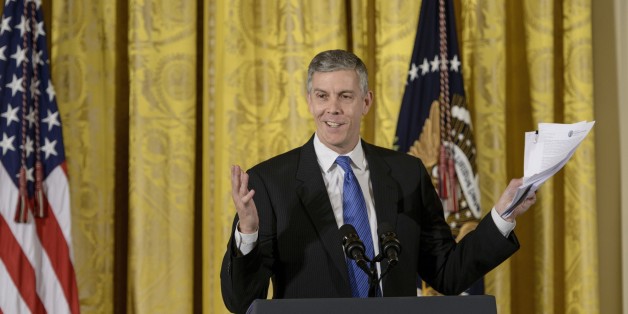 Last November, Latonya Suggs, a 28-year-old Cincinnati woman with an infant son, went to a hotel ballroom in Southern California and told two of the federal government's top education officials that the U.S. Department of Education had failed her.
The previous month, Suggs had graduated from Everest University, a for-profit college, with a degree in criminal justice. Her online program, one of many owned by Corinthian Colleges Inc., saddled her with more than $70,000 in debt. She had hoped the degree would lead to a career as a probation officer. Instead, she could only find work as a hotel housekeeper, she told Education Undersecretary Ted Mitchell and Deputy Assistant Secretary Lynn Mahaffie, according to a transcript of the event. Suggs is now unemployed.
Corinthian, once one of the nation's largest for-profit college chains with more than 110,000 students, is effectively shutting down under the weight of numerous state and federal probes that allege it cheated students by lying to them about job placement and graduation rates. Though the chain has previously disputed allegations from state and federal authorities that it defrauded students, it recently sold more than 50 campuses under pressure from the U.S. Department of Education, and Canadian authorities last week forced another 14 into bankruptcy.
A contingent of former students, backed by prominent student advocates, the Massachusetts attorney general and more than a dozen Senate Democrats, has demanded the Education Department forgive federal student loans that thousands of people took out to attend Corinthian's schools. The department has the authority to cancel loans in instances where students demonstrate that schools defrauded them. Lawyers from the Department of Justice have argued that Education Secretary Arne Duncan has "complete discretion" when it comes to canceling loans for all students at a particular institution if he determines it defrauded students, even absent a formal application from individual borrowers.
But in the case of Corinthian, the Education Department has done almost everything it can to avoid forgiving any taxpayer-backed debt incurred by current and former Corinthian students.
In response, Suggs and 14 other former Corinthian students announced on Monday that they will not repay any federal student loans they took out to attend Corinthian's schools. They're calling it a debt strike.
"The Department of Education allowed this to happen," Suggs said Monday about her experience at Everest and subsequent struggle to find work. "It's their responsibility to make sure these schools hold up their end of the bargain. If they kept up their promises, I'd pay it back. But they haven't done anything, so why should I pay?"
With help from anti-debt activists borne out of the Occupy Wall Street movement, the "Corinthian 15" students are challenging the Education Department and Duncan over lackluster supervision of a chain of for-profit colleges. In refusing to make payments, the group alleges the department allowed Corinthian to lure students into taking out loans backed by taxpayers that were used to pay a company that lied about the quality of education students would receive.
Experts in higher education have previously assailed the Education Department for its spotty track record in protecting students from unscrupulous colleges. Some have said the department views colleges as its partners, rather than as regulated entities. Others have said the department puts the needs of colleges over those of students.
After a multi-year investigation, the Consumer Financial Protection Bureau, the federal agency charged with protecting borrowers from unscrupulous lenders, accused Corinthian in September of inflating its job placement rates by creating fake companies, defining a "career" as a job that lasted one day with the promise of a second, and by paying employers to temporarily hire its graduates.
In effect, Suggs and her like-minded colleagues argue that since the Education Department should've known Corinthian students would have difficulty repaying their loans, they shouldn't be held responsible when the loans come due. By giving Corinthian the ability to tap federal student aid, the Education Department -- rather than students -- should be on the hook for loan defaults, the group says.
"I'm not going to pay anything," Suggs said. "I had perfect attendance, graduated when I was supposed to, and this is what I get in return for trying to better myself. I have nothing, and it's not my fault."
The consequences of a default can be devastating. A borrower's credit report is wrecked, which can reduce his or her ability to get future loans or even a job. Tax returns are seized. To recoup its money, the Education Department will even garnish a borrower's Social Security payments to the point where monthly checks are below federal poverty thresholds.
With unpaid student loans swelling to more than $1.3 trillion, prompting dire warnings about future effects on the growth of the U.S. economy, new pressure is being placed on the Education Department to improve how it regulates colleges and manages the federal student loan program.
For former Corinthian students, they're likely to learn that the department is unwilling to acknowledge its oversight failures by allowing them to discharge their debts. The department's history suggests the debt strikers are unlikely to obtain much, if any, relief.
Take the experience of students who attended for-profit schools operated by Wilfred American Education Corp. Last year, the New York Legal Assistance Group sued Duncan on behalf of thousands of low-income borrowers who took out federal student loans to attend Wilfred schools, in an effort to force Duncan to stop collecting on their loans and cancel them all based on Wilfred's alleged defrauding of its former students.
In their complaint, the lawyers alleged that the Education Department has known for years that former Wilfred students had been cheated by their schools, pointing to criminal convictions of former Wilfred executives, federal court determinations that the company's schools defrauded taxpayers, and past Education Department reviews that found the company's schools had falsely certified that former students were eligible for federal student loans.
In fact, according to the complaint, the department's in-house auditor recommended in 1996 that the department approve all loan cancellation requests by former Wilfred students. The inspector general pointed to the fact that the Education Department found fraud at the company's schools more than a decade earlier.
The Education Department fought the lawsuit by arguing in part that because Duncan has the discretion to cancel former Wilfred students' loans, rather than an obligation, the courts had no say in the matter. The judge in the case reluctantly agreed, "despite the reality and credibility of plaintiffs' grievances," he said.
In the Corinthian case, the Education Department has had ample warnings that the company's schools may be cheating students and taxpayers.
The state of California settled with Corinthian in 2007 after amassing evidence that it allegedly inflated its job placement rates. The state of Massachusetts launched an investigation in 2011. California sued the company again in 2013, alleging it lied to students and its investors about job placement rates.
In January of last year, the Education Department denied Corinthian's request to expand because, as Duncan explained in an August letter to Sen. Elizabeth Warren (D-Mass.), the company "had admitted to falsifying placement rates and/or grade and attendance records at various institutions and because of ongoing state and federal investigations into serious allegations with respect to Corinthian's administration of the Federal Student Aid programs."
The issues suggested "systemic deficiencies" at Corinthian, Duncan said. In July, the Education Department moved to effectively shut down the company by forcing it to sell off or close its schools.
Meanwhile, current and former students were left to fend for themselves. The Education Department left it to Corinthian to inform students about its troubles. By comparison, the federal consumer bureau published a special bulletin meant for current and former Corinthian students that explained what the agency found and steps students should take.
Suggs said school officials dismissed her questions about the company's regulatory woes during her final semester. Joe Hixson, a spokesman for Corinthian at Abernathy MacGregor Group, did not respond to requests for comment.
While enrollment likely dropped, according to Corinthian's disclosures to investors, federal student aid still poured in.
Even after the Education Department struck a July deal with the company that called for it to dismantle itself, the department originated more than $253 million in federal loans for students attending Corinthian campuses during the six-month period ending Dec. 31, department data show. More than $156 million in federal grants were disbursed to Corinthian students. Federal student aid money inevitably flowed to Corinthian in the form of tuition and fees.
In other words, despite Education Department concerns that Corinthian was misleading its students, taxpayers continued to subsidize the company and enrich its executives through hundreds of millions of dollars in federal student aid.
Over the last 4 and 1/2 years, the Education Department has disbursed $6 billion of public money in the form of loans and grants to students at Corinthian's campuses, department data show. Nearly all of that has likely gone straight to the company.
In December, while citing lawsuits filed by state attorneys general and the federal consumer bureau, 13 Senate Democrats, including Warren, Richard Durbin of Illinois and Jack Reed of Rhode Island, urged the department to forgive debts incurred by Corinthian students.
Massachusetts Attorney General Maura Healey asked Duncan earlier this month to acknowledge the evidence her office has gathered in documenting Corinthian's alleged frauds by canceling federal student loans taken out to attend Corinthian schools in her state.
"Schools should not obtain public monies based on actions in violation of state law, and students should not be required to pay for such violations," Healey said in a Feb. 4 letter.
"By failing to provide broad debt relief for Corinthian students, this administration is continuing the [Education] Department's decades long practice of relentlessly pursuing borrowers, even when there is voluminous evidence that unscrupulous school operators engaged in widespread illegal recruitment practices," said Robyn Smith, a former California deputy attorney general who now works on student loan issues for the National Consumer Law Center.
In a prepared statement, Education Department spokeswoman Denise Horn indicated no such relief was forthcoming.
"As we continue our conversations with students and advocates about options for borrowers, we also encourage borrowers to continue paying their student loans and to explore the various income-based repayment options offered by the department in order to avoid risking the serious consequences of default," Horn said.
Suggs dismissed the suggestion. Even though she has no income, and likely could qualify for a repayment plan that would allow her to remain in good standing by making monthly payments of $0, Suggs said she'd rather fall into default than acknowledge the legitimacy of the loans.
Earlier this month, the new buyer of more than 50 former Corinthian schools announced that current students enrolled in their criminal justice programs would be given a full refund upon request.
The program was among many that had "failed to keep pace with workforce demands and that have consistently fallen short of meeting baseline standards for job placement," according to Zenith Education Group, an arm of debt collector and Education Department contractor ECMC Group.
Suggs is the kind of student the Education Department had tried to protect in keeping Corinthian's schools open. While student advocates urged the department to allow the schools to shut down, which would give Corinthian students the opportunity to get their federal loans cancelled, Education Undersecretary Ted Mitchell defended the department-brokered sale to Zenith by arguing that the plan would allow students to finish programs "that they have worked so hard to obtain."
"This sale ... will avoid disruption and displacement for tens of thousands of students -- approximately 22 percent of whom are within 3 months of graduating," Mitchell said in December.
Suggs graduated in October, making her ineligible for Zenith's refund option. She said that had she been given the option, she would've taken the refund and had it applied in full to the federal student loans she took out to attend classes at Corinthian.
Instead, she said, she's stuck fighting an Education Department that refuses to acknowledge its mistakes.

REAL LIFE. REAL NEWS. REAL VOICES.
Help us tell more of the stories that matter from voices that too often remain unheard.
BEFORE YOU GO
PHOTO GALLERY
U.S. State Capitol Buildings