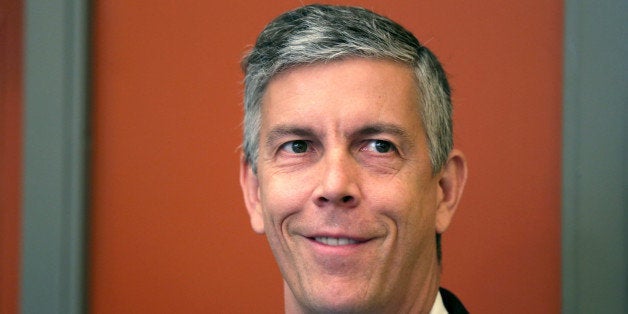 Some 39,000 college students will soon stop making tuition payments to a company that state and federal regulators allege advertised bogus job prospects to lure low-income Americans and instead will pay a federal contractor accused of abusing bankruptcy proceedings fighting troubled borrowers.
Educational Credit Management Corp. -- a Minnesota-based nonprofit known as ECMC Group that derives most of its revenues from taxpayer-subsidized student loan activities, will pay $24 million to buy more than 50 career college campuses from Corinthian Colleges Inc. in 17 states, the companies and the Education Department announced Thursday. The deal was brokered by the Education Department.
If federal authorities approve the deal, students who have racked up thousands of dollars in federal student loans pursuing credentials in for-profit programs ranging from massage therapy to criminal justice run by Corinthian will lose the opportunity to apply for their debts to be forgiven. Student advocates said they feared this was the Education Department's goal all along.
"While bailing out 56 schools, the sale treats the more than 30,000 students like financial assets," said Maggie Thompson, manager of the Higher Ed, Not Debt campaign.
For months, the Education Department worked with Corinthian to find a buyer to prevent the campuses from shutting down. The department did not tell current or potential future students that Corinthian faces lawsuits or pending investigations that, by the company's count, include nearly half of the country's state attorneys general, the Department of Justice, Securities and Exchange Commission, and the Consumer Financial Protection Bureau, for allegations ranging from duping students into taking out unaffordable loans to illegal debt-collection tactics.
"If you're supposedly a regulatory agency, and your mission is to protect students, why wouldn't you want students to know that?" said Mark Huelsman, a senior policy analyst at policy organization Demos. The Education Department, in effect, allowed Corinthian to enroll as many students as it wanted, even as it teetered on insolvency -- ignoring the demands of a dozen Democratic senators.
Corinthian, a once-high flying operator of a chain of for-profit schools that investors valued at more than $1.4 billion just four years ago, had a market capitalization of less than $12 million on Thursday. Its sale represents yet another marker on its path to an eventual corporate death. For ECMC, which is paid by the federal government to battle distressed borrowers who seek to discharge their federal student loans in bankruptcy and has no experience running schools, the purchase represents an opportunity to transform itself into an education company.
"This is an extraordinary opportunity for us to make a difference in career education by offering students a new path for gaining the in-demand skills and training that employers are seeking," said David Hawn, president and chief executive of ECMC Group.
The Education Department, meanwhile, avoids the potential embarrassment of watching a chain of colleges it supervised enter bankruptcy after allegedly violating state and federal rules while the department stood on the sidelines, leaving students with mountains of debt and suspect credentials.
A Tuesday afternoon meeting in Washington at the Education Department provides a glimpse into how the department views its role.
Student advocates called for the meeting to share complaints they had received from Corinthian students with Undersecretary of Education Ted Mitchell and Deputy Undersecretary Jeff Appel. During the meeting, participants recounted, department officials questioned why students who were dissatisfied with Corinthian continued to take classes there. Student advocates had hoped the department would use the complaints to further investigate the company's schools.
Some 72,000 students are enrolled at all Corinthian schools, receiving $1.4 billion annually in federal financial aid, according to the Education Department.
As state and federal regulators probed the company over the past year, finding what they claim was evidence of bogus job placement data that was intended to keep the company compliant with federal student loan rules, the Education Department did little to limit the company's access to taxpayer aid.
It wasn't until June that the Education Department announced it would restrict Corinthian's ability to access federal student loan funds. The next month, after Corinthian claimed the restriction put it at risk of failure, the department and the company struck a deal for Corinthian to sell or close all of its nearly 100 U.S. schools.
By then, the company had already saddled thousands of students with billions of dollars in loans. Despite longstanding authority from Congress to restrict or prohibit schools that engage in "substantial misrepresentations" from accessing federal student aid, the Education Department did nothing, consumer advocates said.
"What's disturbing is that the department had very good evidence that there was substantial misrepresentations at some of Corinthian's campuses, but they took so long to take action," said Robyn Smith, a former California deputy attorney general who now works on student loan issues from Los Angeles for the National Consumer Law Center. "The department definitely could use this authority much more aggressively than it has."
Smith said she wasn't aware of any recent cases in which the department alleged a college had committed substantial misrepresentations.
"I don't think they see their role as a law enforcement agency," Smith said of the Education Department. "They see themselves more as an administrator of programs."
Dorie Nolt, an Education Department spokeswoman, did not respond to requests to discuss the department's enforcement record.
The Education Department recently enacted rules to limit federal student aid to career-training programs and for-profit schools whose graduates end up with taxpayer-backed debts they can not repay. Student advocates said they believe the department could have achieved the same goal by aggressively enforcing rules already on the books.
Barmak Nassirian, an expert on higher education policy, said, "For political reasons, and as a matter of institutional culture, the Department of Education has generally viewed participating schools as its primary constituents. Unfortunately, the resulting affinity and collegiality between the department and the entities it regulates have desensitized it to the plight of victims of predatory institutions.
"The department's unwise intervention to prop up instead of shut down Corinthian, its neglect of past victims, and its failure to warn prospective students are all par for the course against that historical backdrop," Nassirian said.
In September, the federal consumer bureau accused Corinthian of duping borrowers into taking out unaffordable private student loans by falsely advertising phony job prospects, then using illegal debt collection tactics to get distressed borrowers to pay up.
Corinthian disputed the allegations, and said it reported "isolated incidents" to authorities. It also said the agency ignored "clear, easily obtainable evidence."
Some two months after the lawsuit, the Education Department continues to omit any information about the consumer bureau's lawsuit or the allegations it contains on department websites intended for college students.
Denise Horn, an Education Department spokeswoman, said the department has given what she described as special training to its representatives who field phone calls from students. The department also has required the company to provide current and prospective students with information about the status of their programs and various options.
A scan of Corinthian's various websites reveals little information about the pending lawsuits, or the consumer bureau's allegations. The Education Department's hand-picked monitor, Patrick Fitzgerald of Skadden, Arps, Slate, Meagher & Flom LLP, who is supposed to be overseeing Corinthian's conduct and interactions with students, declined to comment through a spokeswoman.
"Ensuring that Corinthian students are served well remains our first and most important priority," Horn said. She added that the CFPB similarly did not mention any of the Education Department's actions on its website -- a comment the Education Department walked back after a reporter pointed out that wasn't true.
State attorneys general in California, Wisconsin and Massachusetts have filed lawsuits against Corinthian that are similar to the CFPB's. Corinthian is fighting those as well.
Everest and WyoTech campuses, as well as Corinthian's online programs, were part of the ECMC deal. Schools in California, where the state attorney general, Kamala Harris, has waged a vigorous campaign over the past year to hold the company accountable for alleged misdeeds, were not included, because Harris reportedly would not consent to allow ECMC to escape liability for Corinthian's alleged wrongdoing, according to news reports.
ECMC has promised to cut tuition in some programs for new and continuing students, increase grant aid, and invest in the campuses it bought. The Education Department cheered the deal.
As part of the deal, Corinthian agreed to forgive some $3.8 million in private student loans it had peddled to its students. In the deal's term sheet, the Education Department said it may use the $12 million it got from the $24 million sale to help borrowers retire some of their private student loan balances.
But the aid pales in comparison to the amount of debt the company pushed on students.
The consumer bureau alleged the loans, nicknamed Genesis, were fraudulently made, and has demanded that Corinthian compensate aggrieved borrowers. Nearly 130,000 borrowers took out some $569 million in loans from the company, the CFPB said.
In August, Corinthian sold "virtually all" of its Genesis notes for pennies on the dollar, according to the consumer bureau. Those notes -- totaling 170,000 loans with a face value of $505 million -- aren't part of the deal the Education Department brokered between Corinthian and ECMC.
Student groups had hoped the Education Department would strike a deal that would've resulted in those loans being forgiven. Instead, current students who owe that debt will now be dealing with a company that makes money fighting distressed borrowers who are in such dire straits that they declare bankruptcy.
"We hope the Department of Education is correct that ECMC will put students' interest first, however, ECMC has a storied history of harshly preventing the discharge of students' loans in bankruptcy," said Thompson of the Higher Ed, Not Debt coalition, which represents dozens of labor groups, policy organizations, consumer advocates. "It's troubling that ECMC has never run an educational institution, and we wonder whether it has the ability to take more than 56 struggling institutions."

Before You Go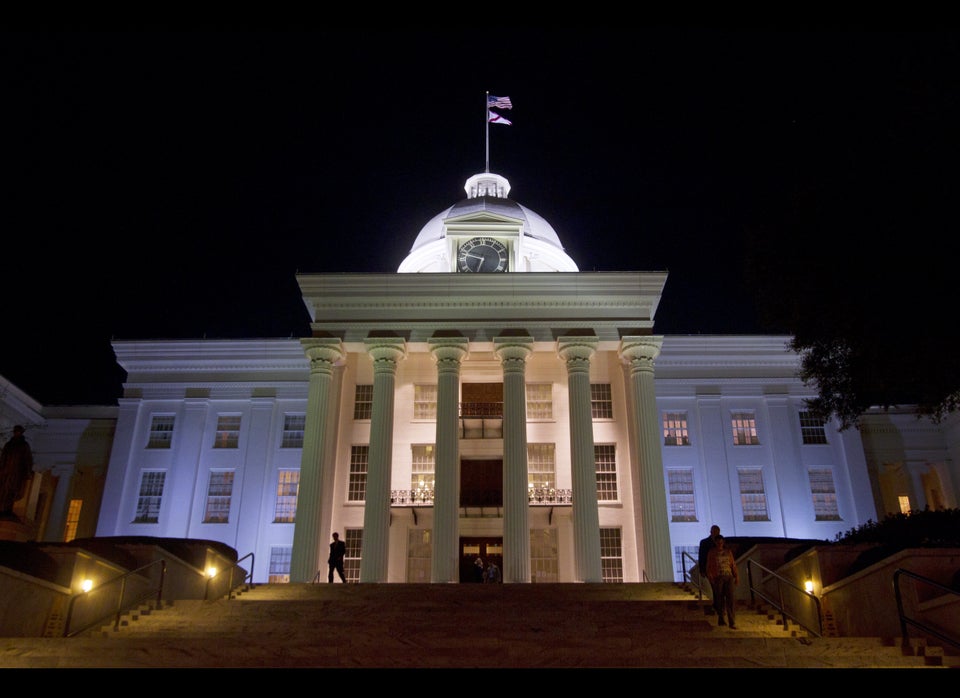 U.S. State Capitol Buildings
Popular in the Community