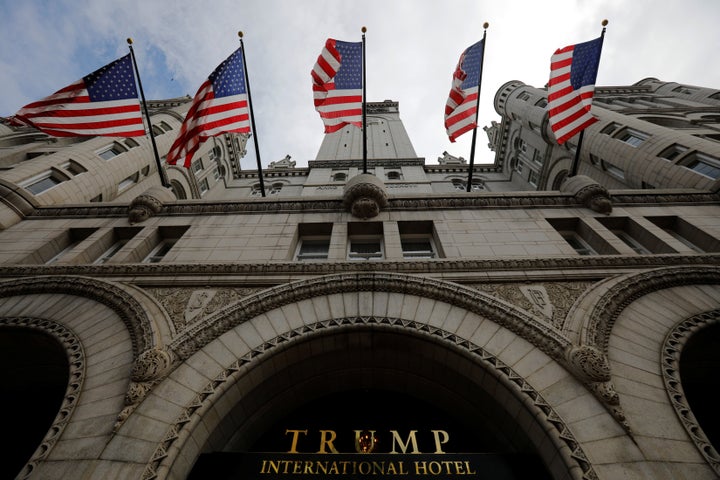 U.S. District Judge Richard Leon said that Cork Wine Bar, which filed the suit last year, could not claim Trump International Hotel has an illegal advantage simply because of the president's "heightened notoriety since taking office." The D.C.-based judge, however, acknowledged that there were "constitutional questions of profound weight and import lurking" within the case.
Trump's hotel, which is just blocks from the White House, remains at the center of two other major lawsuits that accuse the president of violating the emoluments clause of the Constitution, which prohibits a sitting president from accepting gifts or payments from foreign and state governments. 
In an op-ed in The Hill last year, Diane Gross and Khalid Pitts, the married couple who own Cork Wine Bar, explained why they'd decided to sue Trump. Since he'd taken office, their bar, as well as other Washington-area restaurants, had seen a drop in customers as diplomats, lobbyists, foreign officials and others flocked to Trump's hotel, where, the couple claimed, patrons hoped to "curry favor" with the president.
"You have a choice of where to dine, host an event, or stay for the night. Why wouldn't you choose the venue that would most please the president of the United States?" the couple wrote. "The president's name, well-known ownership and presence give the Trump International Hotel a big leg up in winning the competition of attracting diners and tourists, and hosting lucrative events where many people gather to drink and dine or even more intimate political dinners."
Gross and Pitts also alleged that the hotel was in violation of its lease, which "specifically forbids any elected official, including the president, from having an ownership interest in the hotel where he or she receives benefits while in elective office."  
In his opinion this week, Leon noted the wine bar had not accused Trump International Hotel, which is currently run by a trust, of actively preventing customers from patronizing their bar. The president's prominence alone, he wrote, was not sufficient to support the suit. 
"To hold actionable Cork's allegations in this case, I would be condemning a broad swath of legitimate business conduct," Leon said. "I would be foreclosing all manner of prominent people — from pop singers to celebrity chefs to professional athletes — from taking equity in the companies they promote .... This I cannot do!"
The legal team representing the wine bar said it will appeal the decision. 
"We are disappointed that Judge Leon viewed a President profiting off of his public office as legitimate business conduct," attorney Scott Rome told journalist Zach Everson. "We are encouraged that the standing of Cork was never challenged, and that we are in a country that supports the rule of law and allows a local small business to challenge the president of the United States where necessary."
The wine bar's lawsuit is one of several that have been filed accusing Trump and his D.C. hotel of illegally benefiting from his presidency. Earlier this month, a federal judge denied Trump's request to delay a lawsuit that alleges he violated the emoluments clause through profits reaped from Trump International Hotel. 
REAL LIFE. REAL NEWS. REAL VOICES.
Help us tell more of the stories that matter from voices that too often remain unheard.
BEFORE YOU GO