WASHINGTON -- A delicately assembled bill to give Congress oversight of the Iran nuclear deal is set for renewed scrutiny as it heads to the Senate floor for debate.
Senate Majority Leader Mitch McConnell (R-Ky.) on Thursday formally brought to the floor the legislation authored by Foreign Relations Chairman Bob Corker (R-Tenn.) that would give Congress up to 52 days to approve lifting economic sanctions on Iran in exchange for the country curbing its nuclear program.
The bill passed the Senate Foreign Relations Committee unanimously last week. But that vote masked the difficulty of cobbling together language that both parties could support.
The Obama administration had threatened to veto the measure until just before the committee approved it, calling the bill a congressional overreach into the executive's constitutional prerogatives. Senate Democrats withheld their support until the congressional review period was shortened and a provision was removed that would have required the president to certify Iran is not sponsoring terrorism against the U.S. Several Republicans on the committee, meanwhile, refrained from inserting additional controversial amendments that would have given Democrats an excuse to withdraw their support.
The endurance of the Foreign Relations Committee deal is up for a test as the bill moves to floor, where it is subject to amendments. Adding to the uncertainty is mounting pressure from neoconservative pundits, who are encouraging senators to give the Corker bill more teeth.
Debate on any amendments begins on Tuesday.
Underscoring concern that tinkering could imperil the bill's passage, Sen. Bob Menendez (D-N.J.) on Thursday advised senators to leave it alone.
"I urge my colleagues when the bill comes for a vote, to vote for it as it was voted out of committee," Menendez said on the Senate floor. "Sometimes you've got to know when you hit a home run, and be able to cross the plate and say you hit a home run, and not think you're still stuck in the dugout. What we did in the committee is pretty close to a home run as far as I can see it."
Sen. Tom Cotton (R-Ark.), the freshman who catapulted to notoriety for his open letter to Iranian leaders threatening a future derailment of the nuclear agreement, is unlikely to heed Menendez's advice.
Cotton pledged support for an amendment drafted by Sen. Ron Johnson (R-Wis.) that would classify the Iranian nuclear deal as a treaty, requiring 67 votes from the Senate in order to be ratified. As the Corker bill stands, the nuclear deal goes into effect unless 67 senators vote to pass a resolution of disapproval.
Johnson, a member of the Foreign Relations Committee, filed his amendment during last week's markup of the bill. But he ultimately abided by Corker's request to not add it, indicating instead that he would introduce it on the Senate floor.
Cotton also wants to add his own changes, including some that are poison pills for Democrats. During his lengthy remarks Thursday, Cotton described the need to withhold sanctions relief until Iran releases American prisoners, is confirmed to have abandoned support for terrorism, and recognizes Israel's right to exist as a Jewish state. He also wants to tighten presidential reporting requirements and require Iran to abandon its intercontinental ballistic missiles program.
Cotton said he wouldn't be present for parts of the Iran debate because of the impending birth of his first child. His amendments will be introduced and pushed by colleagues, he said.
It falls on McConnell and Corker to balance Cotton's zeal to harden the legislation with maintaining the 60 votes necessary to move the bill through the Senate. The two leaders, in coordination with Democratic leadership, have broad control over the amendment process.
McConnell has said that he intends to conclude a vote on the Iran bill before the Senate begins a weeklong recess in late May. His office expressed confidence that a debate and amendment process wouldn't threaten passage.
"This notion of fearing an amendment process is what led the Senate to do nothing last year," said McConnell spokesman Don Stewart, referring to the tendency of the last Senate, controlled by Democrats, to curb a wide-ranging amendment process.
The betting money, so far, is that Stewart is right: The Senate won't meddle with the legislation significantly enough to kill it. Two of the GOP's 2016 contenders -- Sens. Marco Rubio (R-Fla.) and Rand Paul (R-Ky.) -- have already cast votes for the Corker version, and it appears there are enough Republicans who recognize that even minor additions may dramatically complicate passage.
Sen. Lindsey Graham (R-S.C.), another presidential hopeful and frequent critic of the emerging Iran nuclear deal, said he will not try to strengthen the bill.
"I do believe that the bill as drafted is sound," Graham told reporters on Wednesday. "To the critics of the bill, most of you haven't lifted a finger to solve this problem. Most of you haven't met with one Democrat, so don't parachute in here at the end with an idea that will destroy what I think is one of the most important pieces of legislation that I'll ever deal with.
"Anybody that monkeys with this deal is going to run into a buzzsaw," Graham warned.
Before You Go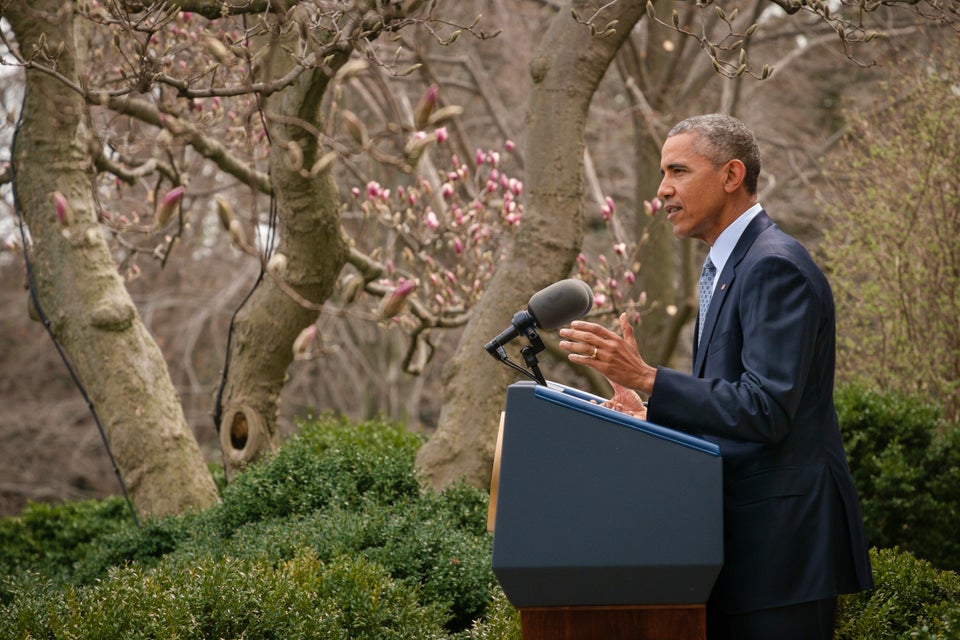 Responses To Iran Deal
Popular in the Community