WASHINGTON -- Senate Foreign Relations Committee Chairman Bob Corker (R-Tenn.) said Monday he's confident his bill to restrict President Barack Obama's ability to reach a nuclear agreement with Iran can survive a threatened presidential veto.
"Look, I don't ever want to overcommit and under-deliver," Corker told reporters Monday evening. "We are moving in a very positive direction, and we've worked through some issues that I think have given me a lot of hope. ... I think that this weekend has been very productive."
Corker's bill, scheduled for markup in the Foreign Relations Committee on Tuesday afternoon, would grant Congress the final vote on any nuclear agreement the U.S. and its five negotiating partners reach with Iran. Congress would have two months to review the deal, and during that time the president would be prevented from easing economic sanctions on Iran.
"It's really a resolution of disapproval," Corker said of the nuclear talks, which face a June 30 deadline.
The bill is roughly three votes short of the 67 needed to override a veto. However, members of the committee have filed at least 52 amendments to the legislative text, meaning that the results of the markup may drastically alter the vote count in either direction.
On the Democratic side, several senators have proposed tweaks that would allow the president to temporarily waive economic sanctions against Iran during the two-month review period. There also is also a push by the minority party to remove a clause that requires the White House to verify to Congress that Iran is not engaging in support for terrorist activity.
Sen. Barbara Boxer (D-Calif.) has taken a more aggressive approach. As of Monday evening, Boxer had filed 18 amendments, including one that eliminates the language of Corker's legislation and replaces it with her own oversight bill. Boxer's bill, introduced in March, would require the White House to report to Congress regularly on Iranian compliance with the final nuclear deal and would simplify the process for lawmakers to reinstate sanctions against Iran in case of a violation. Boxer's amendment would not, however, allow Congress to vote down the agreement.
Corker ultimately decides which amendments to put up for a committee vote. On Monday, he seemed unlikely to consider those that would significantly alter his original text.
"I feel like were going to present a bill tomorrow that keeps 100 percent of the integrity of the process relevant to the nuclear agreement in place," Corker said, emphasizing the need for Congress to vote on the agreement and to postpone sanctions relief.
At the same time, Corker acknowledged the need to woo Democrats, including those hesitant to support to a bill the White House insists will sabotage peaceful nuclear negotiations.
"I went to outstanding public schools in Chattanooga. I can count, and there's no way to pass the bill without strong bipartisan support," said Corker. "I think we're going to have it."
When asked if he thought Obama would be more likely to accept a version of the bill with modifications offered by Democrats, Corker said he hadn't discussed the legislation with the president.
"I know there's been a lot of reporting about the president and calling and all that, but the president -- I don't normally repeat conversations, in fact I never do -- but the president and I did not talk about one iota of this bill," Corker said.
"They shared with me how opposed they were to it, and how they felt like it took away presidential prerogative, and how they felt like it would hurt the negotiations -- all of which I disagree with," Corker continued, referring to Obama administration officials who have been conducting Iran briefings with lawmakers.
Secretary of State John Kerry is expected to brief senators Tuesday morning, before the markup.
"I don't think he probably wants to talk about this piece of legislation tomorrow," Corker said. "I think he's coming up to sell the deal."
Before You Go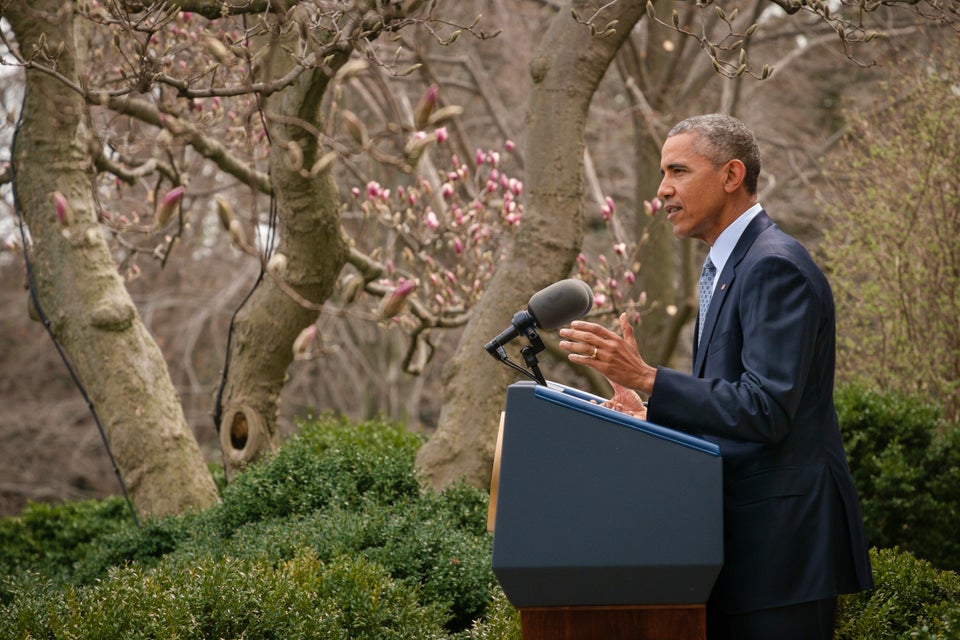 Responses To Iran Deal
Popular in the Community