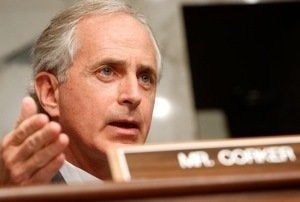 Sen. Bob Corker (R-Tenn.) said on Thursday that he's been urging his GOP colleagues to be more cautious in the rhetoric they use to describe the Wall Street reform bill. Asked by a reporter if Senate Minority Leader Mitch McConnell (R-Ky.)'s recent sharply critical comments are harmful to the effort to reach a bipartisan deal, Corker said he hadn't heard McConnell's specific remarks, but advised his colleagues to "act like adults."
"Yesterday, I was on the Senate floor with Mark Warner. Apparently some things were said," Corker said in reference to McConnell's floor speech. "I think this is a bill where that's not necessary and that there are some differences, but adults can work 'em out. Let's act like adults and work 'em out, but let's do it in a real bipartisan way."
Warner and Corker had negotiated a provision that would wind down large failing banks, which McConnell had said would lead to nothing more than permanent bailouts. "The core of the bill does do what it needs to do, as it relates to orderly liquidation. But the fact is there have been some loopholes created," Corker said. "Warner and I reached an agreement and as the legislative language was being put together, Treasury got involved and the FDIC got involved for technical assistance. And as one might expect, they created some flexibility for themselves."
Earlier during negotiations over Wall Street reform, Corker took some heat from his leadership for reaching out to Democrats in the Banking Committee and has consistently been willing to work toward a bipartisan bill even while his colleagues have drawn lines.
Corker said he spoke with Treasury Secretary Tim Geithner on Wednesday and presented him with 14 changes to improve the bill. "It's easy to fix. We all know how to fix it," he said of the resolution section that McConnell objects to. Geithner plans to come to the Capitol to meet with top lawmakers on Thursday.
"This is not like the health care debate evolved. We want a financial regulation bill," said Corker.
On Wednesday, McConnell came under fire from Democrats for opposing reform while at the same time courting major Wall Street executives.
"While I was out listening to the people in Oregon, Mitch McConnell was up telling the bankers on Wall Street that, you know what, we're not going to reform this system, elect more of us and we will block efforts to put the rules in place that will protect ordinary Americans," said Sen. Jeff Merkley (D-Oregon).
Calling all HuffPost superfans!
Sign up for membership to become a founding member and help shape HuffPost's next chapter