During the 5-hour surgery performed on Thursday, April 5, Dr. Dan Burchill at Casselton Veterinary Services in North Dakota, worked to correct a rare congenital condition called "Bilateral Arthrogryposis of the Tarsus," which causes the legs to develop backwards and criss-crossed.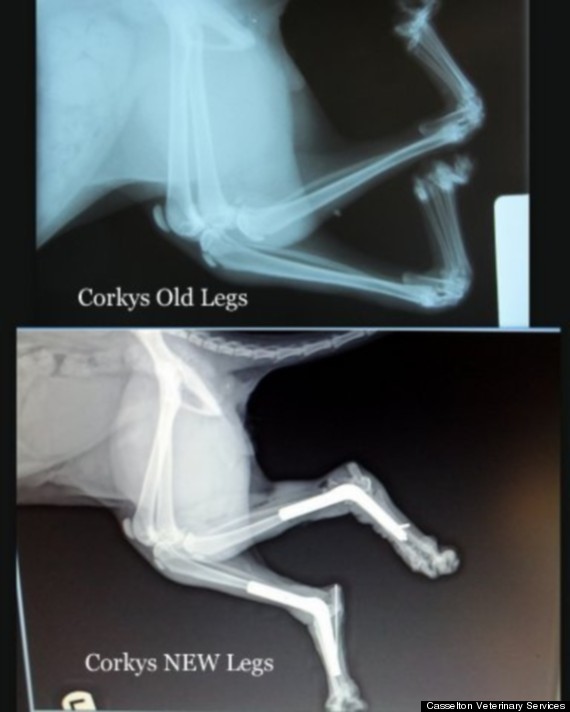 Ventzke told The Huffington Post that she and fellow CATS Cradle Co-Founders Amber Schaffer and Carol Stefonek discovered Corky last year while visiting an animal pound in Moorhead, Minnesota. The three were picking up two other cats at the pound when employees asked if they were interesting in taking at a look at a third cat that they "just had to see for themselves."
They had no hesitation in rescuing Corky from the pound, where he was likely to be euthanized. Ventzke said they took him to North Dakota State University in order to diagnose his condition and then began contacting local vets and animal surgeons, many of whom were hesitant to treat the cat.
Their search eventually led them to Dr. Burchill, who consulted with a number of orthopedic surgeons before agreeing to perform a complicated leg surgery on Corky, which involved placing pins in his bones to reorient the legs and cutting the cat's Achilles tendons.
"The big deciding factor [in whether to perform the surgery] was whether he was neurologically okay, so that he could learn to train himself to walk after the surgery," Ventzke told The Huffington Post.
The surgery took longer than expected and Corky had to be given strong pain medications, according to CATS Cradle. Ventzke said that Corky is making a slow but steady recovery at the animal hospital, and is likely in store for a six month recovery period involving daily therapy.
CATS Cradle has released new footage of Corky learning to move around on his new legs, still heavily bandaged from procedure.
"He is taking steps, but he not walking like a normal cat," Ventzke said. "He has a ways to go before he takes off walking. He does have some rotary motion but not to the point where he walks -- he'll take three or four steps at a time and then drag himself. But he's slowly teaching himself -- he's going to therapy every single day."
In the meantime, staffers are trying to raise money to cover costs associated with the $2,500 surgery and Corky's recovery. Anyone who wishes to donate can visit the shelter's webpage.
Check out a video of Corky moving around after surgery, above, and a slideshow of Corky below, courtesy of Cat's Cradle CATS Cradle Shelter Rescue and Adoption:

Calling all HuffPost superfans!
Sign up for membership to become a founding member and help shape HuffPost's next chapter