Capture all the amazing flavors of summer in one light and lovely breakfast. This breakfast quiche recipe puts a fresh spin on an old favorite, adding the sweetness of roasted corn and the creamy brightness of goat cheese to a medley of red peppers, scallions and cilantro. It all rests on a brown-rice crust, giving the dish just the right amount of crunch.
Roasted Corn and Goat Cheese Quiche
Recipe by Taided Betancourt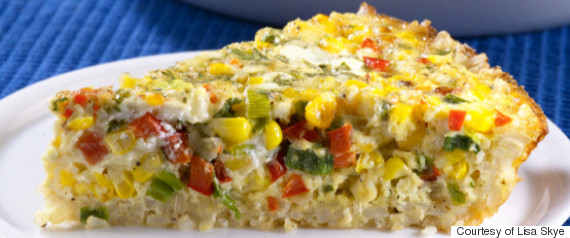 Ingredients
2 c. fresh corn, cut from the cob (about 2 large ears of corn)
4 Tbsp. olive oil
1 tsp. salt
5 large eggs
2 c. brown rice, cooked
1 small red pepper, diced
1 small bunch scallions, chopped
Pinch of crushed red pepper
1 c. whole milk
1/4 c. cilantro, chopped (or parsley, if preferred)
4 oz. goat cheese, crumbled
Freshly ground black pepper
To roast the corn: Preheat the oven to broil. Place corn kernels on a sheet tray and drizzle with 2 tablespoons of the olive oil and 1/4 teaspoon of the salt. Cook the corn a few inches below the broiler fame for 5 to 8 minutes, or until it is brown and toasty. Set aside to cool.
To make the crust: Preheat the oven to 450 degrees. Lightly beat 1 egg and combine it with the cooked rice. Press rice into the bottom of a pie pan to make an even crust all along the bottom and sides. Place it in the center of the oven and bake for 10 minutes. Remove from the oven and set aside.
To make the filling: Heat the remaining oil in a small pan over medium heat. Sautee the red pepper and scallions with 1/4 teaspoon of salt and the crushed red pepper for 5 to 7 minutes, or until the red pepper has softened a bit.
Whisk the remaining eggs together with the milk, 1/2 teaspoon of salt and a few grinds of black pepper. Stir in the roasted corn, red pepper, scallions, cilantro and goat cheese.
Pour the mixture into the crust and bake for 30 to 35 minutes, until the quiche is set. Let cool for about 10 minutes before serving warm.
CORRECTION: An earlier version of this post credited Lisa Skye as the recipe's creator. In fact, Taided Betancour created it.
Calling all HuffPost superfans!
Sign up for membership to become a founding member and help shape HuffPost's next chapter
BEFORE YOU GO
PHOTO GALLERY
Portable Breakfasts