Surprisingly, corned beef and cabbage is not an Irish tradition. It is an Irish-American tradition. Corned pork and cabbage is more common in the Emerald Isles, but Irish immigrants to the U.S. found beef more plentiful in their lower Manhattan ghettos where the butchers were mostly kosher and pork was verboten.
Traditional on St. Patrick's Day when everyone is Irish -- it is not served more often -- and my guess is that people just take it out of the wrapper and throw it in a pot with carrots, potatoes, cabbage and maybe some onions, and they feel they have met their obligation. But everything is soooooo salty, the meat is tough and fatty, and the veggies and potatoes are mushy.
Here's how to do the dish properly. If you have leftovers, make Rockin' Reuben Sandwiches, or Corned Beef Hash. But if you do it right, there won't be leftovers.
Makes. 6 servings (the meat shrinks quite a bit)
Preparation time. 10 minutes
Cooking time. 3 to 4 hours
A good idea. While the meat is cooking, mix up some of my Secretariat Horseradish Sauce and refrigerate for at least two hours to let the flavors marry. Serve it on the side as a sauce.
Do this
1) Open the package the meat came in and dump out all the liquid. Rinse thoroughly. Trim off all the fat cap. If you have made your own corned beef, and you should, it is just plain better, remove it from the brine, and rinse it well.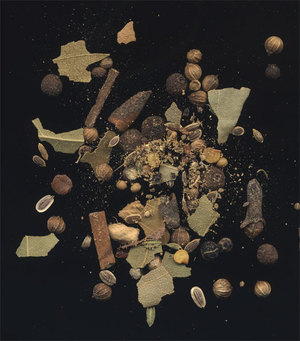 2) Corned beef is essentially pickled in salt, and straight out of the pack it is way too salty. Before we can eat this cured meat, we need to cook it and desalinate it a bit. Place the beef in a large pot along with enough hot water to cover it by at least 1" and put the lid on.
Turn the heat to medium and bring to a low simmer for 30 minutes. Do not let it boil. If you boil it, it will get tough and shrink. Beware that the meat is cold, so when it warms the water will slowly move from simmer to boil. Keep an eye on it and do not let it boil. After 30 minutes, dump out the water and cover the meat with fresh hot water. This time add the pickling spices.
Bring to a low simmer again, this time for 1 hour. Again dump the water and pickling spices and replace it with fresh hot water. Bring to a simmer and let it simmer for 1 hour. Add the carrots. After 30 minutes add the potatoes. After 10 minutes add the cabbage. After 15 minutes the cabbage will be done and so should everything else.
3) Remove the meat and place it on a carving board. There are often two horizontal muscles separated by a thick layer of fat. Separate them by sliding a knife through the fat. Carve and/or scrape off the fat layer. Carve the meat by cutting across the grain about the thickness of a pencil. Any thinner and it will fall apart, any thicker and it will be chewy.
5) Lift out the cabbage, potatoes and carrots and divide them into serving bowls. Place the meat in the bowl. Spoon some of the cooking liquid over them and serve. Happy Holiday!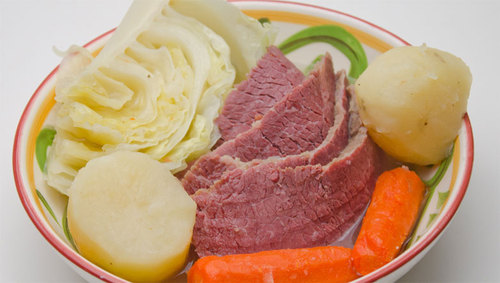 Tell us how you make your corned beef and cabbage below.
All text and photos are Copyright (c) 2012 By Meathead, and all rights are reserved. For more of Meathead's writing, photos, recipes, and barbecue info please visit his website AmazingRibs.com and subscribe to his email newsletter, Smoke Signals.
Friend Meathead on Facebook: http://www.facebook.com/AmazingRibs
Related