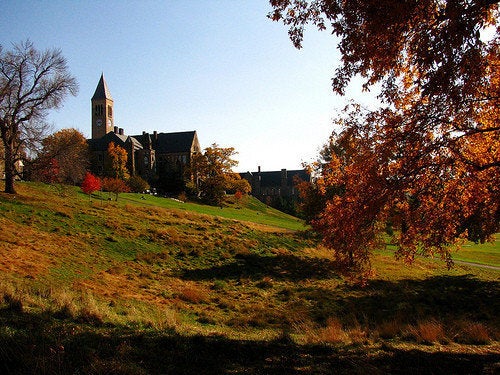 After 145 years, Cornell is saying goodbye to coal. This week, the university will shut down its coal burning plant in favor of its ENERGY STAR-award winning Combined Heat and Power Plant, which will become the campus' sole provider of energy and heat.
The new power plant opened in January 2010, shortly after Cornell president David Skorton announced the school's Climate Action Plan in Sept. 2009. The plan outlines steps for eliminating the university's greenhouse gas emission by 2050, like replacing coal with greener energy sources. The Combined Heat and Power Plant burns natural gases and oil in lieu of coal, and captures generated heat to produce steam, which is then used to heat the campus.
According to Cornell Director of Utilities Jim Adams, Cornell's transition away from using burning coal really began this year. "We had some coal left over from last year -- we have been burning that coal over the winter at a very low rate," Adams told the Cornell Chronicle. "And now, come March, we don't really need that boiler anymore so we're going to burn off the rest of the coal and be done with it."
Central Energy Plant manager Tim Peer told the Chronicle that Cornell used to burn 65,000 tons of coal per year, but that the whopping figure has been reduced to 6,000 tons in the last few years.
He added that the shift from burning coal to natural gas and oil will be quite a transition for the plant workers, many of whom were "raised in the [coal-burning] business."
Next, Cornell hopes to use the old boilers to test possibilities for harvesting energy from renewable biomasses.
Has your campus made efforts to go green? Let us know in the comments section below.

REAL LIFE. REAL NEWS. REAL VOICES.
Help us tell more of the stories that matter from voices that too often remain unheard.