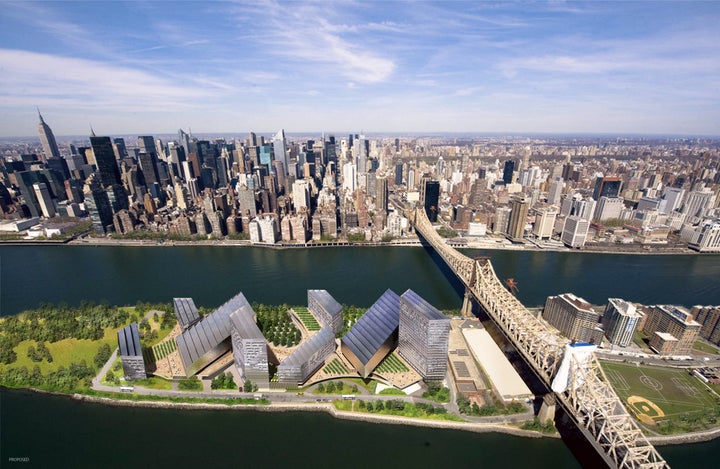 Mayor Michael Bloomberg is on a mission to oust Silicon Valley as the world's technology breeding ground and usher in a golden age of growth in New York City. His plan: offer up to $100 million and the use of city land to an academic institution charged with bolstering the city's tech sector.
This investment would fund the creation or expansion of a "world-class" academic and research institution that would in turn stimulate job growth and tax revenue for the city.
The New York City Economic Development Corporation began soliciting submissions for the grant competition in July after 27 institutions worldwide expressed interest in the competition. On October 28, all universities that wish to be considered for the grant will submit their proposals, and the university with the plan to generate the most rigorous economic growth for the city will be given the grant. A decision will likely be made in 2012, a mayoral spokesman told Bloomberg News.
The amount of grant money awarded, which will come out of the city's capital budget, will be determined by how much the institutions are looking for.
"A criterion will be what they are asking from us," Seth Pinsky, president of New York City Economic Development Corporation, told The Huffington Post. "The less they ask from us, the more desirable their proposal is."
The money should be seen as a seed investment, not a blank check written to the university with the winning bid, Pinsky said. The city expects money from the private sector to simultaneously fund the project.
Early on in the process, Cornell University hired a lobbyist and a public relations firm to help secure its bid for a campus on New York's Roosevelt Island. The Ithaca-based university, which already has its medical campus in New York City, announced on October 18 that it will team up with The Technion-Israel Institute of Technology in its bid.
Going head to head with Cornell for land and grant money is Stanford University, which helped put Silicon Valley on the map.
"We know how to get young people involved in start-ups," Stanford's president John L. Hennessy told The New York Times. "Cornell's disadvantage is all its start-ups put together are smaller than Google."
On October 11, Stanford announced that it will collaborate with the City University of New York and the City College of New York on its proposal.
Columbia University and New York University have also expressed interest in expanding their campuses using Bloomberg's proposed funds, while Carnegie Mellon University is proposing to build a campus at the Brooklyn Navy Yard.
"This is not the first time that government has offered land and funding in exchange for university development," Bloomberg acknowledged on July 19 at Crain's Future of New York City conference.
The mayor likened his plan to the Morrill Land-Grant Act, which paved the way for the founding of universities such as Cornell, Massachusetts Institute of Technology, the University of California at Berkley and Michigan State University. He also mentioned initiatives through which governments across the globe pay American universities to build and operate higher education institutions on foreign soil.
Pinsky acknowledged that while foreign governments in places like Education City in Qatar often pick up the tab for both construction and operating costs of American universities abroad, New York City will not be covering post-construction costs for the institutions that win the bid; the universities will be expected to pay their own operating expenses.
"We expect the universities to put in many more times what we're putting in," Pinsky told HuffPost.
While Silicon Valley leads as the nation's top city for number of venture capital deals and investments, New York City outranked Boston in the number of deals secured for the first time in 2010.
"During the 1980s and '90s, Silicon Valley -- not New York -- became the world capital of technology start-ups," Bloomberg said at Crain's. "And that is still true today. But if I am right -- and if we succeed in this mission -- it won't be true forever."
In May 2010, The Bloomberg Administration also established the $22 million NYC Entrepreneurial Fund to help seed-stage companies get off the ground in New York.
CORRECTION: This article originally incorrectly identified one of the Land-Grant Act universities as the University of Michigan. It has been corrected to Michigan State University.
REAL LIFE. REAL NEWS. REAL VOICES.
Help us tell more of the stories that matter from voices that too often remain unheard.