Students at Cornell University say school administrators and police have called in multiple student activists for "interrogations" about recent protests, and threatened at least one activist with a felony burglary charge.
The reason for the university's actions, according to both activists and administrators, was to ensure there would be no disruptive demonstrations during Charter Day weekend, a celebration of the school's 150th anniversary that took place April 25 through 27. The activists accuse school officials of attempting to intimidate them, while Cornell officials say they were making an effort to be transparent with activists and warn them about the possible consequences of creating a disturbance.
"They were emailing individual protesters, or people they believe to be involved, to ensure that their birthday party isn't interrupted," said Alex Brown, a Ph.D. student and activist at Cornell.
Students have been protesting against a new $350 health services fee since it was announced in February. Beginning next school year, the fee will be imposed on all students who do not use the Cornell Student Health Insurance Plan -- about 70 percent of undergrads, according to the university. Two demonstrations against the fee took place on Feb. 9 and March 26.
"They really went berserk last week," Brown said of administrators. "Regardless of their intention, the impact on us is there's an overblown police investigation into a really minor incident."
The incident in question is alleged to have taken place the morning of March 26. That's when police say a group of student activists broke into an amphitheater where the Cornell Board of Trustees would be meeting later that day. Police accuse the activists of unlawfully entering an audiovisual room in the amphitheater and using a computer to display an image critical of the board of trustees on a TV monitor in the room. Police say the activists also hung homemade posters in the room that were critical of the university.
Last week, an investigator with the Cornell University Police Department interviewed senior Daniel Marshall about the alleged events at the amphitheater, as well as about a demonstration against the health fee by activists. Marshall had written a March 17 op-ed critical of the trustees in The Cornell Daily Sun.
According to audio of one interview obtained by The Huffington Post, the investigator read Marshall his Miranda rights and then began asking him questions pertaining to the activists' organizational activities. Marshall was told the CUPD had enough information through DNA, fingerprints, witnesses and security footage to slap him with a class D felony burglary charge, as well as misdemeanor counts of unlawful use of a computer and trespassing.
"I've got enough to do it right now. I don't want to. Your cooperation is going to reduce that," the investigating officer said, according to the audio. "If you cooperate with me, you are not going to get charged with burglary. If you do not cooperate with me, I'm going to charge you with burglary." The officer added that he would most likely take Marshall out of one of his classes in handcuffs within a week.
Activists said the officer later told another student that the alleged crime involved a photo posted to the "Save the Pass" Facebook group on the day of the Cornell trustees' meeting. That photo showed TV monitors and a projector in the amphitheater displaying a "Welcome the Trustees" image. In addition, according to the activists' website, the officer supposedly said that several posters affiliated with the protest had been hung in the amphitheater, and confirmed to one activist's lawyer that no property had been damaged.
The officer who spoke to Marshall told him that the burglary charge would bring a minimum of three years' incarceration if he was convicted, according to the audio. "I've got you dead to nuts on it," the officer told Marshall, advising him to consult with an attorney immediately.
The activists say the burglary charge hinges on alleging that the doors to the amphitheater, and the AV room within it, were locked at the time of entry, and that students would have had to break the locks to enter. The activists claim on their website that "these doors are left open all night. If they had been locked that particular night for some reason, there would have been no way of breaking in without breaking the entire door, as the locks are electronic."
"We have enough evidence to say the room was locked at the time," Kathy Zoner, Cornell chief of police, told HuffPost on Wednesday. She added that regardless of whether a lock was broken or not, the students did not have lawful access to the room or the computer. Zoner said that for the sake of transparency, students were told about the charges that CUPD is investigating.
Susan Murphy, Cornell's vice president for student and academic services, and Mary Opperman, vice president for human resources and safety services, also invited several student activists who'd signed campus newspaper op-eds to meet ahead of Charter Day weekend.
Hundreds of volunteers planned more than 40 events for the late-April celebration, a process that began as early as 2010, school officials say. Murphy and Opperman had warned students in an April 12 Daily Sun op-ed that additional, disruptive demonstrations could be considered violations of the school's code of conduct, and would have consequences.
"What Mary and I were trying to do was make it very clear about what's appropriate student activism, if you will -- what's a level of disruption that we might tolerate," Murphy told HuffPost. She said the activists' behavior during the earlier demonstrations, and their activity on Facebook, made it clear that their goals were "not for dialogue, but intentionally for disruption."
The administrators wanted to convey that "our tolerance that occurred for the disruption previously was probably not going to be there," Murphy said. No one had been arrested or charged for the demonstration outside the March 26 trustees meeting, where students chanted "Costs rise, so do we" and "Raise hell, not tuition," according to the Daily Sun.
"They were not just chanting outside the room," said Murphy. Rather, she alleged, the activists were banging on the room's walls and doors as well.
"I happen to have been the person who was trying to make a presentation inside, so I can testify to how disruptive it was," she said.

On Saturday, student activists received a note from Facebook saying that law enforcement had subpoenaed information about their account. CUPD is seeking names of administrators and IP addresses for everyone in the "Save the Pass" Facebook group, which has been posting many of the notes about planned demonstrations. Zoner would not specify what officials are looking for on Facebook, saying only that they are investigating who may have been involved in a crime.
Students have also demanded a tuition freeze, in addition to repealing the health fee. In an April 24 email to the activists, Murphy wrote that she "doubt[ed] such a dramatic step could occur."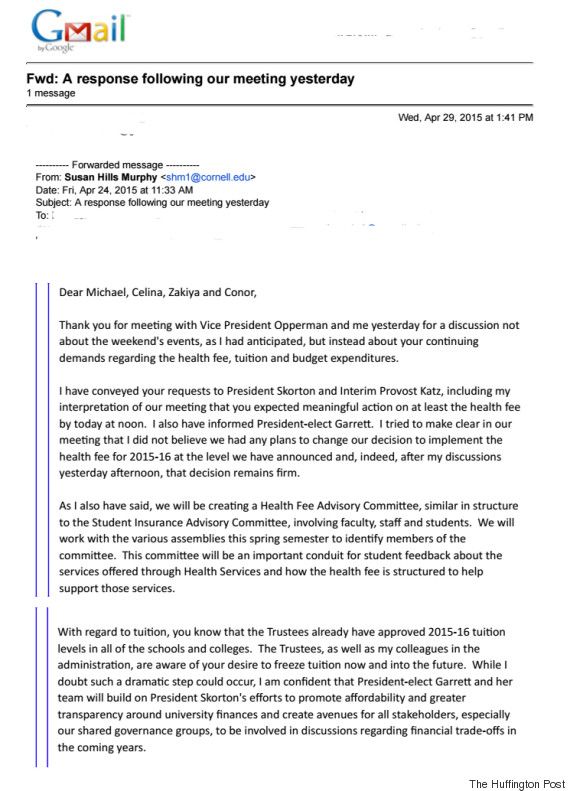 Popular in the Community