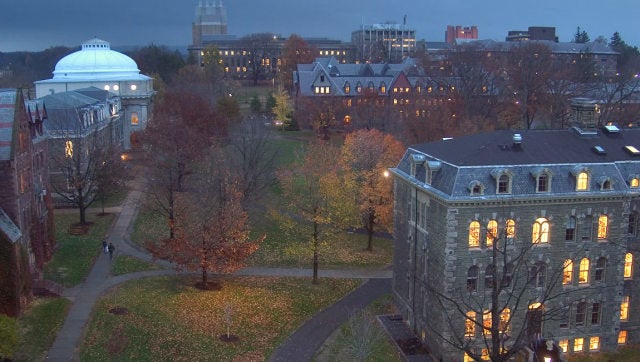 Travis Apgar, associate dean of students for fraternity and sorority affairs, told the student newspaper that upperclassmen stripped pledges to their underwear before violently ripping them off. He acknowledged that while the action was strange, it could have lasting negative side effects.
Hazing has been formally prohibited at Cornell since 1980 and a crime under New York State law since 1983. But it continues under the guise of pledging, often perpetuated through traditions handed down over generations. Although pledging is explained away as a period of time during which pre-initiates ("pledges") devote themselves to learning the information necessary to become full members, in reality, it is often the vehicle for demeaning activities that cause psychological harm and physical danger.
There is a pressing need for better ways to bring students together in socially productive, enjoyable and memorable ways. ... We need to face the facts about the role of fraternities and sororities in hazing and high-risk drinking. Pledging -- and the humiliation and bullying that go with it -- can no longer be the price of entry.
Apgar was quick to point out that hazing does not occur at all fraternities. News reports routinely feature those where it does. In December 2012, 22 Pi Kappa Alpha members were kicked off the Northern Illinois University campus and formally charged with hazing after freshman David Bogenberger died following a ritual involving large amounts of alcohol.
In another incident, this time involving a marching band, 13 members of Florida A&M University's famed "Marching 100" were charged with hazing after the band beat drum major Robert Champion Jr. to death as part of another hazing ritual. The subsequent investigation destroyed FAMU's reputation.
Clarification: Language has been added to more explicitly locate the Pi Kappa Alpha incident.
Related
Popular in the Community