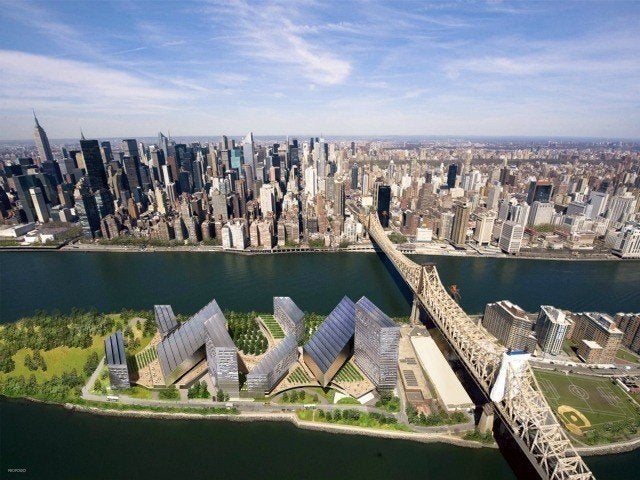 ROOSEVELT ISLAND — Mayor Michael Bloomberg will announce Monday Cornell University the winner of a $100 million competition to build a state-of-the art engineering and applied science graduate school on Roosevelt Island, sources said.
The decision comes just days after Stanford, considered one of the frontrunners in the race among a handful of elite universities including Columbia and Carnegie Mellon, bowed out of the competition.
Shortly after Stanford dropped out, Cornell announced it has received a $350 million anonymous donation to put towards its tech campus efforts.
Cornell plans to build a two million square foot campus for more than 2,000 students, with facilities including classroom, housing, research space and a conference center, with a price tag of more than $2 billion.
The eco-friendly campus plan reportedly includes the use of solar panels and geothermal wells, and will be housed at the site of Goldwater Hospital, which is slated to close in 2014.
The campus would house around 2,000 grad students, a sustainable campus and startup incubators.
"Our vision is to build a truly 21st century campus that will fuel the city's growing tech sector and spur the creation of new businesses and new industries for decades to come," said university president David Skoryon in a statement after receiving the $350 million donation.
"Our proposal for a multidisciplinary institution combining world class applied science research, entrepreneurship and commercialization will accelerate New York City's transformation into a world leader in technology innovation."
The school is planning to have the campus functioning by next September, The Times reported.
Mayor Michael Bloomberg announced the competition in July as part of a plan to make the city a tech center on par with Silicon Valley.
The announcement is expected to take place at the New York/Weill Cornell Medical Center on the Upper East Side.
The city and Cornell did not immediately respond to requests for official comment.
Related
Popular in the Community