A woman who called the police on a 9-year-old boy accusing him of sexual assault has earned the nickname, "Cornerstore Caroline."
On Wednesday, Facebook user Jason Stovetop Littlejohn shared a video of the ensuing argument, reportedly outside the Sahara Deli in Flatbush, N.Y. "Meet Cornerstore Caroline. White Woman calls police on a kid, saying he sexually assaulted her," he wrote. "As I walked up I noticed the argument, apparently, the kid brushed up against her and she said he touched her and decided to call police on a nine-year-old child. As you can see the kid is crying and the mom is upset."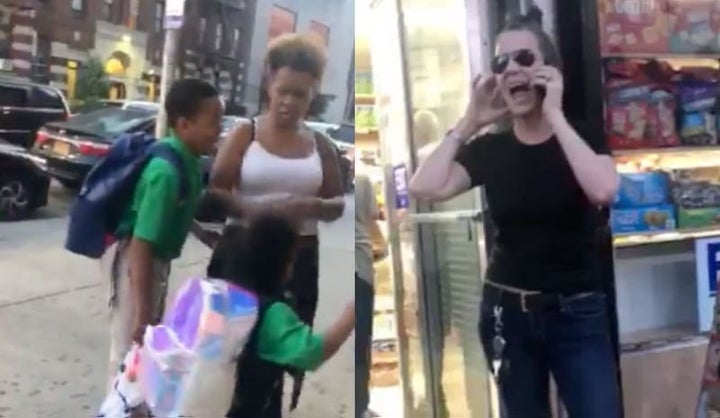 The Littlejohn video also captures the following exchanges.
"I want the cops here right now," the woman, identified by the New York Post as Teresa Sue Klein of Flatbush, in Brooklyn, says to the 911 operator. "The son grabbed my a**" She also offers to "submit the security tapes for evidence."
The boy and, presumably, his sister cry and wail in fear while standing next to their mother, as a crowd gathers in defense of the family. "I was just sexually assaulted by a child," yells the woman to the angry crowd, according to Heavy.
"Are you seriously calling the police?" says a female passerby. "Go away. What is your problem? I'm calling you out."
Klein responds, "I am a police officer. No, white lady, I will not [go away]." According to Heavy, she was quoting the boy's mother, who allegedly identified herself as a cop.
Littlejohn did not return Yahoo Lifestyle's request for comment. On Friday, Pix11 journalist Andrew Ramos tweeted a surveillance video from the store, depicting the boy walking by the woman unaware of her presence, with both his hands in plain view. His oversize backpack appears to have made contact with the woman, who becomes visibly upset. After exchanging heated words with the boy's mother, she whips out her phone and starts dialing.
The New York City Police Department tells Yahoo Lifestyle that no related complaint reports are filed, although according to Pix11, officers did respond after the crowd had dispersed. Yahoo Lifestyle could not reach a representative of Sahara Deli for comment; however, the owner told Pix11: "The woman has a history of being 'unwell.'" Heavy also reported that Klein, of Missouri, studied sociology at the University of Missouri and is a former actress and performer.
On Friday, a Pix11 news crew visited Klein's apartment; however, she refused to speak, instead calling 911 on the reporters.
More from Yahoo Lifestyle:
Popular in the Community