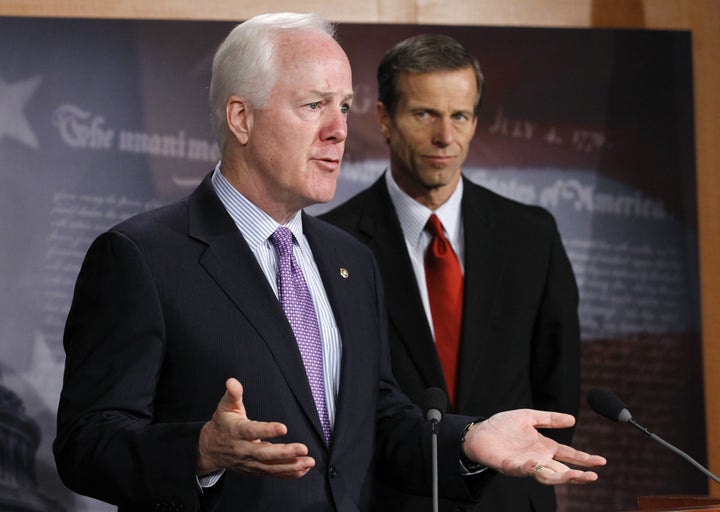 WASHINGTON -- Republicans who requested millions of dollars worth of earmarks in the omnibus appropriations bill for fiscal year 2011 are now calling the bill "wasteful spending," and plan to try to block it by any means possible -- including by requesting the 1,924-page bill be read aloud, running out valuable Senate floor time.
Senate Republicans supported a voluntary ban on earmarks in November, but a bill to ban earmarks for all senators failed on Nov. 30. With the 111th session of Congress drawing to a close, Sen. Jim DeMint (R-S.C.) announced he will invoke senatorial privilege to have the nuclear treaty known as New START and the lengthy spending bill read aloud on the floor.
Such a read-aloud could eat up precious days that Democrats hope to devote to other issues, such as the Dream Act, which offers a path to citizenship for undocumented immigrants who entered the country as children, and a standalone bill to repeal "Don't Ask, Don't Tell," the military's ban on openly gay servicemembers.
Sens. John Cornyn (R-Texas) and John Thune (R-S.D.) said Wednesday that they plan to vote against moving on the spending bill. If the bill goes to the floor, the senators said, they would use the opportunity to introduce amendments to strip funding for President Barack Obama's signature health-care reform law before it goes into effect. Cornyn said such tactics are the Republicans' best hope for stopping the law in its tracks.
"The challenges we are going to have in trying to repeal and replace this failed health care bill are big, particularly given the president's likely veto even if it were to pass the House and Senate," Cornyn said. "The best way we have to get to it is through the appropriations process. This bill ... would deny us the ability to do what the American people want, which is to repeal and replace this bill."
The senators criticized the broader spending bill for its $8 billion in earmarks, though many of the earmarks were introduced to the bill by Republicans. Cornyn himself proposed some $16 million in earmarks for his home state.
Democrats called the statements hypocritical. Sen. Claire McCaskill (D-Mo.) said Republicans who request earmarks and vote against the bill are "half pregnant."
"Republicans, as usual, are talking out both sides of their mouths," said a Democratic leadership aide. "Months ago, Senator Cornyn requested $16 million in earmarks for his state, then suddenly he woke up this morning and decided he was against the very thing he fought for. So which one is it?"
Asked several times if he believed his former requests for earmarks were wrong, Cornyn said reporters were "missing the story."
"This is not just about earmarks -- earmarks are a symptom of wasteful Washington spending that the American people say they want reformed," Cornyn said. "We agree with them, and that's why we will vote against this bill."
Republicans have argued spending should not be decided in the lame-duck session.
"Let's go home, let's put all of this agenda stuff that they couldn't get done throughout the course of this year off until next year when we get into a new Congress," said Thune, who has been brandishing his conservative credentials as he prepares for a likely 2012 presidential bid.
Thune said he hopes to win over some Democrats for the effort. When the Senate voted on a mandatory earmark ban in November, seven Democrats -- Sens. Evan Bayh (D-Ind.), Michael Bennet (D-Colo.), Russ Feingold (D-Wis.), Claire McCaskill (D-Mo.), Bill Nelson (D-Fla.), Mark Udall (D-Colo.) and Mark Warner (D-Va.) -- voted in favor of the ban. In January, the retiring Bayh and the defeated Feingold will both be replaced by Republicans.
"It's all going to depend on whether they can get to 60, and I hope they can't," Thune said. "I don't think this is the right way to proceed."
Calling all HuffPost superfans!
Sign up for membership to become a founding member and help shape HuffPost's next chapter