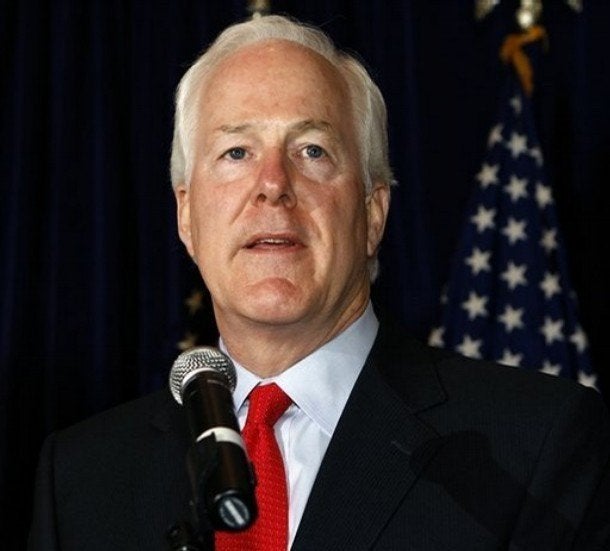 Two of the Republican Party's three federal campaign committees announced on Wednesday that they would be forgoing active participation in future GOP primaries.
RNC Chairman Michael Steele went first, when he told reporters during a morning press conference that, as "national chairman," his job was "not to pick the winners or losers" in a primary system.
"It is not to pick who gets to run," he said. "My job is to support the eventual nominee whether they are selected or elected through a primary process."
Hours later, he was echoed by Sen. John Cornyn (R-Tex.), the chairman of the National Republican Senatorial Committee, who told ABC News that his committee "will not spend money in a contested primary."
"There's no incentive for us to weigh in," added Cornyn. "We have to look at our resources... We're not going to throw money into a [primary] race leading up to the election."
Coming just one day after the Republican Party -- amidst infighting between moderates and conservatives -- lost a long-held seat in upstate New York, the dual pledges by Steele and Cornyn seem like an effort to avoid future hostilities. But, stepping back, the move promises to have major ramifications for the upcoming 2010 elections, Democrats allege. In the past, committee chairman have traditionally pinpointed the candidates they believed had the best general election viability in hopes that their support would dissuade a primary challenge. The move by Cornyn and Steele, in effect, may make it more likely for conservatives to take on moderate or "establishment" Republicans.
Democrats, for one, were downright gleeful with the news. A strategist working on the upcoming congressional races said the remarks amounted to a "neutering" of every moderate Republican who is making a run at office.
"What Cornyn is doing is basically abandoning the [California Republican] Carly Fiorinas, the [Connecticut Republican] Rob Simmons, the [Illinois Republican] Mark Kirks and [Florida Republican] Charlie Crist's of the world," said the strategist. "He's giving a green light to all the fringe, tea-party people out there that, if they choose to run, they won't have to go against the party apparatus. The party apparatus isn't going to spend a dime. They aren't going to have Mark Kirk's back. If you're that guy in Illinois and you're worried about the cost of taking on Kirk, well, now that's not a problem."
Indeed, in an effort to avoid repeating the intra-party frictions that marked NY-23's congressional election, Cornyn may have just stirred the pot further: stacking the deck in favor of those candidates who can raise the most money and appeal closest to the conservative base.
A Republican official, speaking on condition of anonymity, downplayed such an interpretation. Cornyn, the official stressed, was just repeating the obvious: that the NRSC was not going to burn resources on a race until a candidate was chosen. "There is really no recent history of the committee spending money in a recent primary," said the official.
Another Republican strategist, meanwhile, told the Huffington Post that the NRSC was making a clear and logical attempt to pacify conservatives who were worried (after NY-23) about the party meddling in local elections. "The NRSC has generated a lot of ill-will towards itself this cycle by virtue of its perceived excessive intervention on Charlie Crist's behalf in the Florida Senate race," the source added. "I doubt, however, that Cornyn's move will result in cheers or thank-yous from conservatives, who are very aggrieved at the meddling to-date."
Nevertheless, the move had Democrats chirping. The Florida Democratic Party passed along the article under the headline: "Guess the NRSC is cutting off Charlie Crist." In Connecticut, meanwhile, Democratic Party spokesperson Colleen Flanagan sent out an email blast with a full-caps title: "SENATE REPUBLICANS DROP ROB SIMMONS LIKE A BAD HABIT."
A call and email to officials at the National Republican Congressional Committee, to see if they would be adopting the a hands-off approach of the NRSC and RNC, was not immediately returned.
Calling all HuffPost superfans!
Sign up for membership to become a founding member and help shape HuffPost's next chapter