Last week, after my "Plant-Based Meals: Easy, Delicious, Healthy" article, a Huffington Post reader recommended I try corona beans, from Italy.
He said, "When I serve these, people taste them and they look at me, surprised, and say, "What kind of beans are these?"
I don't mind saying that I can get pretty excited about beans, so that's all it took to get me to go online and order these beans for myself! I'd never had them, nor heard of them, and I wanted to see what kind of response I'd get from my family.
So I ordered my beans online from Italia Gourmet -- the Calleris brand from Italy that come in a 17.86-ounce bag. Before I knew it, they had arrived on my doorstep.
According to the Italia Gourmet website, "Corona beans are a gourmet and broad white bean grown by Calleris, in Piemonte (Italy) and are not commonly grown in other parts of the world. Similar in appearance and taste to a large Lima bean. They triple in size when cooked. Corona beans have an excellent, nutty flavor, and are commonly used in Italian cooking. This very large bean is very popular in Italian and Portuguese cuisine."
I soaked the whole bag (3 cups) overnight, then went online to see how other people prepare them. Many of the recipes were vegan. I didn't see many recipes that included meat -- I'm guessing because of the beans' size and heartiness. Some cooks served their beans in broth with sage, a traditional Italian spice. I even saw a recipe for pan-fried beans, which I think is intriguing.
Most of the recipes contained onion, garlic or both (how can you go wrong with these?!). A few included kale. I think the idea with these beans is to keep it simple so as not to take away too much from the bean's flavor and presence.
I decided to make a soup or a stew and add some noodles or a grain. I went with brown rice as I had some in my freezer in 2-cup servings (this is a great time-saving idea, by the way!). Onion was a given for me, and to make this dish a little quicker -- cooking on one leg and crutches, I'm all about that - I thought I'd add pre-chopped garlic from a jar.
Also, I've had a couple of cans of artichoke hearts sitting in my pantry waiting for the perfect opportunity and I realized this was it and added one of these.

I was definitely in favor of including kale as I had just picked some lacinata and Tuscan varieties from my kitchen garden that morning. Instead of adding it to the soup, though, I steamed it and served it as a side dish. I also harvested a bunch of baby carrots, and those went in whole.
Just before serving, I added a little olive oil for flavor (you can omit this). And it might be nice to garnish with some fresh Italian broad-leaf parsley.
The final recipe was fit for a king!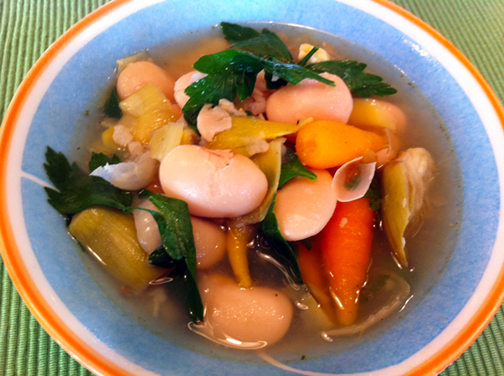 Fit-For-A-King Corona Beans
Three cups dry Corona beans, soaked overnight
1 vegetarian bouillion cube (I like Rapunzel or similar brand)
1 onion, diced
1 tablespoon minced garlic (from a jar if you're aiming for super-quick)
1 can artichoke hearts packed in water, drained
20 baby carrots, whole (quick option is to use pre-washed & cut 'bunny carrots'
2 cups cooked brown rice (I used leftover from the freezer link to blog post on Bwhole2)
Filtered water to cover beans
Additional 4 cups of hot water
Pinch sea salt & pepper
Parsley, chopped
Optional: 1/2 teaspoon of olive oil
Soak beans overnight in a large soup pot (or use the quick-soak method below). Drain beans, and add new water to cover by 1 inch (if using uncooked brown rice, add 2/3 cup with the beans at this point). Bring to a boil, turn to low, cover, and simmer for 1 hour. Check water level once or twice during cooking to make sure that beans stay covered.
When beans are finished cooking, take 2/3 cup of the water from the bean pot, add a bouillon cube to dilute it, return broth water to the pot. Add about 4 more cups of hot water, onion, garlic, baby carrots and artichoke hearts. If you are using leftover brown rice (or, frozen, thawed), add it at this point. Simmer, covered, for 15 more minutes.
Ladle into bowls, garnish with parsley (or stir the one cup parsley into the pot just before serving). Drizzle on a little olive oil if desired. Sprinkle with grated pepper and a pinch of sea salt (omit salt if your vegetable bouillon contains salt).
Serves 8.
Note: I served with a side of steamed kale.
These corona beans were a hit with my sister, Liz, and her family when I had them over for Sunday dinner. They knew what they were ahead of time because I had talked so enthusiastically about them the previous day. But they were enjoyed all around.
The big surprise, for me, was to find that these king-sized beans, eaten alone, taste similar to baked potatoes, which I love to eat occasionally. Liz's husband and son had second helpings, and Liz and I were both full on just one bowl. And it made for a great lunch the next day.
These wonderful specialty beans have been added to our list of favorites! And making them was so easy and fast, once soaked.
For more plant-based recipes, please sign up for my free monthly newsletter!
REAL LIFE. REAL NEWS. REAL VOICES.
Help us tell more of the stories that matter from voices that too often remain unheard.