The National Education Association, the largest national teachers union in the country, is calling on all schools to shut down immediately for at least two weeks to combat the spread of COVID-19, the disease caused by the coronavirus.
The Centers for Disease Control and Prevention "has recommended banning all gatherings of more than 50 people, but exempted schools. We are calling on the CDC to update their guidance and include schools for the safety of everyone," said a statement from NEA President Lily Eskelsen García provided to HuffPost. on Monday.
The American Federation of Teachers, the other national teachers union, said earlier in the day that all U.S. schools needed to plan for a shutdown, but stopped short of calling for one immediately. It said a national school shutdown is "inevitable."
"Closing schools is an agonizing decision, but, with caveats, it's the inevitable and correct one in the midst of this unprecedented national emergency," said a statement from AFT President Randi Weingarten.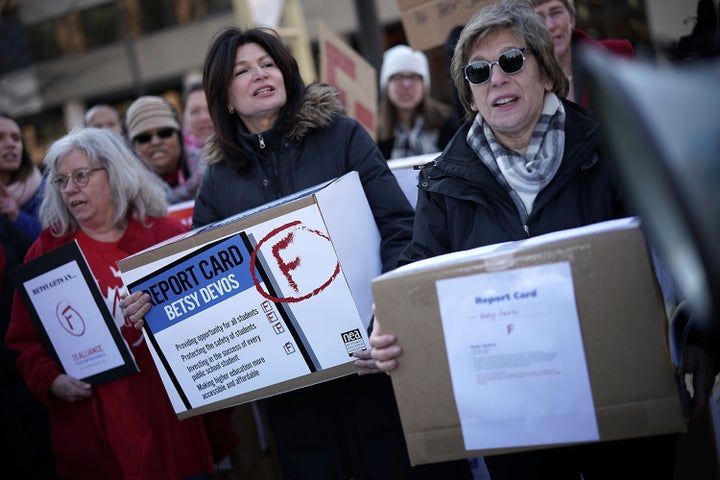 The National Education Association represents over 3 million members who work in classrooms across the country. The American Federation of Teachers represents 1.7 million members.
There are nearly 51 million children enrolled in pre-kindergarten through twelfth grade, according to the National Center for Education Statistics. As of March 15, some 64,000 schools in the U.S. had closed in response to the coronavirus pandemic, affecting 32.5 million students, according to EdWeek.
Many of the schools that have closed are setting up distance-learning programs so that students can learn remotely, though this can be problematic for families without access to a computer or the internet. Some schools are also setting up programs to provide breakfast and lunch for students even when classes are canceled. As of 2017, nearly 13 million children under the age of 18 were members of families living in poverty. For these families, schools can be a lifeline to childcare, health care and food, in addition to academics.
"When we close schools, we need to be doubly sure that adequate supports are in place," noted Weingarten in a statement. "That means services for medically fragile students and other vulnerable children, an emergency support plan for all first responders and healthcare workers to support child care and other needs, access to appropriate testing and care, feeding programs, and learning packets and specific guidance for online learning."
On Sunday, the American Federation of School Administrators also called for a national school shutdown. The AFSA is a trade union representing around 20,000 school administrators, including principals and vice principals.
"I have to deal with the anxiety my members are having. We looked really carefully at the guidance the CDC gave, and we realized it has to be long term," AFSA President Ernest Logan told HuffPost. "We've never done this before. We can handle snow days. We can handle pipe bursts."
Last week, the CDC released guidance saying that only long-term school closures of eight weeks or more are likely to mitigate the spread of the virus. Short- to medium-term closures, of two to four weeks, do not appear to limit the virus's spread, according to the guidance.
Logan said he hoped that, if anything, perhaps the pandemic would show the public how many services schools are expected to provide with limited resources. He referenced students who rely on school for showers and hot meals, behavioral and occupational therapy, and basic health needs like care for asthma and eyesight.
"The crisis has woke up people to say, 'Oh my god, schools are more than just places where people take tests.' The problem is there is no backup," Logan said.
Support HuffPost
The Stakes Have Never Been Higher
Popular in the Community