This article has been updated as of Monday April 6.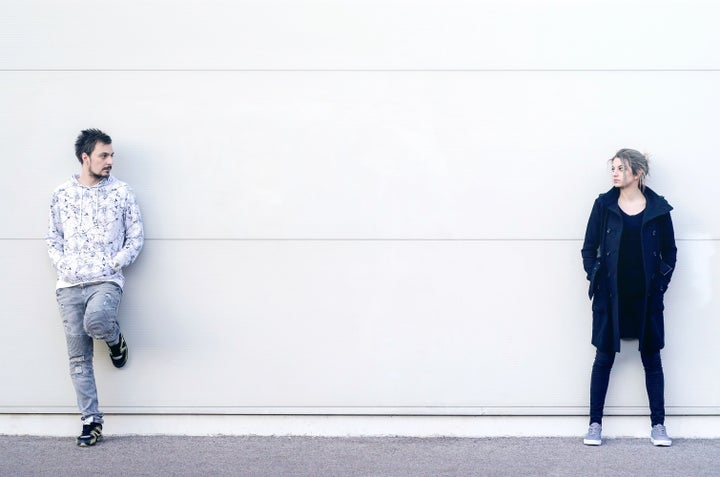 From Australia's strict two-people rule and newly introduced social distancing fines, the guidelines around what you can and can't do during the coronavirus crisis are changing on the daily basis. 
While people have been advised that gatherings with members of the same household is permitted, how does dating fit into this scenario? 
Can I See My Partner Who Doesn't Live With Me?
For those wondering if they can still see their partner who lives in another home, the answer is technically yes if you live in NSW. This is because public gatherings of two people are allowed, a NSW Health spokesperson confirmed to HuffPost Australia.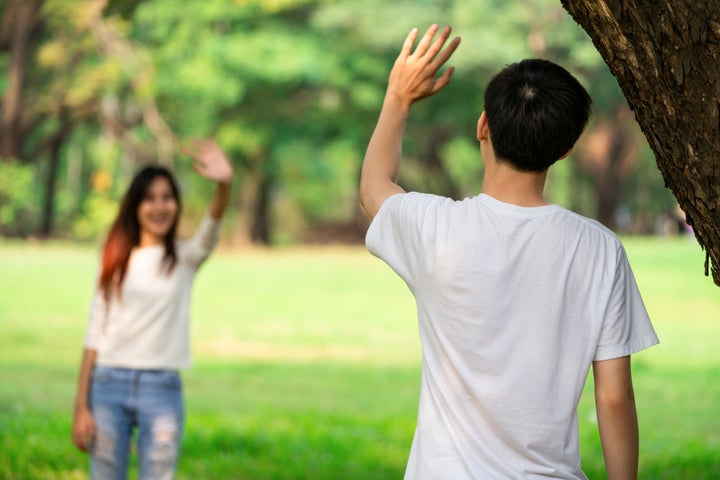 NSW Police Commissioner Mick Fuller also said it was allowed. 
"Absolutely! That's under care," he responded when asked about the rule at a press conference. 
"Mental health is under care. Absolutely, under care. I think we have to look after each other, but don't take the whole family with you. Don't take your grandparents."
When Federal Health Minister Greg Hunt was asked the same question by a journalist during a press conference the same week, his response was less direct. 
"The National Cabinet decision was about people being able to go out in groups of two, and to keep to households in addition to that. I'm not aware of the details that you've just provided so I won't try to provide advice on that," he said. 
Meanwhile if you live in Victoria, it's not's been so straightforward. After initially banning partners who don't live together from seeing each other, the rule has more recently been relaxed. 
The state's Minister for Police and Emergency Service, Lisa Neville, said in a recent tweet, "You cannot visit your partner for social reasons.
"There are select reasons you can go to the home of your partner," she continued, referring to the directives of the chief health officers. 
According to those directives, "you can welcome a visitor into your home when they are providing you with care and support when you are unwell, disabled, elderly or pregnant". 
Premier Daniel Andrews defended the restriction when asked about it during a press conference. 
"That's not work, that's not caregiving, that's not medical care, that's not shopping for things when you need them," he told the journalist who asked. "It does not comply with the rules, so people should not do that."
However days later Victorian Chief Health Officer Professor Brett Sutton said there were exemptions to social distancing rules for couples who live apart.
"Regarding 'Stay at Home' rules: We have no desire to penalise individuals who are staying with or meeting their partners if they don't usually reside together," he told media. "We'll be making an exemption."
Queensland premier Annastacia Palaszczuk has said, "if there is one or two extra people that come into your house, that is not going to be breaching the law". 
Rules in WA, SA, NT, ACT and Tasmania are not as clear when it comes to visiting your partner. 
No Physical Touch And 2-Metre Distancing 
According to physician and journalist Dr Norman Swan, couples should still be able to see each other if they don't live together, as long as there's no physical touching and a two-metre distance. 
"You should not break the two-metre rule, even with your own partner," he said on ABC's Coronacast podcast. 
"The problem here is you're not living with them so you're not quite sure what each other's doing or who you've come in contact with. That's the problem."
Dr Swan said it's important to check if your partner has got symptoms. If they do, it's best to not meet. The same applies if one's partner has been in contact with anyone with Covid-19, or been overseas and in quarantine. 
He said if both people in the relationship have been self-isolating, it would be "okay" to continue meeting. 
"As long as you're both doing it and therefore you know where each other's been in a sense in the last few days, then probably common sense would say, 'look it's okay'," he explained. 
"Particularly if you continue to social distance so that when you see each other you're not getting too close. That would be fine most people would say as long as it's not in a crowded area such a park or something like that."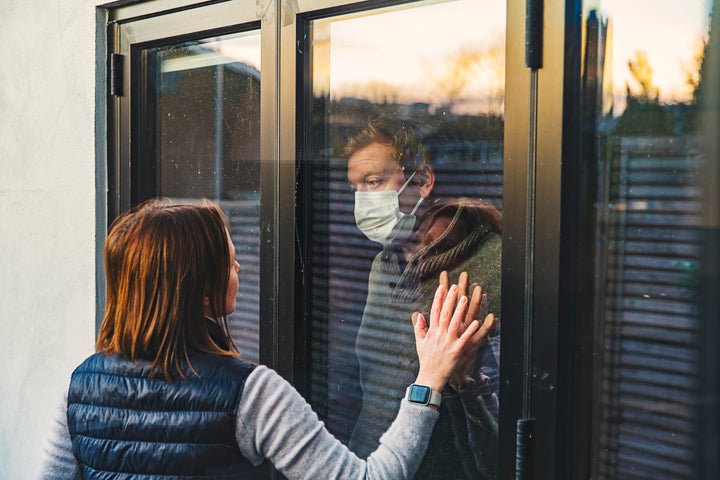 How To Cope Being Apart 
Experts say social distancing rules that could prevent partners from seeing each other is "challenging" but there are mechanisms to cope with being apart.
Elisabeth Shaw, CEO Relationships Australia NSW, said "having choice about how close or distant you want to be from your partner is one thing, being prohibited is entirely different and I think it's this difference that can have a significant psychological impact on a relationship".
"As much as possible, couples should try and maintain some resemblance of a routine in contact," Shaw told HuffPost Australia. 
This includes dedicating regular times to check in, as well as "special catch ups, sharing down time, having a virtual drink or meal (take away of course)". 
"Insecurities about each other can be heightened when you are separated and the longing for lustful interactions beckon. Try and be sensitive to the possibility of this," she also explained.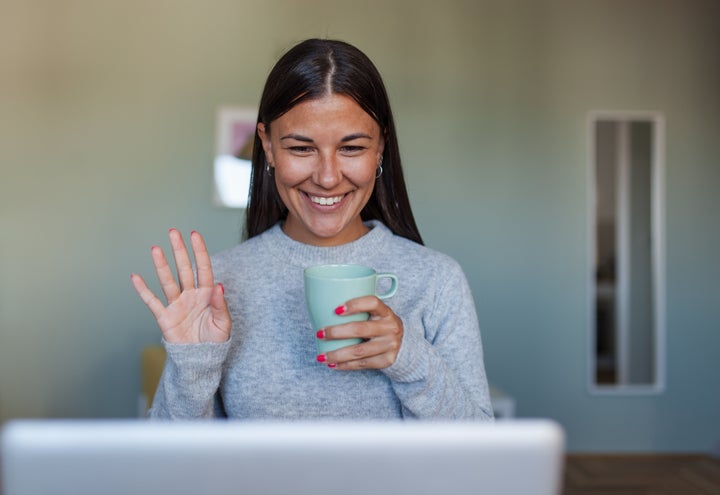 "Rather than ignore calls or texts, because you don't feel like chatting or are unable to, respond and say you're not able to talk. Give an indication when you will be able to connect. It is likely at times couples will need more reassurance at times like this." 
As for the lack of physical sex, she said "there is no reason that couples cannot enjoy intimacy virtually either".
"Here your imagination is the only limitation. However, when trying new ways to communicate even sexually, there needs to be a consensual discussion and a freedom to be able to say no to a suggestion that one or other of you may find distasteful or unpleasurable."
Online Dating Becoming The New Norm 
Meanwhile those looking for a new relationship are increasingly turning to dating websites and apps as the Covid-19 crisis continues. 
Bumble, Hinge and other dating apps are actively encouraging their users to make their dates virtual and not meet up in person, and users seem to be taking their advice.
The inclination to hop onto dating apps doesn't surprise Kevin Lewis, an associate professor of sociology at the University of California, San Diego, who's studied online dating.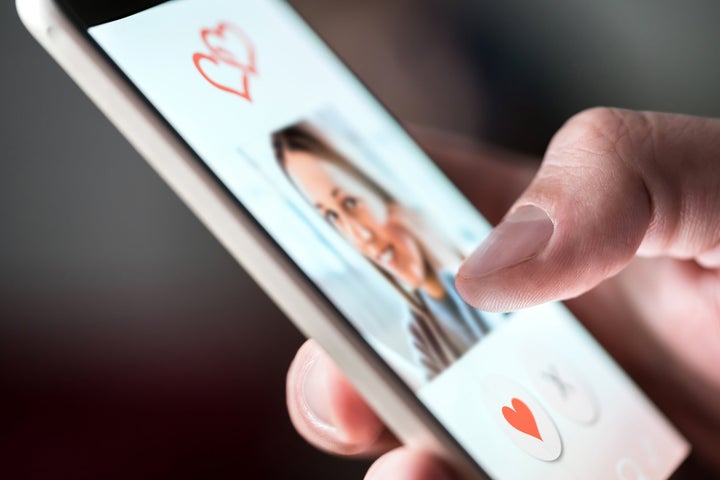 "It's a hard time to be a single," he said. "It sucks to have no opportunity to meet other singles in person while much of the rest of the world is hunkering down with loved ones."
This situation forces people to communicate more digitally before meeting in person than they would normally, which could have a mixed effect on post-quarantine bonds, Lewis said. You may vibe over DMs but feel no physical sparks when you meet IRL.
"But hey, at least this makes people feel less isolated for the moment," Lewis said.
Dating without the possibility of going on an actual date in the near future has actually been a breath of fresh air for some.
Shyla Watson, a 26-year-old associate editor at BuzzFeed in Los Angeles, admits she's guilty of not putting herself out there. Because of the coronavirus, she's talking to guys without having to worry about going on any real first dates anytime soon.
"If I'm being honest, I actually think that our new circumstances have made me a little bit braver and more comfortable with dating apps," she told HuffPost. "I actually didn't download Tinder until my first or second day of quarantine."
"I'm usually very hesitant to meet people in person unless we've been talking for a while, but now, literally not being allowed to go out has removed all the risk," she said.
With so much attention put on an intellectual connection, Watson figures she and her matches have a chance to truly get to know each other ― and hopefully, establish real connections that'll last after the stay-at-home orders are lifted.
With additional reporting by Brittany Wong (HuffPost US). 
Calling all HuffPost superfans!
Sign up for membership to become a founding member and help shape HuffPost's next chapter