Efforts to curb the outbreak have led to the global disruption of daily life and the economy, as schools and workplaces shuttered in hopes of slowing transmission. After months of precautions and lockdowns, governments have begun to reopen their economies.
HuffPost reporters around the world are tracking the pandemic and its effects.
Read the latest updates on the coronavirus pandemic below. (To see the latest updates, you may need to refresh the page. All times are Eastern. For earlier updates on the pandemic, go here.)
Bahamas Bars Flights From U.S. Over Coronavirus Concerns — 7/20/20, 8:45 a.m.
The Bahamas announced Sunday that it will no longer permit flights from the U.S. to enter beginning Wednesday, due to coronavirus concerns.
Prime Minister Hubert Minnis, speaking in a national address, stressed that the Bahamas has seen a rise in cases since it largely reopened to international travel on July 1. All of its progress fighting the outbreak can be reversed, he warned, "because of how citizens and residents within countries are following or ignoring health guidelines."
The U.S., particularly Florida, makes up a significant portion of the islands' tourism industry.
"We are in a marathon, not a sprint. This is a marathon demanding discipline, endurance, demanding resilience and requiring determination," Minnis said. "Our current situation demands decisive action, if we are to avoid being overrun and defeated by this virus."
Commercial flights from Canada, the United Kingdom and the European Union may still fly into the Bahamas, but passengers must provide proof they tested negative for the virus at least 10 days ahead of their arrival.
— Nina Golgowski
Critical Talks Over European Recovery Plan Enter Fourth Day — 7/20/20, 8 a.m.
European leaders are yet to reach an agreement on a recovery plan to revive their COVID-hit economies after three days of heated talks.
On the table is a 1.8 trillion euro ($2.06 trillion) package for the European Union's next long-term budget and coronavirus recovery fund.
HuffPost's European editions report that a group of so-called "frugal" wealthy north European states, led by Dutch Prime Minister Mark Rutte, are pushing for a smaller recovery fund and sought to limit how payouts are split between grants and repayable loans.
HuffPost France writes (in French) that French president Emmanuel Macron "punched his fist on the table" in frustration at the position of the northern states.

Italian Prime Minister Giuseppe Conte accused the Netherlands and its allies — Austria, Sweden, Denmark and Finland — of "blackmail."
HuffPost Italy reports (in Italian) that Macron accused Rutte of behaving like former U.K. prime minister David Cameron when negotiating the Brexit referendum. "That strategy ended badly," Macron pointed out.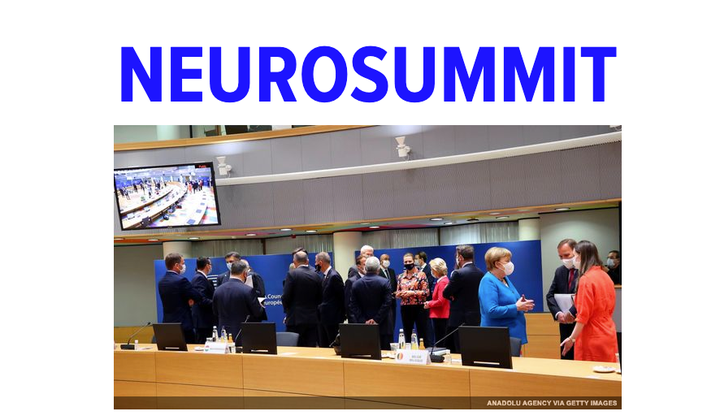 HuffPost Spain leads (in Spanish) on Spanish Prime Minister Pedro Sánchez rejecting the demand of the "frugal" countries for more cuts to direct aid from the recovery fund.

The meeting has been adjourned until 4 p.m. CET (10 a.m ET).
— James Martin
Australia's Second-Largest City Makes Masks Mandatory — 7/20/20, 4:20 a.m.
People in Melbourne, Australia, must now wear masks when leaving their homes as the state of Victoria marked two weeks of triple-digit increases in new coronavirus infections on Sunday.
Victoria, which has forced nearly 5 million people into a partial six-week lockdown on July 9, reported 363 new cases of the coronavirus on Sunday, after 217 cases the previous day.
"We're going to be wearing masks in Victoria and potentially in other parts of the country for a very long time," said Victoria Premier Daniel Andrews.
"There's no vaccine to this wildly infectious virus," he said. Masks are "a simple thing, but it's about changing habits, it's about becoming a simple part of your routine."
Melbournians not wearing face coverings will be fined $200. Australia has recorded about 11,800 coronavirus cases, a fraction of what has been seen in other countries or even some U.S. states, but an outbreak of community transmission in Victoria has been growing, prompting authorities to impose stricter social distancing measures.
Three deaths from the COVID-19 disease were reported in Victoria on Sunday, bringing the total to 38 and raising Australia's death toll to 122.
Victoria became the first state in Australia, a country of a loose federal system, to require masks for part of its population. Read more
— James Martin
LA Mayor Says City On 'Brink' Of Issuing Another Stay-At-Home Order  — 7/19/20, 10:30 a.m. ET
Los Angeles Mayor Eric Garcetti (D) said Sunday that the city is on the "brink" of issuing another stay-at-home order, as coronavirus cases continue to surge in southern California. The mayor's warning came just days after the Los Angeles Times' editorial board accused California officials of reopening the state too early, allowing for a resurgence in infections.
"Well, I think we're on the brink of that," Garcetti said during an appearance on CNN's "State Of The Union" when asked about the timing of a new stay-at-home order. "Mayors often have no control over what opens up or doesn't. That's either at a state or county level. And I do agree that those things happened too quickly."
California is one of several states, including Arizona and Texas, that have seen significant upticks in coronavirus cases in recent weeks. National Institutes of Health Director Dr. Francis Collins attributed the increasing infection rate to states that reopened too early.
"We basically did a good job in New York and New Jersey and Connecticut with that terrible crisis that happened and took many lives," Collins told NBC's "Meet The Press." "If you look to see what's happening now in those areas, they came down very close to zero."
"But meanwhile, the rest of the country, perhaps imagining this was just a New York problem, kind of went about their business, didn't really pay that much attention to the CDC's recommendations," he continued. "And now here we are, not only with 70,000 new cases almost everyday, but ... quite concerning the number of hospitalizations, which is very close to being as high in the country as it was back in April."
— Hayley Miller
U.S. Death Toll Tops 140,000 As Global Deaths Surpass 600,000 — 7/19/20, 8:30 a.m. ET
At least 140,120 people in the U.S. are known to have died from COVID-19, according to data compiled by Johns Hopkins University. Though the U.S. represents about 4% of the world's population, it has recorded roughly 23% of the global coronavirus death toll, which surpassed 602,000 on Sunday.
The U.S. continues to have the highest national number of recorded cases as outbreaks swell in some states, including Arizona, California and Florida. Many countries, including Brazil, India and South Africa, are also seeing a surge in cases.
"The virus is not under control. It is getting worse," Dr. Tedros Adhanom Ghebreyesus, the director general of the World Health Organization, warned last week. "The greatest threat we face now is not the virus itself. Rather, it's the lack of leadership and solidarity at the global and national level. We cannot defeat this pandemic as a divided world."
— Hayley Miller
Florida Hotspots Enact Curfews As Crisis Spirals — 7/18/20, 4:55 p.m. ET
Officials have enacted curfews across much of South Florida in an effort to control the rapidly spreading coronavirus.
Residents will be required to be at home by 10 p.m. in much of the Miami area, or by 8 p.m. in Miami Beach and by 11 p.m. in Broward County, which includes Fort Lauderdale.
Florida has become the nation's new COVID-19 hot spot, adding more than 10,000 cases every day over the last week — a rate similar to the one seen in New York as the crisis peaked there.
Yet the state's Republican Gov. Ron DeSantis still refuses to issue a statewide mask mandate or roll back reopening plans after dragging his feet on putting the state in lockdown mode earlier this year. He is pushing hard for schools to reopen full time in the fall, despite acknowledging that regular testing of students for the virus is not feasible.
To date, Florida has recorded more than 330,000 cases, with around 5,000 deaths. Statewide, 81% of intensive care unit beds are occupied, as are 76% of total hospital beds. As hospitals strain their resources, officials have begun resorting to mobile intensive care units to handle the patient overload.
— Sara Boboltz (edited) 
NYC To Enter Phase 4 With Caveats ― 7/18/20, 11:00 a.m. ET
New York City Mayor Bill de Blasio announced Friday that Phase 4 reopening will begin Monday, but most indoor activities will still remain closed.
While outdoor spaces like zoos will open, it could still be some time before New Yorkers get to enjoy a movie theater or indoor dining.
"Outdoors looks very good. Indoors is where we have concerns," de Blasio said at a press conference. "Museums, not yet. Malls, not yet, still closed for now. We've gotta strike a balance, and we've got time to look at the evidence, watch what's happening around the country, watch what's happening here in the city and make further decisions."
Hospitalization numbers have continued to drop in New York as other states including Texas, Florida and South Carolina continue to see spikes in cases amid rushed reopenings.
― Sebastian Murdock
California Governor Announces Plan For Schools To Reopen In The Fall — 7/17/2020, 6:30 p.m. ET
California Gov. Gavin Newsom (D) laid out the state's conditions under which schools can reopen for in-person class in the fall.
Under the state's new guidance, announced at a press conference Friday, here are some of the requirements:
All staff and students in third grade and above have to wear a mask.
All adults have to stay 6 feet apart, and students should do so "as practicable."
Schools in counties on the state's coronavirus "monitoring list" can't open for in-person learning until they're off that list for at least 14 days. Schools in counties that were not on the "monitoring list" for the prior 14 days can hold in-person instruction.
Schools have to go back to "distance" or virtual learning if 5% of students and staff test positive for the virus within a 14-day period.
"In California, health data will determine when a school can be physically open and when it must close, but learning should never stop," Newsom said.
Coronavirus cases continue to mount in California, which has seen its case count rise to more than 8,800 confirmed daily new cases over the past seven days. Hospitalizations for COVID-19 continue to increase, with a 22% rise in hospitalizations in the past two weeks. California has seen over 366,000 confirmed coronavirus cases and more than 7,400 deaths so far.
— Sarah Ruiz-Grossman
Nearly One-Third Of Florida Children Tested For COVID-19 Test Positive — 7/17/2020, 5:50 a.m. ET
Of the 54,022 people under the age of 18 who have been tested for COVID-19 in Florida, 16,797 of them, or roughly 31%, have tested positive, according to data from the state's Department of Health. This compares with roughly 11% of everyone tested in the state who showed a positive result.
Cases in Florida have been rising at alarming rates the past few weeks, as Gov. Ron DeSantis pushes for schools to completely reopen in the fall. The Republican governor told mayors in South Florida — the state's hardest-hit area — that reopening schools is low-risk.
— Nina Golgowski
Colorado Issues Statewide Mask Mandate — 7/17/2020, 7:30 a.m. ET
Colorado Gov. Jared Polis (D) issued an executive order Thursday that requires everyone 11 and older to wear a mask in indoor public spaces for at least the next 30 days, the Denver Post reported.
"Look, in Colorado, there's no shirt, no shoes, no mask, no service," Polis said. "Very simple."
Prior to the governor's order, nearly 40 cities and counties had already issued mask orders. But sheriff's offices in two conservative counties said their deputies would not be enforcing the order.
COVID-19 cases have been increasing in Colorado for four straight weeks. State epidemiologist Rachel Herlihy said if the current trends continue, the state would run out of ICU beds in September.
— Liza Hearon
Boris Johnson Scraps UK's 'Work From Home' Advice — 7/17/20, 6:20 a.m. ET
U.K. Prime Minister Boris Johnson will scrap the government's advice to "work from home if you can" starting Aug. 1 — despite apparent misgivings from official scientists.
Johnson dropped the advice that states "people who can work from home should continue to do so," which was designed to limit the spread of coronavirus. The decision on whether staff should work from home will instead be in the hands of employers.
The prime minister made the move in response to rising concern about the economic impact of people working from home and not spending money in shops, cafes and pubs in city centers.
But the government's chief scientific adviser, Sir Patrick Vallance, said Thursday that working from home remained a "perfectly good option" and there was "absolutely no reason" to change the advice. 
— Arj Singh
'Moment Of Truth' As European Leaders Gather For Crucial Summit — 7/17/20, 4:30 a.m. ET
The 27 heads of the European Union will meet for first face-to-face talks since lockdowns this weekend as they seek to thrash out an economic recovery plan.
"It is a moment of truth and ambition for Europe," French President Emmanuel Macron said as he arrived for the meeting in Brussels after weeks of tension over the scale and scope of the rescue fund.
At issue is the EU's 2021-27 budget, envisaged at slightly above 1 trillion euros ($1.1 trillion), and an attached new recovery fund worth 750 billion euros meant to help rebuild the southern economies affected the most by the crisis.
HuffPost Spain reports (in Spanish) that despite significant efforts to come to an agreement, the positions of the different European leaders still remain distant. Most countries agree on the need to launch a recovery fund after coronavirus, but there are many nuances. 
The stakes are high with EU economies in free fall and immediate relief measures such as short-time work schemes running out this summer, paving the way for what some fear will be an autumn of deep economic malaise and discontent.
That would risk damaging the EU, already struggling with the protracted saga of Brexit and bruised by past crises, from the financial meltdown to migration feuds. That in turn could expose it to more eurosceptic, nationalist and protectionist forces and weaken its standing against China, the United States or Russia.
The summit is scheduled to run for two days, though officials said it could spill into Sunday if an agreement remains elusive.
— Eduardo Loren and James Martin
Virus Data Temporarily Disappears From CDC Website After White House Shifts Control To HHS — 7/16/20, 4:20 p.m. ET
Information on nationwide coronavirus hospitalizations briefly vanished from the Centers for Disease Control and Prevention's public website this week as the White House implemented a new and controversial method for hospitals to report their data.
Tables on the nationwide availability of hospital beds and ICU beds disappeared for around two days. The absence was first noticed Tuesday, according to a researcher contacted by CNBC. 
Instead of reporting key data points on testing, cases and supplies directly to the CDC, the Trump administration instructed hospitals to report their numbers to the Department of Health and Human Services beginning Wednesday. Critics said this gives the president more control over the official statistics, which he could potentially manipulate for political gain.
The White House contends that the new policy will streamline and speed up the process of gathering up-to-the-moment information on how the coronavirus crisis is impacting the nation. Press secretary Kayleigh McEnany defended it at a Thursday press conference, saying, "This is all about getting more data out there, not less data."
The hospitalization data reappeared Thursday afternoon. HHS spokesperson Michael Caputo told Vice News that the CDC had been directed to make it public again.
— Sara Boboltz
Calling all HuffPost superfans!
Sign up for membership to become a founding member and help shape HuffPost's next chapter