Following the confirmation of Amy Coney Barrett to the Supreme Court on Monday, Senate Majority Leader Mitch McConnell adjourned his chamber until after Election Day, officially signaling that Congress won't enact a new coronavirus relief bill before the election — and potentially not before 2021.
House Speaker Nancy Pelosi (D-Calif.) and the Trump administration both say they want a deal. Pelosi told the administration Monday that it's still possible to strike an agreement before next Tuesday, even if it's too late to write and pass legislation.
"We said, 'We can get something done before the election, at least an agreement, if not a law, if you admit that we can, must crush the virus,'" Pelosi said Monday night on "All In with Chris Hayes."
But the two sides still don't even agree on a national plan to ramp up coronavirus testing and contact tracing, even after Treasury Secretary Steve Mnuchin said the White House would accept Democrats' testing proposal.
Still, White House spokesperson Alyssa Farah said Tuesday that the administration hoped for a deal "within weeks."
The prospects of a deal on another stimulus package now hinge on the outcome of the November election. Although Democratic nominee Joe Biden is favored to win the White House, Republicans are fighting to retain control of the Senate. If the GOP manages to hold onto its majority, Republicans believe they'll have a better negotiating position in the lame-duck session of Congress ― meaning they could push for their smaller relief package that would block coronavirus lawsuits and provide less aid to states.
Republicans have specifically avoided saying a relief package is dead. For one, if President Donald Trump were to be reelected, they might need to actually pass a bill. For another, it's politically dumb to say so one week before an election, even if they have no intent to go along with even more spending. Republicans continue to say they could vote for a stimulus deal — it just needs to be the right package.
Pelosi has held out for a continuation of the $600 unemployment increase that expired in July, plus hundreds of billions more in assistance for state and local governments that have lost tax revenue because of the virus. Republicans have called the proposed fund a "blue state bailout."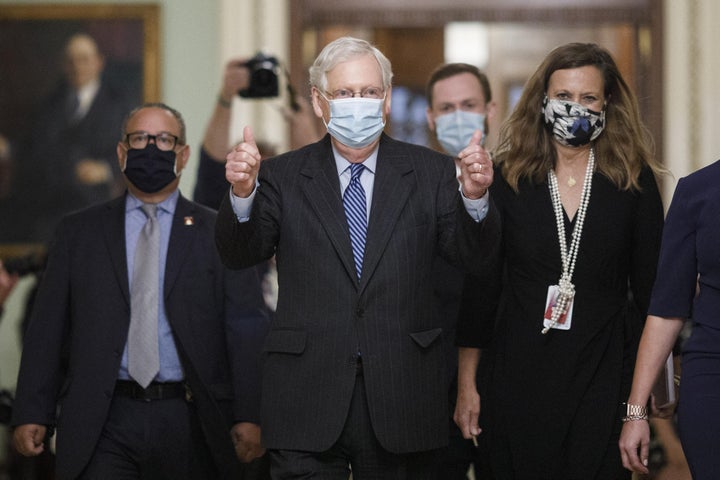 If Biden wins the White House and Democrats take the Senate, however, there might not be any stimulus agreement that Republicans would accept.
McConnell and Senate Republicans may finally show a backbone against Trump, or Trump just may lose interest in doing a deal during a lame-duck session, or Democrats may decide that they can wait on an agreement until they take over the levers of government.
The problem with that thinking is twofold: Any deal that relies on Biden or a new Democratic majority in the Senate is a deal that won't be finalized until the end of January at the earliest. Even if Democrats think they can get a better deal under Biden, they'll still likely need GOP votes to clear the 60-vote threshold in the Senate. And job growth has already slowed significantly.
And if Biden is elected, the already withering support for a deal among Senate Republicans may turn out to be nonexistent.
Much like the fever of fiscal conservatism that struck Republicans at the end of George W. Bush's second term and the beginning of Barack Obama's first — even as the economy was in free-fall — Republicans may begin fretting about debt after joining Trump to grow the deficit with tax cuts, trillions in new spending, and additional trillions in initial coronavirus relief.
The game plan for stopping Obama seemed to be to constrain government spending, make it as hard as possible to stimulate the economy, and produce a sluggish recovery — all so a Republican could argue in four years that their party was best equipped to bring the economy back. And it already looks like Republicans are prepared to trot out the same playbook, without a shred of shame about the four-year spending spree they went on with Trump, during which they more than doubled the deficit and added $7 trillion to the debt.
That's why some progressive lawmakers called on Pelosi to take the Trump administration's earlier $1.8 trillion stimulus offer. With Trump on board, according to their thinking, wary Republicans would theoretically endorse more spending and bolster the chances of a bill passing. It didn't include everything Democrats wanted, but it would inject a significant boost into the economy and provide needed relief to people suffering amid the pandemic.
The administration said it had agreed on a $400 unemployment supplement and another round of direct payments to most households, but it wasn't clear if it was still insisting on blocking lawsuits.
"I wish that Nancy Pelosi had signed the $1.8 trillion that Trump had given to her ... but she wanted to get more money and all that," Glory Chiz Owirowa, who works at an engineering company in Lexington, South Carolina, said Monday outside an event for Democratic Senate candidate Jaime Harrison.
Another round of direct payments would have made his life easier.
"I was going to use it to pay for my car every month," he said.
Popular in the Community