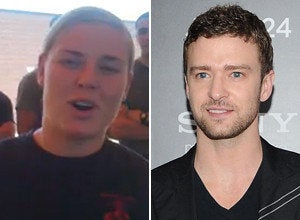 At this rate, the Marine Corps Balls are going to look a lot like a post-Oscar soiree.
Days after Mila Kunis was asked via YouTube to the November 18th, Greenville, North Carolina-set military gala by Sgt. Scott Moore, of the 3rd Battalion 2nd Marines in Musa Qala, Afghanistan, she agreed to attend in an interview with Fox News -- once she was pushed a little bit by her "Friends with Benefits" co-star Justin Timberlake.
Thanks to his excitement for his friend, Timberlake now has a potential date of his own.
Corporal Kelsey De Santis, the only female at the Martial Arts Center for Excellence (MACE) at Marine Corps Base Quantico, posted her own video to YouTube asking Timberlake to accompany her to another ball, November 12th in Washington, DC.
And if he can't go? All she has to say is, "cry me a river."
Popular in the Community