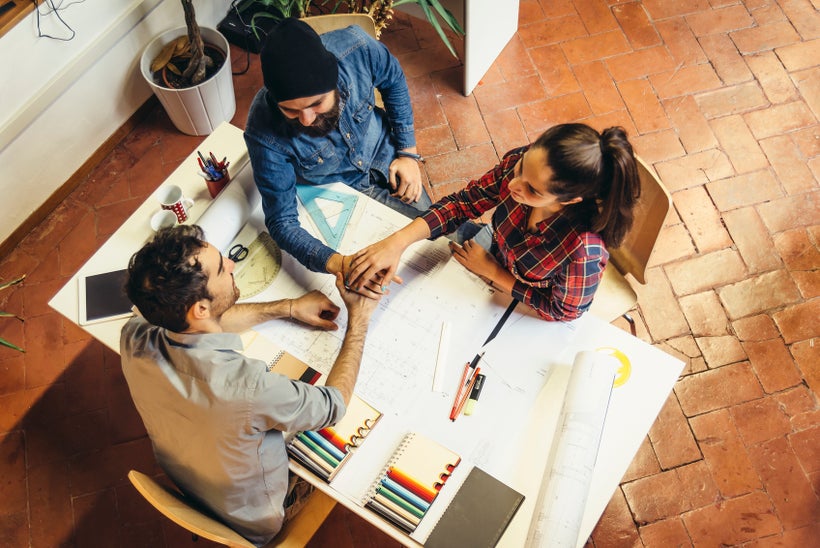 For as long as there have been big banks, Wall Street has controlled your money. They've chosen who gets loans, how much they cost, who gets access – they've basically hand picked the economic winners and losers of the world. But not anymore, thanks to the rise of the sharing economy, financial technology, and the disruption of the traditional banking system. So, move over fat cats; a leaner, meaner model of managing your money is available.
The democratization of money starts with decentralizing control over that money. And that means more peer-to-peer payments, greater convenience, and a simple, easy-to-use electronic payments system working behind the scenes. Wirecard AG is a leader on all these fronts, helping consumers break free of big bank control. "Wirecard is very much focused on the digitalization of payment and fees," explains, CEO, Dr. Markus Braun.
Sending money to an email address
We've had a pretty convenient way of sending money abroad, paying for odd jobs and transferring money online for goods and services for a while now. All by using an email address. PayPal came onto the scene breaking down the need for costly bank transfers and setting up recipients. You don't need the same bank account or hours of spare time to pay multiple providers.
But, both sender and receiver do need a PayPal account. And hefty fees are applicable to each transaction, both from same currency to same currency, and in currency conversion. Making PayPal a little like the wolf in sheep's clothing, you can't deny their technology has made life easier, but there's definitely room for improvement.
And with the advance of financial technology (fintech), a lot more players are appearing on the scene. Like payment company, Square. Their convenient app, Square Cash, lets you send money from email to email. But, guess what? The recipient doesn't even need an account with them. Just with gmail, yahoo, or their prefered email provider.
Borrowing money from a friend
You may hit up your best bud for a twenty every now and then. But it may not be so easy to ask for an actual loan to get a business off the ground or pay for your mortgage. In most cases, let's face it, friends and money don't mix. But thanks to the growth in peer to peer lending, you can now borrow money from people just like you. You can help finance them if you feel like it as well.
Peer to peer lending companies like Lending Club, Prosper, and Upstart, now provide individual loans of up to $35k and business loans of up to $300k. You won't be asked a million questions, with a thousand prerequisites. And you won't pay over-the-top interest rates either, unless you're considered a high-risk entity. In fact, most borrowers pay around 5 percent in interest, but that can be as low as just 1 percent, or up to 25, depending on your grade. But, unlike when Wall Street had all the power, you still get the money.
Turning your phone into a wallet
Forgot your wallet? No problem. Now you can pay easily and quickly with your smartphone. Companies like Wirecard are enabling retailers to turn their phones into cash registers, as you've probably noticed. According to Dr. Braun, "In the future, it's going to be very important to integrate all touch points with a customer -- online, mobile, and point-of-sale -but Wirecard has the technology to do help them. Today, on a truly global basis, Wirecard provides an end-to-end solution for almost any merchant's payment processing needs."
And thanks to technology from PayPal, Square, Apple Pay and Android Pay, you can select your payment method, checkout and pay straight from your mobile, with no need to wait in line or get your wallet out.
Doing away with fees and conversions
Okay, so these financial innovators aren't exactly saints. They're still in it to make a profit. But more competition on the scene creates the ideal situation for consumers, shifting the power into their hands. We've never had so many choices when it comes to paying for things, making investments, or wiring money. And for those of you comfortable with an unregulated, digital type of platform, now you can buy and sell in Bitcoin.
Bitcoin is a global currency, a little like the esperanto of the financial world. It's a digital cryptocurrency that's getting used and accepted by more and more businesses. Bitcoin totally removes banks from the equation. No fees, no processing time, you can pay for goods and receive payment instantly. Bitcoin to Bitcoin with no conversion fees and no hassle. It might take time for some of us to take the leap from a traditional wallet to a digital one, but what about the thought of having no bank account at all?
Saying goodbye to your bank account
Having no bank account is keeping corporate America awake at night. They may have been bombarded by a slew of fintech innovators forcing them to bring down fees, get mobile, and provide better customer service. But at least with technology like PayPal and Square, they still relied on bank accounts. But fintech innovators are growing up. Thanks to their developing technology, you can pay for many items direct straight from your online account.
And as for Bitcoin? Well, you definitely don't need a bank for that, seeing as you never have any real money, it's all digital coins. You can keep your wallet in your mobile phone on the hard drive, or in the cloud. In fact, a report by Goldman Sachs found that one third of millennials don't believe they'll need or have a bank account within the next five years! And that makes Wall Street traders tremble.
If you've wanted a way of socking it to your mortgage provider or loan assessor, you may just witness the big corporations being dismantled brick by brick.
REAL LIFE. REAL NEWS. REAL VOICES.
Help us tell more of the stories that matter from voices that too often remain unheard.
This post was published on the now-closed HuffPost Contributor platform. Contributors control their own work and posted freely to our site. If you need to flag this entry as abusive,
send us an email
.