Why aren't we seeing more women or minorities in the boardroom, i.e., the absolute pinnacle of power in the corporate world? Oh, well, the thing is: Most of the white men who sit on the boards of the biggest companies in the U.S. don't think it matters, according to a new survey.
Only 35 percent of male directors said gender diversity was "very important" compared with 63 percent of females, according to the survey of 880 board members at U.S. companies released by PricewaterhouseCoopers on Tuesday.
While most women said diversity in the boardroom -- defined as including women and minorities -- leads to better board and company performance, most men disagreed. Only 31 percent of male board members, compared with 74 percent of females, said diversity improves company performance.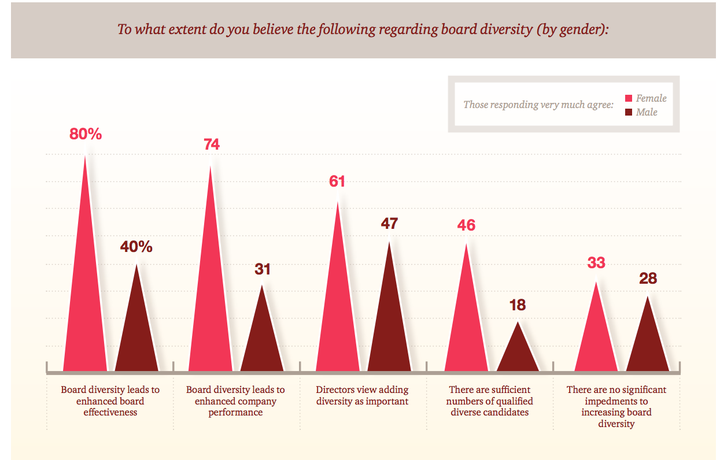 "Men just don't seem to believe the same thing as women believe," Paula Loop, who heads up Pricewaterhouse's Center for Board Governance, told The Huffington Post. Until they start to embrace the idea that a boardroom should be diverse, it's going to be hard to make real progress, she said.
Many studies have shown that companies with more diverse boards perform better financially, on average, than companies with less diverse boards. Companies that have more women and minority board members also see greater diversity throughout the business.
"Dozens and dozens of studies show the benefits of diversity," Brande Stellings, vice president of corporate board services at the nonprofit Catalyst, told The Huffington Post. But the bottom line is that a company's board -- and its workforce overall -- should reflect the demographics of its customer base and the marketplace, Stellings said. "[Diversity] is going to be good for your business. And in terms of workforce and talent pool, why would you only want to choose from half of the available candidates?"
Stellings notes that her organization works with many male executives to advance the cause of more women and minorities in the boardroom. "A lot of male leaders are stepping up," she said.
Still, if all the men on corporate boards valued diversity then surely we'd see more progress.
Women hold only 19 percent of the board seats at Standard & Poor's 500 companies, according to Catalyst's last count. The picture is even more bleak for blacks and other minorities. Nearly 90 percent of the executives who sit on boards are white. African-Americans held just 9.2 percent of board seats at Fortune 100 companies in 2012, according to a recent study from the Alliance for Board Diversity. Women of color hold just 2.8 percent of seats on the Fortune 500, according to Catalyst.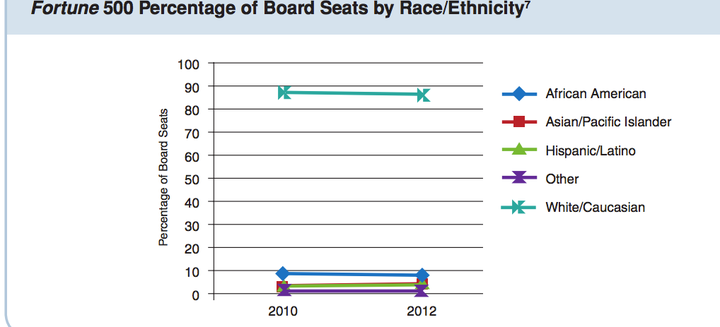 Popular in the Community