It's 2016. We're poised to possibly elect a woman president, yet the boards of directors of too many companies in corporate America look like this: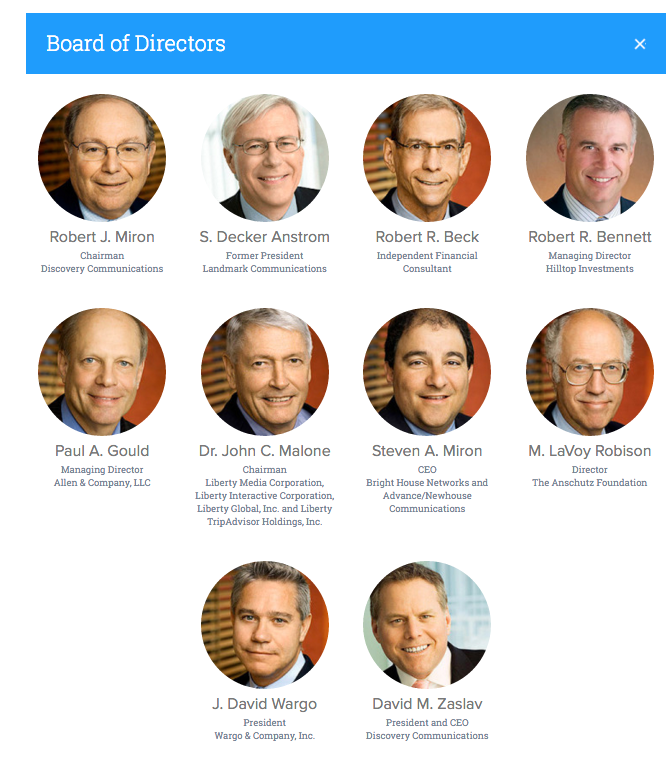 This is a photo of the men who sit on the board of Discovery Communications.
The media firm, which holds a variety of cable networks including Discovery, TLC, and Animal Planet and proudly promotes its diversity and inclusion policy on its corporate webpage, is hardly the only major public company with an all-male board.
Nearly 3 percent of S&P 500 firms have no women on their boards, according to a report released Tuesday by the nonprofit Catalyst and consulting firm EY. Twenty-four percent of S&P 500 boards have only one essentially token woman. Put more simply, about a third of the boards of the country's biggest and most influential businesses are nearly devoid of women at the top.
The remaining boardrooms are overwhelmingly male. Men held 80 percent of the board seats on S&P 500 companies last year, according to the report. That number is virtually unchanged from the previous year and isn't likely to budge any time soon.
"This is not an acceptable situation," Jan Combopiano, senior vice president of research at Catalyst, told The Huffington Post. "We want to live in a world where we can see equality of opportunity is actually real."
That the largest companies in the world have majority male directors -- the board oversees a company's CEO and ensures it's operating in the best interests of shareholders -- does a disservice not only to those businesses, which have a diverse range of customers and employees, but also to basic notions of fairness and equality.
There's a notion many have that, in business, the best, most talented people are the ones who get ahead. Judging by my Twitter feed when I write about boardroom equality, some argue that more men ascend to the boardroom simply because there aren't enough qualified women.
That's misguided, Combopiano said.
"People think meritocracy exists, but they don't talk about privilege," she said, adding that boards are very tight-knit, and getting an appointment is mainly all about "who you know."
The typically older men with the board seats seem to mostly know other men, with whom they've worked and socialized for their entire careers. These networks simply don't include enough white women, women of color or men of color.
"In [older men's] professional life they didn't come across a lot of women — that either reported to them or they met at business school," Julie Hembrock Daum, a recruiter at executive search firm Spencer Stuart, told HuffPost earlier this year. "They really don't know them."
Unless boards act deliberately to fill seats with women, it's not going to happen. Combopiano pointed to Canadian bank BMO, which purposefully alternates open board seats with men and women.
Catalyst offers other advice to firms interested in diversity. The group suggests requiring boards to consider multiple female candidates for open positions, imposing term limits on directors so seats turn over more quickly, sponsoring more women for their first board seats and even adding another seat for a woman.
Discovery Communications, which currently has no women or people of color on its board, told HuffPost in an emailed statement that it is working on it. "We are engaged in a robust process to identify diverse board candidates and we continue to develop a slate of diverse candidates that will best meet our board's needs," the statement said. "We are very committed to a diverse workforce ... and that also includes the board of directors."
There's a strongly held belief at most companies that the best candidates for board seats are current or former CEOs. Since only 4 percent CEOs on the S&P 500 are women, that leaves companies with a very small candidate pool from which to choose.
However, CEOs are not the only qualified people out there, according to Combopiano and other recruiters who've spoken with HuffPost.
Instead of simply bringing on chief executives, boards are now going after seasoned professionals who have a certain skill set, Combopiano said.
So now some seek out chief financial officers with deep finance backgrounds, for example, or those with tech experience. Sheryl Sandberg, for example, has never run a company, but the Facebook chief operating officer holds seats on her company's board and on Disney's board.
Progress is also slow because very few board seats open up in any given year. In 2016, only 8 percent of seats on the S&P 500 were vacant, according to a different survey from Spencer Stuart.
According to the Catalyst report, in 2015, about 30 percent of those vacancies went to women.
At this rate we won't see parity for a long, long time. "It's going to be longer than my lifetime and your lifetime. And it might be longer than your children's lifetimes," Combopiano said. The only way things will move faster is if companies take deliberate action to make changes, she said.
"Inertia is a powerful force."
Related