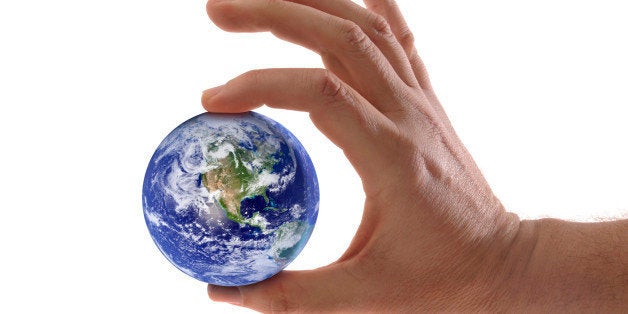 The sky was grey, but the air still warm from the late Indian summer. It was October 25, 2012; I was in New York City. I had quit my corporate job the week before, and was visiting friends and business connections in an effort to think through my next venture. After five years of working on climate policy and carbon markets, I was determined to start a new company focused on climate adaptation -- but I was uncertain of the specific market needs, or whether climate risk management was already on the radar for businesses in the U.S.
On October 26, it became clear that the East Coast was about to get hit by the biggest storm to ever make landfall, and I just had time to catch the last train on the Northeast Corridor before all transportation networks shut down. I spent a couple of windy, rainy days hunkered down with relatives in Northern Virginia, watching on TV the incredible destruction brought about by Hurricane Sandy in New York and New Jersey.
Aside from the tragedy of human losses, what struck me most was the chaos that extreme weather event could bring to one of the wealthiest, most organized, most resourceful cities in the world -- and some of its most powerful businesses. After the shock of seeing Manhattan flooded and powerless for days on end, tough questions followed: why was Goldman Sachs' building so well protected, when the New York Stock Exchange had to shut down for two days? How would downtown neighborhoods recover when the local businesses that made up the fabric of the community were flooded, many of which at risk of never re-opening their doors?
Out of this darkness also came stories of resilience and solidarity -- the cafe that put out outlets for neighbors to charge cell phones off their backup generator, the restaurant that served free hot food to its usual patrons who had neither heat nor water in their high-rise residence.
These stories provided the genesis for Four Twenty Seven, the company I founded a few months later. My initial goal was to deliver quantitative climate risk analysis to help businesses understand the costs that the physical impacts of climate change will have on their operations -- and take action.
Assessing climate risk is a major headache for most companies -- climate change impacts are complex, uncertain, and evolving. The model my company has developed takes specific company data -- the materials, resources and facilities in its global operations -- and maps them to the relevant changes to natural resources stresses and extreme weather events as predicted by global climate models. This helps our clients identify climate risk hotspots, reduce vulnerability and strengthen their value chain.
Models don't provide final answers, but they help start the conversation on potential risks. And indeed, risk assessments are just the beginning of the conversation. We quickly found out that the real question is not how much climate change might cost Wall Street, but how large corporations can prepare and protect their assets in a way that benefits the communities where they operate and to whom they depend on for their own success.
Of course there is economic and societal value in good risk management and business continuity in and of itself. Our economy depends on businesses getting smarter about their climate risk. And our businesses depend on government to provide infrastructure and systems that can withstand stronger storms, more frequent floods and intense heat waves. In this way, climate change is also a sharp reminder of the interdependency between communities, governments, and business.
The challenges brought about by climate change call for renewed dialogue and partnership between the public and private sector, and social innovations to protect our communities and quality of life. Climate risk can be modeled, but adaptation responses need to be carefully handcrafted. As we help companies big and small measure the extent of their climate risk, we must also be there to help them collaborate with their communities to build a more resilient world. We may not be able to prevent the next Hurricane Sandy, but we can make sure that the lights stay on -- for everybody.
Emilie Mazzacurati is a finalist for the Cartier Women's Initiative Awards. CWIA is an international business plan competition created in 2006 by Cartier, the Women's Forum, McKinsey & Company and INSEAD business school to identify, support and encourage socially responsible and creative companies led by women entrepreneurs.
On October 16, 2014, six Laureates, one for each region, will be awarded $20,000 in funding, a full year of coaching, a lifetime access to the Cartier Women's Initiative Awards community and unique networking and visibility opportunities. To learn more visit here.